2/6/2017
Sunday, January 29, 2017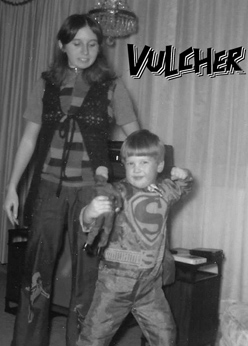 Vulcher #2
"a lot of music between i-phone five and Am radio. on Tune In is SOUL GROOVE out of Atlanta, which I heard James Brown's "the big payback" , engineered by Bob Both, whom also engineered "i went downtown to see my gal/she wasn't there/so i left". WMEX Jimmy Jay played birthday greetings from his message machine and as i said in Vulcher,? really DID call in! Rufus Thomas 'walkin' the dog' beats hell outta Aerosmith OR Ratt live at Middle East ten years ago ("since we're in Boston"...it's a Stax Volt toon you big haired nitwits!) and "i want to hold your hand" and 'she loves you' in mono...9 pm flipped over to WRKO and "8 miles high" in mono! byrds and Beatles on AM and you DONT get that on classic rock. Sunday morn atlanta's black gospel radio, 24 hours a day...somebody down there prayin' atlanta wins the Super Bowl! lastly, Slim and Supreme Angels on youtube and other gospel greats and WJIB, Bob Bittner played George and Tammy's "golden ring"; our hero looks in pawn shoppe for wedding ring coz that's all he could afford ("we're not the Jet Set/we're the old Chrevo-lette set" i always sing to Gee Julie!)....so in 12 hours Am radio, I Count Rufus Thomas/Beatles/Byrds/George and Tammy AND marvin gaye's "stubborn kind of fella"? (it's 1/2/3/4 between each chord change, kind of a cha-cha-cha)....AM radio is where it's at!"....
Monday, January 30, 2017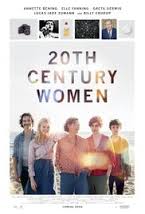 Al Ciner

"Kendall movie roulette "winner by elimination" is...20th Century Women four pm Sunday 29 jan 17! set in 1979 California, it's so....1979! 55 year old hippie-ish mom enlists a 17 year old blonde gurl and a 24 year old art student to help raise his 14 year old son. it's feel good/coming-of-age; a Jimmy Carter tv appearance is 15 July 79; I was stationed in Charleston SC learning Robert Palmer and ELO toons off the radio in my trailer! (bored shitless too!). WHY should the Boston Groupie News reader see this? Coz I REALLY liked and could relate to the art student girl; born 1955, went to NYC 1973 (as did KH/L. Lunch!), dyed her hair red but it's HER punk music and punk soundtrack that makes it MY '70s show. She has the red hair, torn t-shirts saying LOU REED or DEVO, takes the 14 year old to a punk club; he later dyes hair blonde and skateboards! Punk band not too shabby either; those "band in bar" scenes are some bands claim to fame! (though fucken choklit watchband in riot on sunset strip...ALSO seen in '79 in SC trailer by me!) One other funny scene; mom and hippie man-friend try to "understand" the young dude, so first they put on (VINYL!) Black Flag's "nervous breakdown" but decide they are more Talking Heads people and do these Joy of Movement dances; T. Heads lp was the second one, '78 release, Brian Eno, recorded when Hello World was recorded but somebody tell Eno Ida May: my great-great grandmother Highland has Eno ancestry and item B: Hello World engineered by James Brown's engineer, Good God!!!! (Eno, quite properly: "Jaimes Braown? brilliant!")....i'll give away the ending, fuck it...Mom "reminsicenes" how 1979 was "before Reagan, before"....a bunch of horrible things....like synth pop and hair metal!!! Ronald Reagan looks GOOD, man! and sadly, coz she SMOKES (smoking cigarettes, Black Flag VINYL on turntable....THIS is Giroux-approved!!!!!) dies of cancer 1999, but she WAS prepping for Y2K! and then this fucken millenium, outside of Amy Weinhaus channeling Sarah Vaughn, "I wish i were a baby/i wish I were dead!" Cold Turkey usually DOES give me the runs...(and you havent lived till you have a Captain PJ aircheck of him singing to this on "90 minutes of mental torture"!). ok, so again, see this movie and dig that soundtrack!"....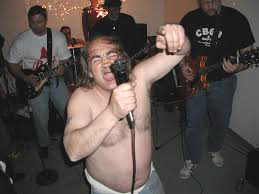 Captain PJ singing!

Tuesday, January 31, 2017

as I further research how the American Breed went on to engineer Styx and become Rufus, their final year was doing the theme from THE BRAIN. and it DOES Schlock around the Clock! VERY popular movie in France (well they like the Real Kids AND Jerry Lewis, to quote Linda Garreau Highland), it was released 7 March 69 (William "PJ" LeBlanc turnt 12, yee yee!) as Le Cerveau. clips on youtube available; David Niven is a crook whose brain is so large, his head tilts to his shoulder! (I have that problem too!) Movie begins with an APB on him and it looks like Austin Powers! BUT, shag-a-delic, bay-bay, it IS '60s London! Jon Paul Belmondo also in it (Breathless this ISNT) and Eli Wallach, American Breed do theme (quite catchy! found a 1969 Billboard article where Bill Traut, record label, said soundtracks and jingles were where it was at! But I dont think "the brain" sold as much as "bend me shape me" but maybe more than O. Rex's "califawnia gurls" or the Kinks "you still want me"). FAVOURITE scene (youtube): the crooks are floating on blowup plastic chairs in a pool, looks like Riviera when all of a sudden a lady in bikini, cowboy hat slides down a rope from a villa and takes a bath in a fountain! and who the FUCK is that? Caterina Caselli born 10 april 46, has a wiki page and besides her sixties career discovered andre bocelli whose "time to say goodbye" i think Ma wants played at her funeral (she just turnt 86 but has been planning her funeral since Dad died 50 years ago as have I). But besides the Vatican Sex Kitten part of this movie, Caterina Caselli can sing! I LOVE foreign-language covers of Italian pop toons and her cover of leslie gore's "maybe i know" crosses opera with Nico ca "i'm not saying"! another toon I heard Lulu meets opera (rasp and projection) and "Tutto Nero" is "Paint it black"! ok, so she covers kinda the same '60s hits as a nancy sinatra album....further google-ation says there was quite an italian '60s scene, though I only knew of the Rokes (an album trade from Jon Tiven to Crecenzo Capece via me in '74 and the Rokes via Kim Kane is why Slickee Boys did "piagi co me" or "let's live for today"). Maybe further Italian rock goodies on youtube WILL be discovered!"

Wednesday, February 1, 2017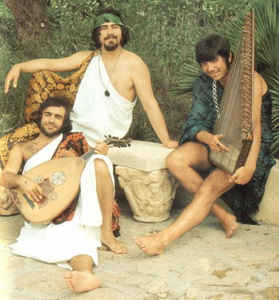 Aphrodite's Child- "The Greeks invented everything!"

as Ken and Gee Julie froze to death, I showed her pictures of the Mediterranean; The Brain movie, looks like the Riviera and also, from Athens: Aphrodite's Child! turnt onto them about '89 with a budget cassette $2.99 maybe: "a Greek Vanilla Fudge!". I know I've done Demis Roussos obit and there IS a Facebook page but let's concentrate on their first 1968 single "Rain and Tears". Gee Julie AGREED that it DOES sound like "whiter shade of pale" BUT "roll over beethoven" it's based on Pachelbel's Canon in D major whilst "Pale" is a bunch of Bach riffs meets "when a man loves a woman" (and check out those Paramounts 45s!) Aphrodite's Child was "influenced" by Procol and Moody Blues and I know EXACTLY which albums: first Procol 12 May 67; Sgt. Pepper 1 june 67 (Vanilla Fudge also!) and Days of Future Passed 10 Nov 67. When Aphrodite's Child first album End of the World came out Feb 68; Moodies in search of the lost chord ("c major 7 if you ask me"-Solomon Gruberger '70s joke; I think he WAS a Moodies fan?!) 26 July 68 and Procol's Shine on Brightly Sept 68, what a GREAT year for music! Live Aphrodite's Child footage has Vangelis playing THREE keyboards in a very mark Stein/Vanilla Fudge style; I should also mention I got, at the Goodwill on "Mama Cass" (Melnea Cass) Boulevard, The Monster of Florence; Florence, It'ly Jack the Ripper type. Two of his victims when they found them, the CASETTE in their vehicle (they were vacationing Germans) was Blade Runner and cassette kept flipping sides endlessly. As the Italian police did their CSI, they were listening to VANGELIS whom, of course, played that Pachlbel canon on A. Child's '68 45 that Gee Julie thought sounded like Procol doing Bach! Moral of story: fucken Greeks invented EVERYTHING and if you dont agree, eat skata!"....

Thursday, February 2, 2017

ok tyme for self-promotion etc. saturday 11 Feb 17, the Kenz aka the Korps on WMFO crash course for the ravers postively 13 o'clock til 4 pm. 9 pm, MJ Quirk's birthday starts at Out of the Blue; I believe 11 pm is Club Linehan-aGo-Go set tyme. There was a practice last night so let me try to remember new "old" toons:....Yardbirds version of "smokestack lightning" cant go wrong with Five Live Yardbirds on 8-track! (bought and practiced with in my Marine Barracks, Charleston SC summer '79;L/Cpl KE Highland, Aries aping Clapton, God AND Aries!). "tallahassie lassie" is the Flaming Groovies version but drummer Kevin Linehan played Freddy Cannon's version and it IS in D! Joe Quinn on bass learning these oldies, with a left-handed guitarist showing him the chords: Holy Gruberger Brothers, My Head's in '71! John Keegan blew some great sax but Stones "empty heart", the fucken tambourine! all-around utility and he says Matt Burns, drummer for V, is on the mend! Lastly, since MJ Quirk LOVES schlocky '70s AM gold, fucken "seasons in the sun", I play at Ramones half-tempo which would be Black Sabbath at 45 rpm, chord-wise, lotsa power chords and feedback, I'm gonna have FUN with this! Since Matt's in "sickbay", looks like a lot of Club Linehan-A-Go-Go gigs coming to a party near you!".....