2/6/2023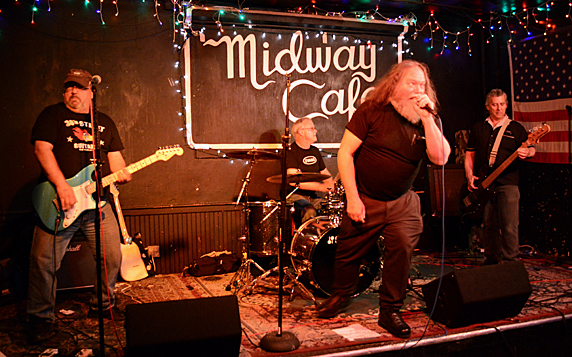 Johnny & The Jumper Cables The Midway 2015

Monday, Jan. 30, 2023

freitag 27 jan 2023. Mad Painter practice after some months. Lots of press and airplay on the site. Al Hendry (drums) and I composed "Post Covid Haze" which we showed to Gee Julie (vocals) and Alex Gitlin (keyboards), Alex channeling Booker t on my Stax- Volt riff. A new Alex original where Schmel herbie Hind added some heavy Vanilla Fudge guitar to a riff similar to Nilsson's "One" but heavier. Future/Gigs: Michael Wheddle memorial C-note, Hull, friday 8 april; cd release for Painter Jungle 20 April and New York City memorial Day weekend - The Chelsea Table & Stage May 27th! Busy, busy. busy..

Tuesday, Jan. 31, 2023

saturday 28 jan 2023. Johnny Black was at the Burren watchin' that Buffalo Tom dude do a Stones tribute thang. I et bangers and mash (coz Ringo likes 'em! watched 1960 Coronation street on youtube the Monday coz Ringo did; better schnozz than me though). No Strings Attached, Burren front room, acoustic trio; I thouroughly enjoyed the band's "Ophelia". Heard "Midnight Rambler' in the loo; sounded great and great acoustics; forget pub rock; loo rock! Caught up to Johnny, we et sushi across the street at Gengi Ya. We discussed Cables reunion plans, photos etc. Then he showed me fishing lures.... BUT - dead People fact: dedham,mass. his mother's ancestor and my mother's ancestor did business together in ye olde towne AND his ma's ancestor married ma's Draper ancestor in ye Dedham, so by marriage, we iz cuzzins! No need 'arguing with ghosts"; cables here thee cometh!"......

Thursday, Feb. 2, 2023

"Dienstag 31 jan 2023 0845. ran into Richard Hughes of clan macKenzie and had to go on discogs to remember how I met him!

i met Strangelhold at a WERS live radio thing summer '84 maybe and DID do a Johnny D's allston gig with strangehold and rockin' Bob august '84 perhaps? After, Ritchie did the Oysters AND there's that mr beautiful comp All Hard came out in '85, so Cables/Oysters on same comp; glad i DID record that record!".....

Friday, Feb. 3, 2023

Freitag 3 feb 2022. kenne Kalendar. already wrote up the mad Painter news so saturday 4 march 2023 COULD be a Johnny and the Jumper Cables practice; our non-practices has led to de-compostion of a new Kenne toon "The Curse of the cables" in C, of course....again: sunday 5 march 2023 Kenne Highland Air force performs "I'm in Love" off Asa Brebner volume two and the money goes to his REAL kids, so dont be cheap! That's at the Burren in davis Sqaure and five per cent of my irish y-dna DOES recommend the food! That's all I care about...the food...AND The Brood!"......