2/9/2015
Tuesday, Feb, 3, 2015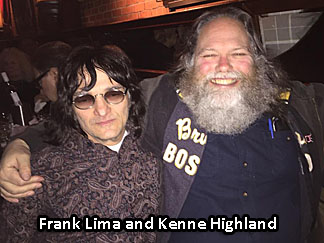 since nothing Gizmo happening YET, used vacation tyme for spend Some Time In New York City with Gee Julie, who "chose" the Smithereens at BB King's saturday 31 january! Frank Lima answered a pen pal request from me in a fall '71 CIRCUS magazine and he met drummer Denis Diken at a Kinks koncert in '74; to close the Cyrcle, I opened up at Rat balcony for Smithereens summer '85 and i have MORE tails to tell but let's review the night...
so i FINALLY since '71 actually MEET Frank in person after decades of letters/calls/emails ("THis is the modern World"!) and he says "Dave was gonna come down", as in Davies! I did meet Dave's bass players wife and drumming in this Davies band is..Dennis Diken! ("will the circle remain unbroken" obscure Roky toon!) ok, so for her 2013 birthday bought Gee Julie a live Smithereens cd and that IS their set; Pat in great voice, has some Elvis Costello inflection and superb on cover of Doors "wishful sinful"; Jim's Tele playing echoes george harrison/dave davies/jeff beck, very mid-60s British, lovin' it!; bassist could double for Mad Max of Sonic Daze (slightly) and Dennis's drumming synthesized note-perfect beatles covers (guineess book of world records lists Smithereens for doin' THREE Beatles tribute records!) AND when they cover TOMMY, i been shit, i was stoned on Toots Maytals pot in Bloomington '75, saw Keith Moon, but Dennis really has done his rock homework! i may add more points as they come to me, but lemme mention a keyboard player on hiatus from John Mayer who used a melotron and Pat sez "like they used on old King Crimson/Moody Blues records"...ok, as they're MY GENERATION, like all the "good" stuff (my taste is questionable, at tymes, but that's me as Metal Mike Saunders!); a great night, great to meet Frank and a fun weekend!".....
Wednesday Feb. 4, 2015
I just walked through the patriots parade and decided when the Gizmos return to Bloomington, they deserve a parade just like Bobby Knight's '76 Hoosier basketball team! Actually, the Jocko Homos were quite polite! Some kid threw me a football and being a second cuzzin twice-removed of Fielding "Hurry-Up" Youst (Mee-chee-gan hall of fame coach and "a touchdown every minute"!), I caught it! then did the old "I played football in the snow in Brockport ruse" (NOT a walter mitty fantasy! I'm a boy, but me mum won't admit it!) and "I can't throw with gloves, man" to wit: "gloves are for babies"; funny how i became my brother/cuzzin Tom Highland! Football thrown and caught! Then another wise-ass frat boy: "hey santa claus!" gave him a thumbs-up but in reality; i got some fucken coal for you next Gizmas, mofo!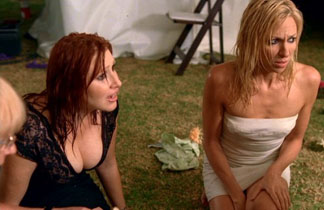 Might i add super bowl sunday in NYC; sci-fy channel had a movie about snakes and alligators on steroids starring Micky Dolenz, Tiffany and Debbie Gibson Mega Python vs. Gatoroid (2011 and it WAS that bad) Tiffany had some nice cleavage camera zoomed in on like EVERY shot; gotta love them mediterranean "Hot Blooded" gals! Gee Julie was in the village but i opted out coz Sol Gruberger and i were there april '74 and saw Todd and Bebe walkin' 'round (didn't actually meet her til Portland Maine 10 years after; long story but it's in her book!) well guess again, I Grandly Funked up coz Julie ran into a Japanese-owned "never heard of the Gizmos" mclaren-type punk store called SEARCH AND DESTROY in the village! when Miss Lyn goes to NYC to see vanilla fudge and uriah heep, it's a must-see! kenneway, Ken and Gee Julie sing peaches and 'erb, mon "reunited" and catch superbowl and katy perry at a Hell's kitchen cajun eatin' place, then, "Them Belly Full' end up sleepin' through pats win, just like 2013 Sox world series win; therefore, if Ken and Gee Julie sleep through a Boston team championship, they win! and i thought it was the guy with the most toys.....and THIS has been Highland S. Thompson on sports!"...
making this a fruitful vacation with snow, messin' about on "Incestry.com" and stumbled acrost the Asheton (Stooges) brothers family tree! Without getting too fanatical (me?!?!?!?!), their immigrant Asheton ancestor came to Virginny 1869 and are buried in Warrenton, Virginny (been there!) and find a grave lists them English imigrants as "born Lancashire, England"; there's some noble de Assheton line from that area that my Dad descends from and of course my "cousins" covered "she's my best bette" as Dark Carnival with Niagara singing! i should also add that when the Ashetons landed, they married into an olde jamestown family and their grandmother buried right near where i was a Cub (Koda) scout near manassas, virginny....as for ron and scott's mother (looks like their sister posted this info), her folks came from eastern europe, landing in montreal 1913, my great-grandmother Highland naturalized Canada to Amerika First 1912 (my grandmother born 1914) and Ann (as in first stooges album) Asheton's parents lived seven miles from the Highland's in 1930; i believe Alice Cooper's dad was five miles from the Highlands, Detroit certainly rockin'! i think Ann Asheton's folks lived right above lincoln park, home of the MC5 and already workin' on THEIR family trees, "I could write a book"-the pandoras! Lastly, looks like Cub's Koda ancestor came from eastern europe early 1900s to NORTH side chicago (adress in 1910 census;he was a saloon-keeper!), though Cub's influences are certainly south side chicago...man, all them southern/midwest roots on my dad's side=all MY musical influences; food for thought! (or maybe not)"......
"MORE stooges facts; a distant cuzzin traced the Ashetons into britian; so one of their grannies was a GRANT (born glass-goo!), 4th most common name in Scotland BUT johnny and jumper cables opened for scott morgan (rationals), scotty asheton drummed and i autographed a cables 45 of "landmine" with picture sleeve of Gy. Sgt. Byron GRANT Highland! there's more; Ronald f. Asheton senior got out of marines in '51, my dad went in '52 (US marines muster rolls; check out the dads of Heart and Bebe Buell! officers AND gentlemen!).Scotty Asheton DID friend me on facebook before he died...aye, wi' the Grant bluid, he-n-Ron took the high road back t' scootland...and "Incestry.com" lists they also have a MacKenzie back there and who drummed on "best bette" as covered by dark carnival? Rabbie mackenzie!!! ("Highland, quit looking for 39 when 39 isnt there"-Ken Kaiser ca. 1983!)"......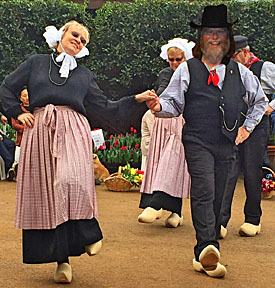 dead people facts JUST for Ken Kaiser! dad's grandmother Highland was a Canadian descended from Loyalists, whose final words were "Canada First!" call this eerie or call George Noory but in 1969, ok, my dad's mother was helping me out with a school project and her great-great-grandmother was Sarah Wessels (i wont get into how we're Jewish but that's part of it); Incestry.com has folks reserchin' them ole Dutch names (old Dutch uncles too!), so the Wessels were loyalists that left PARAMUS NJ; look at back cover of afrika korps lp at paramus mall!! also on this line is a 1691 marriage in TEANECK NJ (so I WAS there before the kaisers! AND in a previous Coast to Coast life!), also there's an old french cemetery in Milford, NJ....dudes, we're talkin' Bergen county NJ roots for Byron Grant Highland! final coast-to-coast irony; recording hello world maybe, in ken kaiser's tv room and his ma had a book on the ole dutch houses of there....and I DID get a feeling of DEJA VU! (and since Dad and David Van Cortland Crosby have some mutual Van Cortland patroon ancestor...reasons why i TRY to go Dutch on everything!)"......
Thursday Feb. 5, 2015
practice for MJ Quirk's birthday bash at Granite Rail (Preacher jack's birthday bash last year AJ Wachtel put Ken and MJ in his top ten of 2014 in Noise, Maxwell clann!). Mike's high school mates (rhythm section), Mike on guitar warming up on Syd Barrett covers, what do i remember....I remember I've turnt John Keegan onto WJIB!!! Hello World! the Korps has brainwashed you! ok, so Gizmos "cavewoman", Keegan on maracas; "somebody has to be Eddie Flowers!" mariners to patriots: "gimme back my pigskin!". chuck berry covers c/o thoroughgood, "Pills", "run run run" by velvets, Keegan on sax (!) and i started riffin' on Kinks "see my friends" in D! cheap trick's version of "aint that a shame" and i do the "she's always there" riff; Jeff beck WOULD have played it like that! finale: sacred steel toon 'this is a holy church" goes into MC5's "black to comm" and I do my white James Brown bit as done in brooklyn with Gizmos....also tossed in solo from "I feel free", the amboy dukes version! So if I'm playin' like Nugent durin' an MC5 cover, this will be a night of Motor City madness!".......
I forgot last night's Mike Quirk practice at John Keegan's was brought to you by CIGARS! yes, in Keegan's mancave, the men of Southie were all smoking CIGARS after practice; I abstained, but it was VERY manly....
leading to MEN OF KENT! When dad's mother died in detroit, had a GREAT conversation with arnold cogger, whose mother was great-aunt JULIA Highland; messin' with Incestry.com 1870 salem michigan census has Thomas Highland (my immigrant great-great-great) with Alfred Grant age 15 in house. my grandmother also wrote to her dad's cuzzin Ray Highland, Chelan, Washington (near Jeremy Cargill of ugly things!) wonderin' how Grant was handed down in the family and looks like Alfred is my great-great's cuzzin! sailed from London to NYC 1851, Smithsonian has details on them ships (like irish famine ships), found alfred's birth and his folk's marriage in Steppey Kent. 1841 census has Thomas and Elizabeth Highland, agricultural labourer, at the right age also in Leyburn-on-sea, Steppey. IF, and this has been a 1975 Holy Grail, us Hylands is from Steppey, the locals are known as Swampies! and ole Tom Highland DID sign his marriage certificate with an X; seems his brother-in-law got married to a Piles/Pyle (as in Gomer) in a "wesleyan" church (we were always methodist) that's been in chatham, UK since pagan/Saxon tymes...who WAS Ivan's 'Ho? no kin o' mine! lastly, and another hyland trait, there's a "naturalist" beach on Leyburn-on-sea! let's go! clues and ironic that Dad's distant Alfred Grant cuzzin was born 8 jan 1845 (elvis birthday) and died in michigan 8 feb 1906 (dad's birthday!) tell George Noory AND Ken "39" Kaiser that this damn keyboard aint nuthin' but a damn ouija board and maybe i'll tell ya 'bout how there really WAS an Alice Highland AND an ELTON Highland and we IS kin!"...
Friday Feb. 6, 2015
wanting to celebrate the finding since 1975 of where in Kent, UK were us Hylands from, went to Vlora which is closing end of month! been open since 2007, many good memories there, gonna be a sushi place! WAS a Chinese place before; cue up the WJIB Ann Murray "you wont see me" cover! (wow, Bittner, Beatles and Canada all in one breath..."him like Kerouac")....BUT, as I dropped off my taxes at Tony's travel in eggleston square, roxbury (settled by Yorkshiremen like Ma's Draper ancestors from Heptenstall, home of Sylvia Plath's husband...linking ma to The Bell Jar?), skippy white (a leBlanc from Waltham!) WAS open! Bob Bittner would like you to support small business coz "when you rob Peter to pay Paul, Paul is happy"....0800 on that WJIB quote, Gee Julie happy! so I spent $9.60 at Jamaica plain Good will, getting a cd of Braveheart soundtrack, a DVD of the BBC ricky gervais The Office AND a 1970 edition of the Godfather (belonged to "Libby") "soon to be a major motion picture"! one thanksgiving Brattle had a double feature of BOTH Godfathers; wicked awesome! call me the GIZfather, making deals you SHOULD refuse! TONIGHT Somerville theatre has TEN DAYS of science fiction festival, have my ticket, Columbus Ohio has a sister "thon" (Go Ohio state!) movie reviews? cue up "Men on film" and I DID pass by the goodwill copy of The wedding singer soundtrack....the '80s are where it's at! Ronald Reagan and big hair! johnny and jumper cables in May (with thinning hair!)"....
Saturday Feb. 7, 2015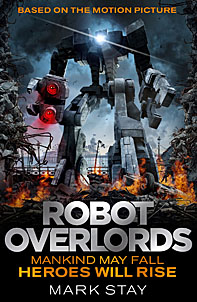 boston's sci-fi festival has begun! started sunday 15 feb 76; two weeks later Ted Niemeic showed me the words to "Muff divin'"! didnt know i'd be in boston a year later. so.....$110 got me festival pass AND marathon, missed the 5 pm movie but caught the 7pm/9 pm and both are winners! Robot Overlords; british, robots take over earth, one young boy obsessed with vikings and british history (no relation!) but we have stonehenge/roman ruins/viking references, shot in Wales, northern ireland (carrickfergus castle in antrim!) AND isle of Man! (saw no Manx cats though)...VERY British, lots of dropped 'h's and funny "fuck you" kinda sayings....
Alien Outpost is another robot invasion "When I'm 65" (2021, i think), buncha pseudo-Marines are at outpost 37 on pakistan/afghanistan border; having gone though the same Infantry training school at camp pendleton, Cali as Lee Harvey Oswald USMC, i DID have summer '76 flashbacks, as in this alien/war movie was militarily correct, VERY Marine tactics....one of the soldiers was from Bloomington Indiana! (ALL roads lead to Kenne!) two splendid films, not sure i'll catch all 100, but hoots mon! gettin' me money's worth!"....
Sunday Feb. 8, 2015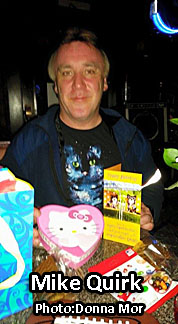 MJ Quirk 49th birthday party, granite rail, quincy: MJ's high school Southie mates from Club Linehan-A-Go-Go band, Joe Quinn on bass and Kevin Linehan on drums, all Southie and Don Bosco guys (Bosco rocks! Tommy White, Unatural Axe!), augmented by Highland/Keegan from east coast Gizmos tour! let me quickly praise whom i saw: Joey Fingers and Tokyo Tramps, a lot of Mardi Gras and blues music and the sustain and wah-wah from Tramps guitarist started to S. Ray Vaughn/Hendrix! and let's not forget Slide,who played the Kirkland a LOT! ok,so my AssBeaters (northern Virginia) Bradlee (cheap Korean Les paul copy) through a John Keegan Peavy (he reads Kenne's "rantings"; other folks read Adolf Schicklgruber's My Struggle and look what happen there!) gave me, bass pickup on, a Grand Funk Live Album tone as I messed with the intro to "In Need"; mark Farner and Messenger guitars! (starting to sound like sol gruberger,RIP,in O. Rextasy ca. '72!) special guests: Yukiko, who, simultaneous with the Boys of Southie, lissen to cheap trick live at Budokan,sang "aint that a shame", after I riffed on "woman from tokyo" AND added Yarbirds" "he's always there" ala that member of Fuse on said live lp.
drummer's cousin's wife (hey,it's Southie!) sang on "last tyme" as i did the Who's version (GREAT feedback on that Peavy, Keegan calls it "the big boy"!); she told me her paw (no relation!) had a cover band Whitey's Bulge AND Kevin Weeks said "the boss likes the name", so NOBODY got whacked! other special guest: JOHN KEEGAN, taking many photos AND doin' maracas on "cavewoman" and then sax on MC5's "black to comm"; I sang "who do you love"/"baby please dont go"/"everybody needs somebody to love" AND tossed in the riff from "into the sun" (Grand Funk live album!) lastly,John Keegan shot a photo of me and my doppelganger Chip Langile,an Acadian who probably like me is probably descent from when Rollo invaded Normandy in 800 or so AD.! 0100 and i told Gee Julie: it's tyme for Coast to Coast! drivin' outta quincy,lookin' for I-93 as some geek spoke about Deja Vu".....