2/10/2014
Feb 3, 2014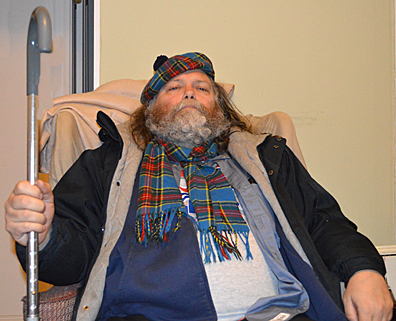 Besides metaphysical stuff at Quincy's First Spiritualist and calling Miss Lyn high on coffee and singing gospel along with Skippy White's store,THIS is music oriented: Granite Street Cafe, Quincy,two blocks from my house, has got enterntainment license; normally has Albanian/Greek music but wants to put "country" in on Friday/Saturday. I translated this from Albanian to be unplugged, as the restraunt ain't right for a band. So unplugged acts! contact me! Kenne Ruane! Helldorado comes to Quincy in an ethnic restraunt! Food is slammin', jack and y'all aint lived 'til you had rockyrushi (not sure of spelling but it's Albanian moonshine; one year I watched Madonna and Superbowl with a buncha Albanians actin' like Greeks;"opa!", cigarettes, shots and all that....I been asked to play also, so maybe I'll do some obscure duets....
Feb 7, 2014
lotta snow,so my Edgar Cayce/mediumship classes at First Spiritualist church in Quincy were cancelled;but i felt "like Bustin' Loose",so Natalie Flanagan's residency at Tavern at end of the world EVERY Thursday is where it's at! Nat's acoustic set had overtones of third velvet Underground album (which is on the jukebox!) and Eric Martin/Chris Machlaclan did "stay with me baby" (Lorraine Ellison/Joplin AND Yardbirds live at anderson theatre!),"Jesus was a crossbearer"(?), a Tim Hardin song sang by Chris of the MacLachlan clann, that Fred Neil song about the Porpoises,"805"-Moby Grape,"Today"-Jefferson Airplane and Velvets "New Age". Natalie electric (Fireking guitarist switches from bass; Pat Wallace switches from guitar to bass), add drums and lap steel and a Tom Petty/Neil Young vibe is had. NEXT week (13 Feb): NatFlan and Randy Black!"
February 8 , 2014
"turns out Highland Clan got a gud review someplace, so bookin' person at Copperfield's contacted Jody Moore. With proximity to Kenmore Square, it coulda been audition night at the Rat ca. early '80s and college kids STILL act the same! suffice to say Highland Clan did same set as last week at NatFlan Tavern gig,but NEW,YOUNG faces (AND Rachel Lee/Laura Markley, STILL lookin' gud!) all boppin' heads to my ole-tyme rocknroll. A Modern Armada mighta been "shoegaze" (I haven't even HEARD half these genres!); Red Oblivion has a skinny bassist/keyboardist who coulda been Marilyn Manson/9 Inch Nails and a Hot Blonde Pagan on guitar in hot pants who "shredded" (hate that fuckin' word....)....good drummer too! looked like Johnny Odd of Strangemen, kinda (ok,$4 PBR...hic! only have one....oy!)....we loaded out before Dirty Paxton BUT,there was a bespectacled Hot Blonde Pagan on guitar who wuz wearin' a Joy Division shirt....Jody Moore's chillun! Hope to play with these folks again soon!"
February 9 , 2014
"Preacher Jack aka John LINCOLN Caughlin turns 72 on ABE Lincoln's birthday,so Granite Rail was his birthday; I had him talk to Ma (they've MET): "hello, my Aquarian sister!";"Ken, your mother could be lecturing to a college class with the knowledge she has"...my 83 year old mother: "tell him i didnt even go to kindergarten" (one-room schoolhouse, Clarkson NY, then we BOTH graduated Brockport, NY high school!) Preacher's "Head's in '57"; Jerry Lee's "it'll be me" was a Sun b-side! AND covered by Mott the Hoople! speakin' of Mott, Gravedancers new cd has cover of "Sucker" and cd release is 9 pm,saturday 15 Feb. Matthew Gilbert, ex-Harlequin has HIS "Head in '73" as me and birthday boy MJ Quirk sang "Pills","18" and "under my wheels" with Gravedancers. Climate Change is the Michael Weddle clan with two guitars, keyobard/bass, two gurl singers and a MACBRIDE on drums! (NOT the one in Raspberries!) lotsa Hot Blonde Pagans dancin' and takin' pictures. I heard Orchestra Luna,Jefferson Airplane live at Monterey (Mike Weddle as Marty Balin?) and Matthew D. Gilbert's whammy bar- Hendrix on Axis: Bold as Love and Quicksilver ca. Happy Trails....
MOORE News: friday 21 feb, Granite Rail, Drew Townsend (Johnston clan) doin' a honky-tonk night and i'll be singin' a couple-a Hank/George toons (JODY MOORE INVITED, that Hot Blonde, i lost 45 pounds, Pagan!) AND saturday 22 feb.,since we are less Moore (she has two bands down Cape but ALWAYS makes tyme for her Kenne, usually), Highland Trio (Ken/Mike/Matt; Mark/Don/Mel) are adding Ken Kaiser as guest and doing Afrika Korps and Gizmos covers! (If Billy Rath can milk that tired-ass Heartbreakers connection, I can do A. Korps, since half the band is DEAD 'cept Kenne and Kenny)...hope that pissant (Kaiser) sez yes....and THAT is what's happenin' in town c/o me, BGN scoopie, told Aj Wachtel "I am the AJ wachtel of the Boston Groupie News!" (first step to totalitarism DICTATORSship: control the media!!!!!!!".....