2/10/2020
Monday, February 3 , 2020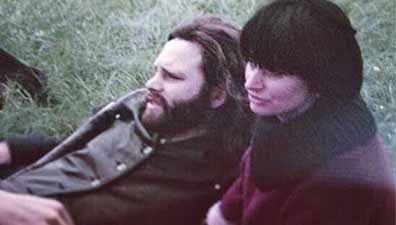 Jim Morrison and Agnes Varda on set

Sonntag Groundhog day 2 feb 20. Brattle theater. 1230. $10 with membership. The World of Jacques Demy directed by Agnes Varda. TWO classic rock facts in a man whose Umbrellas of Cherbourg I LOVED! Jim Morrison appears in the film! Doing French-English subtitles quick, I vaguely remember "Jim was a film buff, especially truffaut. He also liked fairies as Jacques did also", then scenes from fantasy movies. Jimbo looked like 1970 paris LA Woman; he DID graduate UCLA with film degree! Model Shop was a Demy film,I knew of nought. Wikipedia will tell you of this English-language LA flop (Demy came to LA from paris same tyme Once Upon a Tyme Hollywood) featuring Harrison Ford, whom was rejected for having no talent! (He showed their ass)...But, soundtrack is by SPIRIT recorded in 1968. "chronologically the album's material falls in between their second and third albums, The family that plays together and CLear respectively". There's a 2005 album and this is VINTAGE Spirit, so check it out! As for Mad Painter practice; Alex Gitlin has some very Zombie-esque ballads! (versus Heep Purple rockers).We also, for fun, did Marie Laforet's "Viens Viens" (le chaison d'amour pop Linda Veins!) Then the rest evolved into a Uriah Heep fest as Gee Julie filmed Flynn Young drumming......the Jungle sunday 8 march 20! see you there! ten pm- ish

Tuesday, February 4 2020

Monntag 3 Feb 20. Brattle Theater. Jacquot de Nantes. directed Agnes Varda, $10 with Brattle membership and about early years of her husband jacques Demy. It flashes from stark black and white early WWII years to techicolour films inspired by sad events. jacques sees his grandfather (Jacques Demy died 1934; movie guy born 1931) at graveyard in nantes. Then the germans invade, but jacques in his own world of his phonograph (and 78s!) and filmaking (someone gives him a projector with a Charlie Chaplin reel). DO see it! Though sadly, I checked facebook and discovered of demise of Reno Daley, HARLEQUIN bassist in '80s (i.e. Chet's!) and since 2013 rat Beach Party, the Gravedancers. There's an 8 Aug 13 Cantab Bob Colby show, where unrehearsed, I sang ALice Cooper's "Under My Wheels" on youtube, Reno on bass. maybe I last saw him 2019 Rat Beach party, Mike Wheddle's 70th...Hopefully resting in peace. WAJR, Morgantown WV had kansas men's college basketball. Coast to Coast AM had Susan Masino http://susanmasino. com as guest. She wrote an AC DC book and others "just a Wisconsin gurl" (classic rock) BUT one caller said re: Buddy Holly plane crash/ Chuck Berry in jail/ Fats and IRS/Lil Richard quits music etc; THE GOVERNMENT (U.S.) KILLED FIFTIES ROCK TIL BEATLEMANIA! (this is 0445,dig...)....hmm....I DID think that when Jimi and janis went when I was my 14, but John Cameron Fogarty ("It came out of the sky") was also a Coast to Coast guest and....(drum roll)....DOESNT THINK IT HOLDS CREDENCE!!!!! (ahahahahahahhaha! jokes only Golliwogs collectors will get!). Waking again 0645,WMBR and If six was 9 gave Dave DAvies a birthday salute...nice to wake up to Kinks! "Morningmaniac music" (mine and grace Slick's MIles Standish ancestor founded Bridgewater where LOTS of pair-o'-normal activities is!) was Ska Bonanza (on Heartbeat! cassette! Cambridge 02140 label!) plus Rascals 45s off their double 1968 album, which i havent yet bought! Been seein' it in stores since 1968, age12, brockport NY (Alpha and Omega of my life, Jah rastafari!)"........

Wednesday, February 5, 2020

Til Tuesday 4 Feb 20. Practice for Kenne gig with Mad Painter, Jungle, Sunday 8 MARCH 20. The band: Me and S.H. Hind on guitar, bass and vocals- Lt. Larry Newman, USMC, Al Hendry- drums, Captain Easychord- KEYBOARDS and vocals, John Keegan- sax and singing. My cds: the orange album on Stanton Park/ Gemini on a Full Moon (Dino) and Be More Flamboyant. Everyone was cranked and cacaphonous but in a Roxy Music "remake/remodel" way. Two new originals! "Trick Fucked Again" and "Pizza Delivery Move"...."Trick Fuck" is three Black Sabbath-cum-Dust chords with John Keegan wailing like side two of Funhouse, whilst "Pizza Delivery" rides on an E chord dissmilar to NY Doll's "Bad Girl". Lastly (and THAT is why he was officer material): Second Lt. Newman said "this sounds like the Dead Boys!" (Cheetah and I both james Williamson disciples and Genya Raven over pappalardi producing of albums!). Let me also mention Leon Rich having his busking open mike WEDNESDAY 19 Feb 20, so in case Captain easychord and i do the "new" toons ala patti Smith and Richard Sohl....shit, as my age, EVERY night is a "Piss Factory"!".....

Thursday, February 6, 2020

"day of Wodin 5 Feb 20. ran into Andy Excuse on his way to Heavy Leather Topless Club SCAT (tune in and like on facebook!) and he said they were covering Airplane's "Somebody to Love"; excellent! I headed towards the open mike at the Jungle; they had COMICS! Opener had a routine about quitting coffee, the headaches etc. I can relate! Captain easychord and Outpost busking crew went to the Middle east corner open mike; will have to attend in future. "A hard Day's Night" but Schlagers on German radio does the trick as does Coast to Coast AM! Search for extra-terrestial intelligence. http:/seti.org. "There's a Starman waiting in the sky" and you KNOW the rest!"......

Friday, February 7, 2020

day of Thor 6 Feb 20. I was at Armageddon Records, Harvard Square, whom specalise in punk/hardcore/metal, so no pierced tattooed punk is gonna want Ray Charles The Genius Hits the Road for $1.99, Rhino reissue. I did have the vinyl and this September 1960 release NEVER gets old! Ray sings "standards" about certain states/cities. To wit: The September 1960 45 was "GEORGIA on my mind" b/w "carry me back to old VIRGINNY" even if i was livin' in North Carolina at the tyme. "Georgia" is also on the 1962 ray Charles Greatest Hits lp, which my father had. April 1962,Brother Ray released Modern Sounds in country and western music which had "I cant stop lovin' you" b/w "Born to Lose" (which was Dad's favourite song). The cd of Modern Sounds was playing Ray's take on "Bye Bye Love" as I loaded in for a gig at Hank's Saloon in brooklyn with the She Wolves. Other than THAT (hey,a GREAT 58 minutes with extra tracks!), Miss Lyn saw a Danish actor whom favoured a young me on the Vikings (that would be Alex Høgh Andersen-ed); DEAD PEOPLE FACT! My y-DNA,through my Father's father's father to "His Children's Children's Children" is two per cent Scandinavian and Roky's grandfather Erikksson WAS born in Denmark! MOIN to Flensburg! Lastly, WMBR, second-fiddle played "Panama Red", New riders of the Purple SAge, a radio station promo 45 that Solomon Gruberger LOVED! Brooklyn-born but country fan...you all figure THAT!"......

Saturday, February 8, 2020

Frigga's day 7 Feb 20 on what would have been Hopelessly Obscure bassist Jim Condon's sixtieth birthday. Gee Julie and I et at a Brazilian buffet and watched telenovellas. After i listened to Ska Bonanza The Studio One Ska years, part one on heartbeat! (one camp street, cambridge, mass 02140!). Outstanding track: "A De Pon Dem" by Rita Marley Anderson and the Wailers. I dig the husband overshadows her, mon, but what a voice! 1965- studio one "a loose cover of a smokey robinson song- "choosy beggar". Trojan records> community > rita marley. Even more obscure fact: "Beggar" was the b-side to "goin to a go go"! released 6 Dec 65 (Rubber Soul was released with 14 tracks in theUK 3 Dec 65, just for frame of reference)....either way, Smokey Robinson b-sides....and THAT KENcludes MY week coz this is MY fuckin SPACE!!!!"..