2/13/2023
Monday, Feb. 6, 2023

"day of THOR. 2 Feb 2023, two months til I am 67. Pontoon palace WMBR. 0724. "dont want to cry"-the Buckinghams. got that Kind of a drag album for a quarter 1975 Bloomington indiana charity shoppe. That guitar solo is dave Davies on steroids! 0731. question mark and mysterians Girl (you captivate me). A 45 I had back in '73 by my facebook friend ? and note the use of parentheses! used by me in Dark Carnivals (She's My) Best Friend".......

Tuesday, Feb. 7, 2023

"Monntag 6 Feb 2023. 7 pm. brattle thee-ate-er. Framing Agnes. "after discovering case files from UCLA gender clinic in '50s, a group of trans actors confront the legacy of young trans women"....just came out 22 Jan 2022; a CURENT movie for me. excellent doc- cue- men - terry, they film the Fifites in black and white, then film the current actors in colour. Once you hear the travails on trans folk, especially of colour, the fifties weren't exactly happy Days, except for my mother. Eye opening to say the least, progress etc., though there are those, whom, like that Tim Robbins movie wish "The Times they are a-changin' (back)". The trailer is on youtube, the brattle is ALWAYS excellent, and did i tell Miss Lyn there's Peter Greenaway movies coming? ("This movie blows"- Carl Square, bass with GG Allin and Mighty Ions, 1982 or so about The Draughtsman's Contract)".....(Greenaway is excellent - here is the Brattle Calendar - check out one of his films!! and yes I took Carl Square to see the film and he actually did say that to me during the movie!!!-ed)

Wednesday, Feb. 8, 2023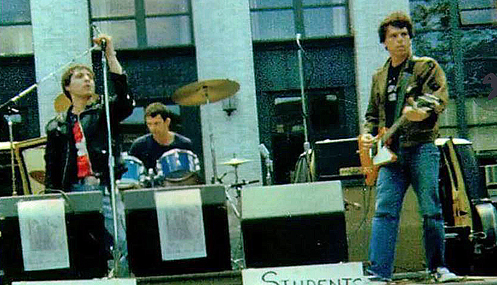 The Destroyed

Dienstag 7 feb 2023, Jim Condon, Hopelessly Obscure bassist 63IF. watchin' Wheel of Fortune with Miss Lyn (Resolved White descendant) (damn! (photo below) Vanna White lookin' good!) and she ask "Kenne do you remember a band called the destroyed?" And I said "who played Sunday 21 aug 77 at cantones with Third rail afrika Korps and thundertrin?" Rain Ken....gets the Daily Double! I had been running into Joey Rainbow 9a peroxide iggy-ish punk) in harvard Square early '77 and invited him to play "my' gig John felice got me. ("Lyn where did you GET these guys?"-Theodore cantone). Only Joey and guitarist Tony pavadore showed BUT I was happy to play jay gruberger's bass, let Tony use my melody Maker and jay played drums and there IS/was a casette from which Afrika Korps live at cantones came out on Gulcher. We did two long dirgy "Little Doll" riffs, I chased Rita Rat with the bass (rocknroll terroism! No wonder GG Allin is my sixth cuzzin!) and lastly,end of 'set" "ladies and gentlemen! Iggy Bowie!" Rainbow says "Fug Iggy pop! Fug David Bowie!"-take that John Lydon! Rainbow was an Amerika First punk! there's a youtube plus couple other mentions of the Destoyed (peter Wolf saw them at rat and they opened for Geils!) and yesterday, Jim Condon's birthday, rainbow emailed Miss Lyn that Saint Anthony Pavadore got into rocknroll heaven coz mitch Cerulli was workin' the day (he bought Jimmy harold a Miller Lite and that was Jimmy's holy sancriment). tho you SHANT read bout the Destroyed in Saint Mach's epistle, you may NOW read it in the Gospel according to Cainnech of Aghaboe; an irish saint (St Kenneth!) who DOES have an online merch table! Collect them all!"......

Friday, Feb. 10, 2023

Freitag 10 feb 2023. Kenne kalendar. mad painter damn sho got it goin on, read the page. saturday 4 march; "the curse of the cables' REMOVED? a practice? Hell, Michigan froze over? lastly, kenne Highland Air Force practices Ash wednesday for a recording session that isnt a cables practice and: Sunday 5 march 2023, KH Air force sings "I'm in love' off Asa volume two at Burren 7-10 pm....and....DEAD PEOPLE FACT! the Scottish Brebner name seems to have come from Flemish weavers from Brabant...Asa von brabant? ma has Drapers that went FLANDERS, were "drapiers"/weavers nd ended up in Yorkshire in Sylvia Plath's husband's town....not sure how close we were to All Gizmos great and Small. Trickie Woo! (photo)".....

PS. tell mach Bell to stay the fug off the pop tarts, TOO early to canonise him as a saint yet!".....