2/015/2016
Sunday February 7, 2015
"north station was full-a Bruins fans as I walked past chet's, couldn't even get supper nowhere! But got me back 'ome in tyme for Jimmy James, my facebook friend with WMEX Saturday night oldies. earth wind and fire would figger with the passing of Maurice White, then somebody called up pretending to be cookie monster and cookie monster said "play some chi-lites"! so marshall from Chi-Lites called in, VERY interesting career, he's 73 maybe, and "here's "oh girl" from 1973", which means I wuz in high school with John J. Pusateri! other highlight (in mono, man!): "surfin' bird"!!!! 0100 woke up and STAYED up til 0300 for A CASE OF REINCARNATION; portrait of a past-life skeptic: the true story of a police detective's reincarnation. a homicide cop in Indy-napolis did past life regression, first he died in a cave all alone (ooga booga!), then he had a walking cane and was an artist (did a drawing of a humpback woman!). this copper was SO obsessive about his research (am I in the wrong field?) that he finally figgers he's the reincarnation of James Carroll Beckwith, 1800s American artist (kinda rare; friend of john singer sergeant). BEST question: "did you try genealogy to see if you're related?" He did and nope! (unlike my great-great-grandfather Elisha m. Darling died Morgantown WV 1911, i went there in 2007; "96 years"!) AND HE appeared to me first church spiritualist, quincy and said "keep on doin' that research"! since dad's side is all gone before me)....lastly, for bumper music, "paint it black" and "break on through", again dark George Noory music, WJIB and Bob Bittner would prolly go for "tears go by" and/or "light my fire"....THE best way to spend cold winter nights expect for sci-fi marathon next weekend!"......
"though saint john's Methodist church, basnettsville west Virginia wasn't founded til 1823 (where my great-great-grandmother McBee is buried), I DID enjoy service at the 1806 Old west Methodist church; the preacher is descended from Methodists in Georgia since before the Civil War, but she IS up-to-date coz all the Lenten vespers are on facebook! yep, the preacher keeps the page up-to-date! and LIKE Old west church, boston coz there's pictures are Lawson the church dog! (versus Simon Katz at church of the advent!) a splendid Sabbath twas had! b/w "in held 'twas I" (procol harum..."life is but a beanstalk."...)".....
| | |
| --- | --- |
| Lawson the church dog | Simon Katz the church cat |
Monday February 8, 2015



Beck at the Tea Party

"club linehan-a-go-go practice minus Linehan so AFTER doing his Boston Groupie News work, John Keegan called up Sammy Biancuzzo to drum on chuck berry/stones covers MJ quirk's 50th. Sammy drums in John Keegan's Steely dan band, but I "interviewed" him and since he's a year older'n Frank Rowe, I got more rock tales (of brave Ulysses?) than Fred Pineau! in 1962 east boston, the HENCHMEN started (they're opening for the Platters this year!) so I was "oh, the Ventures?" answer: "my guitarists were all playing Mosrites, then Eric Clapton had the Les Paul and it was "we gotta get one of these!"; Boston Tea Party: "I wuz hangin' with John Bonham and he was a nice guy, but Jeff Beck was a prick! : get these teenyboppers outta the dressing room!" (and I am NOT like that at Gizmos gigs! LOVE meetin' the folks!). lastly: "playing (some island), bassist couldn't get the ferry, club got a bassist: FELIX PAPPALARDI! he said Clapton was a asshole whilst he produced Cream"...on Jim Condon's birthday, I only wished Jay Gruberger were there durin' the velvets/MC5 covers, coz Sammy "I'm really into Ginger Baker"...I told him about his cuzzin Carl BIANCUCCI and "fantasy rhythm section"..."one of these days" (Greg Prevost JUST lissenin' to that ten years after album), maybe "superstition" with Giz, Carl & Biancuzzo?".....

Tuesday February 9, 2015

Byron Grant Highland born 8 Feb 34 "panic in deetroit", Wayne County, michigan. dad (82 IF) in another book:" Book II, American heroes: Grunts, Pilots & Docs" excerpt www.michaeldankellum.com, eyewitness reports of his death etc. also Virtual Vietnam Wall of Faces has four shots of Dad NOT on "Landmine" picture sleeve. So what can #1 son claim? A paisan (Piero Capizzi) living in the Fahrner homeland of Zurich, Suisse writes that "she's my best bette" is bootlegged on VA Boston Bootleg volume three, Rave Up records, Italia! Grazi! Ti Amo! yep, the sun don't set on Kenne Highland music!"....

from Melissa Scott in Oz, photo on wall from Australian geographic, Levi the hand reared Tazzie devil, 8 months! lil Taz drinkin' from a milk bottle...ALWAYS put cute animal photos in my column!!!!"....
| | |
| --- | --- |
| Levi drinking milk from bottle | Baby Taz |
Wednesday February 10, 2015

" file this under: Canada First! seems my dad had a couple uncles, last name was Springer (Dutch-English) whom were in Butler's Rangers. did some research and one Loyalist grant was at James and Main in Hamilton; whatever this has to do with my April Wine albums, I dunno..but there's more'n a couple books on the Springer brothers and Butler's rangers: From Bloody Beginnings: Richard Beaseley's Upper Canada-david a. Beasley, 2008. they mention the springers were "son of a brave minister", yep, Methodist minister shot in his own front yard on the way to join Johnny Burgoyne! wider and kids fled to Canada and were getting 200 acre land grants of which "I aint got shit" (my remake of that yardbirds 45!).Butler's Ranger's, in this book, were also hangin' with Cornplanter and a motley Crue of Loyalists and Indians. Raiders of the Mohawk, the story of butler's rangers, orlo miller 1966 is also good. youtube footage reenactors etc. say they had Indian leggings ran from thigh to hip; look pretty Stephen Stills cool vs. the scots-irishamerican frontier patriot in his neo-Indian garb. Lastly, my Springer uncle was FIRST SETTLER OF MIDDLESEX COUNTY ONTARIO (went there for a reunion in '67 after Dad died, "Happy jack" was ALL over Canadian radio, met my Canadian cuzzins etc. so that was the town of Delaware, Ontario, 6 miles west of London (which=GARTH HUDSON!) AND the whatwave dave show, whom has played Kenne records in THIS millennium, tho I had them 1700s settlers but again...."there are no coincidences"!-George Noory!"....

"know ye that in 40 years (that's two score!); latest 45 is rockabilly yobs on Hate, italia, cover art by drummer Kelsey Simpson of Deezen. and on ebay, the Gizmos "muff-divin'" e.p. is going for $125! (?!?!?!?!??!)....even Criswell couldn't have predicted that!"...

Thursday February 11, 2015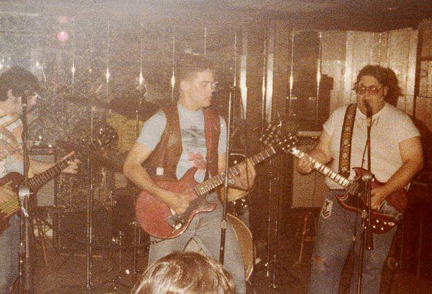 200 years later (August 1977) Kenne Highland on stage at Cantone's (that's the Gruebergers with him)
"Burgoyne's surrender during the Revolution was actually a Masonic conspiracy to form Amerika, First; google this, basically CORNWALLIS and Washington were masons, Burgoyne wasn't, so they "sold him down the river" and OF COURSE I have ancestors there!....but even more rare is American Masonic Record, and Albany Saturday magazine from 1828 plus also Boston Masonic Mirror, 1831, volume three, page 51; I always LOVE the American history tails in THE TROWEL, Masonic magazine. ok, so here's some dates plus add in L/Cpl KE Highland USMC, 200 years later: Dad's ancestor Reverend David Springer shot 13 august 1777 as he tried to get a buncha ALbany area Tories to join Burgoyne; 8 days and 200 years later Highland/Coffee/Kaiser onstage at Cantone's (near where Herodios Long was whipped!) singin' "amerika first"! Ma's ancestor Private Benjamin Barlow was a Granville, Mass. minuteman from 21 sept 1777-23 October 1777 and was at Burgoyne's surrender, 200 years later his great-great-great-great-grandson (me!) was a USMC l/cpl. and afrika korps/slickee boys played ft. meade, Md. and had the DCene punk crew under surveillance. 31 October 1977, I also had a Johnny Rotten USMC hairdo and the slickee boys, in northern virginny played a Halloween style version of "Buzz stomp" (triad stolen from "iron butterfly theme"!)....still kinda crytic that 200 years after I had a revolutionary war ancestor, I micelf was American military also..but then again, the Road Apples don't fall too far from the tree! (huh?)".....

Friday , February 12, 2016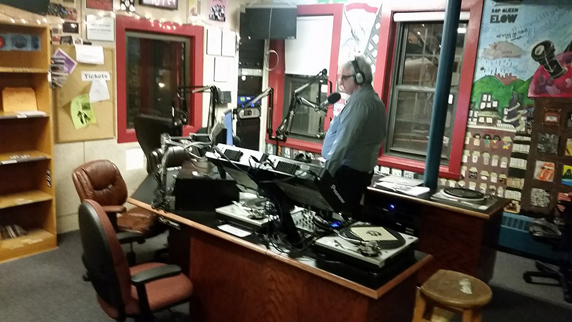 Alex Piandes a WMFO
"MJ Quirk's 50th birthday at Cantab opened up with hard-rockin' trio Postiive negative Man, whom covered Stranglers "something's gonna change" (!). COUNT JOE taped club linehan-ago-go opening number, chuck berry's "it want me" and 39 years after I told Ken Kaiser "I play BETTER than ace frehely" (and all he heard was chuck berry riffs!), I dedicate ALL those Chuck Berry riffs to Ken Kaiser! lotsa Stones/Kinks/Sonics covers, Alex Piandes from The Desperate Hour on WMFO "in da house", velvet underground's "run run run" I played some real "ostrich guitar" through a solid state amp and on MC5's "black to comm" Kevin Linehan was a locomotive on drums, whilst MJ Quirk on guitar and Joe Quinn on bass held down the bottom as micelf and John Keegan wailed away especially when I tossed in Stooges "1970"! "baby please don't go" I also tossed into this medley AND screamin' lord sutch "flashing lights"! (and it's father, bo diddley's "pretty thing"!) a lt of link wray "way I walk" leads and Who-ish power chords with toggle switch on Assbeaters Les Paul copy and doin' them arm swings, I lost my Rich Coffee SWAMP GOSPEL pick! oh, yeah, also, the "chicken getting run over by a steamroller" Jeff Beck WOULD have played it like this "psychotic reaction" riff..so Justin Case I'm at sci-fi marathon, TWO confirmed Cantab dates: Friday 19 feb 16, Count Joe sez "let's just get up and jam on Velvet underground toons", Nelson Slater HEADLINING and 1 april 16, cantab, Gone Boys new band-9 pm; classic ruins 10 pm, CLUB LINEHAN-A-GO-GO 11 pm and alice highland as headliner, since it IS a headliner act and hey! no songs past 1975, I get to play my record collection LIVE!!!"....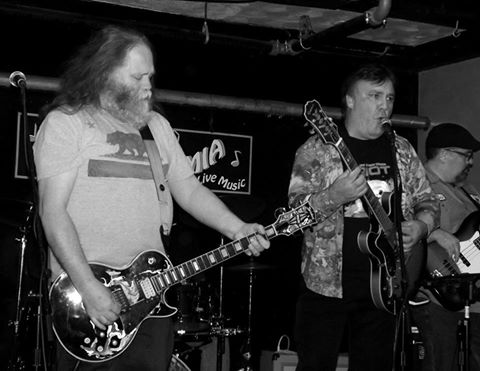 Club Linehan A Go GO Photo: Alex Piandes
Saturday February 13, 2016
"looking tired and a little burnt, Dave Mason"...wait that was Beyond Our Control 1973! KEN HIGHLAND, tired/burnt, MJ quirk birthday gig BUT 11pm 1330 Am, rockin' at night "sponsored by café podima and we play OBSCURE oldies": "dance franny dance" by Floyd dakil combo from 1964, in mono, man!!!!! Wikipedia entry on him; harmonies sound pretty Beach Boys for a Texas combo! THIRD track, side one, Pebbles One which opens with "action woman"! otherwise, got two Charlie don't Surf t-shirts from Joe 'Dactyl (Terry Strummer?) so see those cats, like 'em on facebook, yeah, yeah, I have business cards! 24 hour sci-fi marathon, off-line but see y'all Friday cantab as I do velvet underground covers with THE COUNT! (who reviewed amerika first in BGN labour day '77!)"....
Sunday February 14, 2016
Kenne called from the Somerville Theater Sci Fi marathon to report in.
Ida Mae: 39 years ago today Miss Lyn answered the letter he sent to her in response to her letter to Eddie Flowers stating "I'm in love with Ken Highland and think he's beautiful." The rest is history as they say. But most importantly Kenne has finally found 39!!! All this year there's 39's!!! He just bid a Happy 39th to Ken Kaiser recently too!
Item B: As he was walking to the Somerville Theater today a hawk flew by him so closely he could feel the wind from its wings. So...what does that mean he wants to know???
from http://www.mysticalpedia.com/animal-spirit-guides/hawk.php
HAWK:
Messenger, Visionary, Protector
Perspective, Focus, Priorities, Inner Visions, Wisdom
When Hawk crosses your path:
Step back and gain a greater perspective on a difficult situation
Eliminate distractions and stay focused on your goal or task
Be acutely aware of your surroundings for any messages that Hawk or Spirit brings
Be prepared to protect yourself from personal or psychic drains
Stop trying to control others or the situation, work on accepting and appreciating all that is in the present

From http://www.spirit-animals.com/hawk/
If Hawk has flown into your life;
Be aware that there is a message to be received and interpreted. Hawk holds the key to higher consciousness and trying to bring certain things into your circle of awareness. Know that enlightenment is imminent.
Hawk often represents the ability to see meaning in ordinary experiences if you choose to become more observant.
Many of the messages Hawk brings you are about freeing yourself of thoughts and beliefs that are limiting your ability to soar above your life and gain a greater perspective. It is this ability to soar high above to catch a glimpse of the bigger picture that will allow you to survive and flourish.
And Kenne should check out this site too https://ladykira1.wordpress.com/2014/03/24/hawk-totem-symbolism/
Item three: Kenne says "there are lots of attractive grey haired men with glasses at the Sci Fi Movie marathon" so any of you ladies wanting to find a nerdy partner should check it out next time!!