2/16/2015
Monday, Feb. 9, 2015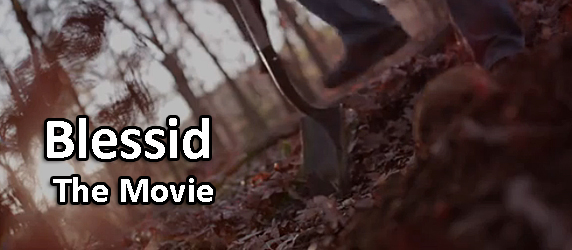 Sci-Fi Festival at Somerville Theater ALL week long and come snow and high water i'll be there! (hoots mon, it cost me $110 for 100 films!) after work caught the Q&A on Blessid, a Massachusetts-shot film with music by Duke Levine "of the J. Geils band" (how about Roy Sludge?!?!?!?!?!?) FOLLOWED BY Shadows on the Wall about a computer nerd that builds a machine that goes light years beyond our universe, makes contact with some kinda alien, government involved, they DO compare "X-files meets the social network"; shot in western (Asheville!) North caroliny! heard other sci-fi nerds say "saw Alien Outpost friday night" and what the Grand Funk is UP with the ole hippie wearin' san francisco sandals in this fucken snow?!?!?!?!? usually see him BAREFOOT in a space jumpsuit during the 24 hour president weekend marathon....Ma is 8th cuzzins to Edgar Rice Burroughs, so it's in me bluid! (talkin' scootish aboot a Yankee line; a new sci-fi HORROR film starrin' me talkin' 'bout DEAD ANCESTORS!!!!!!)"......
Wednesday Feb. 11, 2015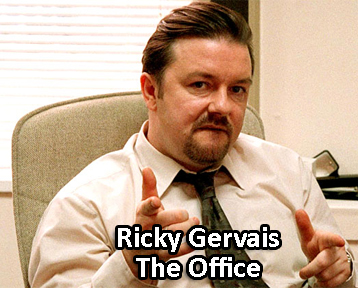 snow day-watch an Underground Video (in J.P.!) video on Antonin Artaud in French; he was declared insane, was it suicide or murder? and he even favours photos of current Captain PJ OR his pere (RIP) Larry "the Taz" LeBlanc! long-lost cuzzins? "incestry.com" DOES say where the LeBlancs were from in France before they early settled Nova Scotia. another splendid JP video (the Goodwill on centre street) was the 2001 BBC season of The Office! SO much better than the Amerika First remake! (ok, my great-grandmother Highland was 3/4 Loyalist and 1/4 nor'n irish, so Britannia First! is Ken Kaiser keeping up with how much i switch sides?) British humour (Gee Julie: "this is wierd") BUT Ricky Gervais funnier'n hell, "oi used to bay in a band" and he's a good/funny singer-songwriter! ("wai opinned for a Scottish band named Texas"). Gee Julie had to put on English subtitles, culdn't quoit understained the di'lect! AND in a dance club scene, it says "Tom Jones "love Bomb" as they play a 12 inch vinyl! AND "Spandau Ballet; "True" or whatever is that soft-rock classic....either way, hope to watch it agin, Goodwill and Boomerangs in JP has GREAT stuff! (AND read book one of my 1970 Godfather edition as the snow fell; I wanna be the Gizfather; Don with the big cajones!"....
Thursday Feb. 12, 2015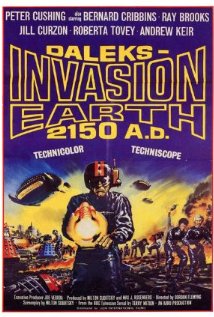 Boston Sci-Fi Festival at Somerville Theater, double-feature: Dr. Who and the Daleks/Daleks' Invasion Earth: 2150 AD!!!!!!!! so i see why Who-berts are so fanatical (not that I have addiction/fanaticalism problems, BUT...)....the 1965 pilot is camp/Mod, what can I say? the Doctor's mod teen has a Dusty Springfield-cum-Pet Clark bouffant and her boyfriend dresses like the Animals-cum-1990s Mickey Bliss at the Kirkland (and unlike George Harrison on meeting George Martin, I DO like that tie!). the corridor of the Dalek's castle looks like Star Trek meets the Avengers and the people in the forest with platinum Spock hairdos and blue eye shadow (and that's All the Young Dudes!);as Solomon Gruberger woulda said in O. Rextasy: "take that Ziggy Stardust!" (actually they look more Jobriath but dudes, we're talkin' 1965!!!!) Gee Julie working, missed this, but most important of the 1966 Dalek invasion earth; the teen gurl had lost the bouffant and had a Mod flip hairdo, a year later! yep, sci-fi camp, LOVIN' this festival, sister festival in Columbus Ohio, home of Ohio State! (yes, Ken Highland LIKES Dr. Who AND college football and even Steely Dan tribute bands if'n i saw them)
Help! Beatles released 29 july 1965 (see Wikipedia); Doctor Who vs. the Daleks released in UK 23 august 65 (see wikipedia); please note British fashions in both films!"..
Friday Feb. 13, 2015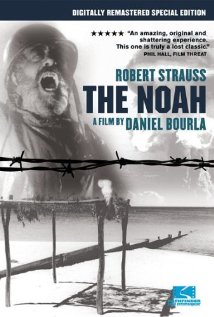 "Hopelessly Obscure Sci-Fi Festival at Somerville Theater fare tonight with The Noah; filmed in '68, played TWICE as a midnight movie in '75, the ONLY print was shown and the 85 year old di-rector (in audience!) hadn't even seen it! ok, black and white, quote from Genesis 6 on Noah and flood, think of On the Beach (which i saw at Harvard Smithsonian Observatory with Chocolate Watchband-ologist Profesor Dave Aguilar!), lone soldier floats ashore (filmed in Puerto Rico!) to an abondoned Red Army camp...being THE Soul Survivor of some kinda nuclear holocaust/flood/disaster, starts talking to himself and imagines a "Friday" character (Robinson Crusoe was actually a Scot!), BUT, le Jardin d' Eden (YES(or OUI!)! read the Bible at the French Cutural Centre in FRENCH!) (Bais Isis! Je Suis Kenne!) overtones, he catches Friday couche'moi with les femme and BANISHES them, so playin' God=loneliness etc. MIGHT I add, the somerville theatre door person "knows" me; "oh, you're sci-fi"; since I paid $110 for a PASS! Q&A was awesome, plus the heavily-accented director was trying to toss in Holocaust references, since the "No Man is an island" character picks up radio broadcasts; one was concentration camp recordings of folks being picked to die, but no one knew German in the crowd of sci-fi geeks plus, according to the website, "sound clips of the advance of the AFRIKA KORPS" (that's easy! buy afrika korps live at cantone's sunday 21 aug 77 on Gulcher!) Garen Daily, head sci-fi festival dude invited everyone to adjourn to Orleans, but work/duty calls and I have a double feature tonight! so in the end (it's on youtube!) check out THE NOAH; a '75 midnight movie, Ida been either stoned or snoring...(like Kenneth Eddie Flowers in Bloomington watching 200 Motels!)"......
Wikpedia, researching The Office (UK); Big George (born in the year of the kaiser and RIP) sings theme "handbags and gladrags", which i had on a GOOD early '70s Rod Stuart album (yes, he WAS good when Richard Nixon was president!) other fact, The Office (UK) takes place in Slough, Berkshire; incestry.com has Ma's mother's all four grandparents coming from Harwell, UK; mapquest - 47 or so miles away....Justin Case oi wanted t' 'ave tai on me uk TOUR, or go down the pub then and use the loo; like Ernest Borgnine as ROO in The Summer of the 17th Doll on atlanta tv in my SC trailer in '79 or so: "'e thainks e's th' crayown jules!" (crown jewels)
wikpedia sez: Ernest Borgnine played , a 1959 Oz movie, released 16 december 61, when my dad was stationed at camp lejeune, NC and combing his hair before he takes out the garbage (I DONT!) this Oz-British film had sir john mills, angela lansbury and McHale, pre-Navy, speaking in a VERY broad Aussie accent...Hello World was a NEW album and i still remember this VERY obscure borgnine movie but.....my parents are cuzzins! (incestry.com!)".....
Ricky Gervais facts; I knew it! my second ex-wife had a Gervais-ne-Jarvis grandparents and Ricky (the office) dad was a franco-ontarian (London - Garth Hudson and Dad's grandmother was from Mt. Brydges) with a wee bit of Iroquois Canadian soldier met english mum during the ballroom blitz...his hometown is a suburb of reading, berkshire (MY maternal grandmum's roots!) and THE OFFICE set in Slough...age; born same year as JOHN BOUCHER! and he really WAS a singer, then became a comedian (like me!): Seona Dancing, the band on London 1982-1984.. funny haircut music and were they ever Top of the pops? another funny haircut band.....the Beatles!!!!!!....hahahahahahah....(see, singer-cum-comedian, lissen to too much Blowfish in the New Wave on VARULVEN!!!"I'm a STAR!!!!!!!
Season one, The Office (UK); first broadcast july 2001; where the bluidy 'ell wuz oi? 4th of july Thee Psych-O-Daises and Triple Thick at the Abbey! Triple Thick had a July residency, went to EVERY one that month;4/11/18/25 july...The Office running the same week on BB-Say..."..
list of people from Slough (UK), whereThe Office (UK) happens: Rod Evans of Deep Purple! sang on all three tetragammon albums AND I heard "Hush" on WCMF Rochester NY back when Bob Bittner (WJIB) was at RIT! tying in the Office (UK) to WJIB...wow.
Saturday Feb. 14, 2015
since Chicken Little (Boston Globe) cried "the sky is falling" and those mofos are shuttin' down the MTA (glad they fired that skela!) blew off sci-fi festival (oy! i'm losing money!) to check out my Laughing Academy p.o. box (MRS. Curt (Pastiche) usedta work at that p.o.!) in JP. Trodding past Green Street Condos, where Nirvana opened for Chester Slicks, who saw Gizmos in Columbus, Ohio Halloween, looked into Papercuts JP "a new independent bookstore in boston", 5 Green Street ("like" papercuts jp on facebook!) talking with the young lady behind the counter, "this reminds me of Loren Ipsum" in inman square and "that's their old sign out front"" like Georgie Girl, "window-shoppin' but never stoppin' to buy' I DID eyeball the music books (Mudhoney's story? hey it's been 20 years, makes 'em halfway to Gizmo legend-dom BUT they aint jackshit vs. 50 years of Shadows of Knight as my facebook friend Jimmy Sohns BOMBARDS me with gig info and more power to him for STILL playin'!) also WRCA 1330 AM was SPLENDID from 9 pm on; 9 pm: country oldies ( Don Gibson i believe);10 pm-olde radio shows from 1950 and 1949;11 pm- peter sheinfeldt rockin' them ole 78s;midnight is a comedy show with a facebook page, gotta google it, lotsa baby boomer nostalgia and 0100, though deceased, Danny Stiles spinnin' 40s 78s! that's it for this week, no MTA tomorow, will Gee Julie drive me to sci-fi festival? stay tooned, as usual, i dont aim on dyin' YET but One Kind Favour: see that my grave is kept cleaner than GG allin's!".....
AND at Papercuts JP, the Viv/Slits bio, London '77, as Henry Miller said in REDS "there was a whole lot of fucking going on" and she reads like a "best of" London '77 UK punk! thought you werent 'sposed to kiss and tell or write "I DID the Band"
The Electric Comedy Hour midnight every friday WRCA 1330 AM; imagine the Car Talk guys praising Jimmy Durante! somehow the No Name restaurant is mentioned as a sponsor; Ken Highland LIKES this, it's like olde-tyme radio in the '40s! I AM my mother, back on the Blodgett farm, dressing like her, like Norman Bates (hahahahahahaha!)
"lissenin' to BBC radio 4; war and peace-episode 7! really good acting and it's Giz-storic;diggin' it! "Napoleon plans to invade Moscow"....i....feel like i was born a couple hundred years ago....L. Reed and War and Peace! talk a while "Think about it"!".