2/17/2020
Monday, February 10 , 2020

"Sonntag 9 Feb 20. At S-A-T-U-R-D-A-Y Night Wayne "warhol" Viens Gallerie Poulet art opening, I met Lucretia X. Machina of Lucretia's Daggers whom helped me de-compose verses for
"Pizza Delivery Move", Schmel Herbie Hind's "car song"
(I AM cuzzins to the Bleach Boys; I think they and Ma have same mayflower ancestor). They had some excellent turkey there too!!
The next day ("Sunday Mornin" = WHRB Blues Hangover 0700-1100!)
as Mad Painter practice. May as well Jungle gig Sunday 8 March 20; $5 and Tiny Oak booking says we gotta bring in 15 people! Oy! the guilt! Mad Painter goes on ten pm plays for half hour. Kenne Highland's
Air Force goes on 1045-1115 pm, "hits" plus new songs! Hope to
see you there! plus is Lucretia X. Machina birthday party!"...

Tuesday, February 11 2020

Monday Monday" 10 Feb 20. On youtube watching a bit on criminal John Bindon, whom had a career in movies also! Turns out he was a "violent mobster" in Performance, which was actually true to charachter! wikipedia filmography lists him as "airport passerboy" in the 1963 from russia with love (saw that AND in 1966, age 10, COLLECTED James Bond bubblegum cards, before I went "Cowboys to Gurls" and collected records and ex-wives....But it's the 1967 Poor Cow that catches my interest; it's all Absolutely Fabulous/Austin Powers but really FROM then, swingin' London and lemme
tell you about that soundtrack album, worth a few quid, mate! "Poor Cow" was Donovan's b-side to "Jennifer Juniper" (had THAT 45!) "The Cryin' Game" and Stones doing "Not Fade Away" also in movie; release date "meanwhile back in the states" was only two months before Blue Cheer on tv and "Itchyoo Park" on radio!"....



Wednesday, February 12, 2020

Til Tuesday 11 Feb 20. On this date 1977 I first met Ken Kaiser. We both have German ancestry. On my facebook wall, Aybike Celik Ozbey, singer from Turkish punk rock band Reptilians From Andromeda whom were on tour (and returning!) to Deutschland, found the Korps Hello World in Berlin, in a store. Pierre le Coutre, our Flensburg Groupie news reporter found same album 1980, same city! BUT, and we've had t-shirt sightings in India and leather jackets in Finland, a photo going VIRAL is Aybike holding the 1976 Gizmos ep plus Gizmos World Tour; Eddie Flowers says "yes they are originals!". Because of such devoted Gizmo fandom DO like Reptilians From Andromeda and let's bring them to the States! Airplay too! PLUS, American punk-rockers, Istanbul had a whole mess of Stray Cats whom DONT have the blues!".....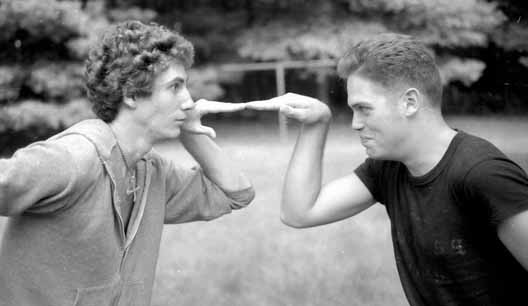 New friends 1977, Ken Kaiser and Ken Highland

Thursday, February 13, 2020

"day of Wodin Abraham Lincoln birthday 12 Feb 20, though actually day of Thor 13 (!!!) Feb 20 0600-0700 was where it's at. Pontoon palace, WMBR 0600 started playing a "sweet sexy soul" set that sounded like rene Sampson spinning at The Other Side! Barry White/ "pillow talk" by Sylvia/ Jackson Five "Never can say Gudbuy" ("T' Jane"?)/ "Head" by Prince....some damn good stuff! Plus "Nuthin But a Heartache" by the Flirtations....I BELIEVE WMBR has trackblaster and archives, so check it out! Jimmy Boticelli approved!".....

Friday, February 14, 2020

day of Thor 13 Feb 20. Supping and cruising youtube for films about "English Civil War", I found 2013's A Field In England. wikipedia kinda says: "historical psychological horror film...shot in black and white, set during mid-1600s English Civil War". The Hylands were in Kent, UK except for the Puritans that settled Scitutate mass with ancestors of Kevin Michael Allin, "performer". What is interesting is an "alchemist assistant" meets up with a couple Army deserters. They then go to "a field with many mushrooms growing in them".....I wont spoil the plot but this has GOT to be the most psychedelic version of Roundheads versus Cavaliers!"...

Saturday, February 15, 2020

Freitag valentine's day. Digging through a box of "did i buy this?" cassettes was Song of the Hills Instrumental impressions of Appalachian Classics on Shanachie. Normally a Celtic label BUT the antecedent was "hillbilly music" though this sounds more like the PBS Civil War music. Classics my great-great-grandaddy John McBee (born 1827 Virginny) woulda "covered' being a blacksmith from 1850-1870 in Basnettsville WV (pop. 435!), like "Shenendoah', "Shady Grove" and "man of constant sorrow" (reasons I love Zimmerman's first Columbia album so much! "public domain"- get them royalties!). There's three "heavies" from high school on here also; John Sebastion (I swear I saw Lovin Spoonful on a Gizmas Shindig ca 1965 playing a fuggin autoharp, which he does here!), Norman Blake (he used to understatedly pick guitar on the Johnny Cash show; ONLY his finger-pickin' was Be More Flamboyant, but damn is/was he good!) and lastly; Eric Weissberg!! hint: I first saw Deliverance summer '73 in a Rochester NY drive-in. There we go, age 9-17 I heard these dudes and this is an "easy' listening "Celtic/folk" album; Suitable For Reading! (I won Suitable For Framing- 3 dog night, coz I mailed WCMF, Rochester, a postcard saying Harry Nilsson wrote "One"; that was "Summer of '69"-Bryan Adams!). In closing, again, mad painter at the Jungle 10 pm, sunday 8 march 20 (Lucretia Daggers birthday party!) and Kenne at 1045-1115!".....