2/20/2017
Monday, February 11, 2017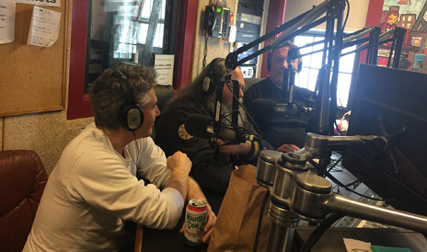 Photo: Gee Julie

"saturday 11 feb 17 marked exactly 40 years of me meeting Ken Kaiser. Like Airheads, we invaded Brian Young's A Crash Course for the Ravers show on WMFO,with a clann of Gee Julie, MJ Quirk and John Keegan. three hours of mishegas and what DO I remember?

we did some '70s Afrika Korps toons unplugged duo ala Page/Plant '94, spoke a lot of Yiddish like the Gruberger Brothers NEVER died; I especially enjoyed the sťance of the Gruberger Brothers as Brian played "reincarnation" off his $5.99 now-autographed Kenne Highland orange album from Store 54. callers: Moose Savage, Johnny Jumper Cable and Martha Hull's daughter!: "are you gonna play my mom's song?" (as requested by Miss Lyn). We had so much fun we decided this should be an annual thing til the Kenz do it remote from the punk-rock nursing home!
And of course John Keegan was with us to document this momentous event. You can see a whole lotta awesome photos here. John Keegan photos

then onto out of the blue gallery (Tom Tipton should do a go fund me; they need dough!) for MJ Quirk birthday party. Mad Painter opened, a keyboardist whom had played in an early incarnation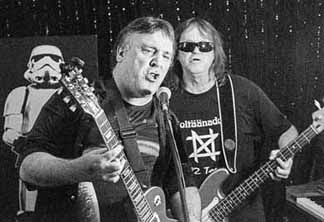 Quirk at Out of the Blue
Photo: John Keegan

of Silver Star and also was John Lord in Gee Julie's cousins Deep Purple tribute. Alex Gitlin is the chap, he was Emerson with a rhythm section (lake/palmer?), NEED a guitarist but since he and I are both Aphrodite's Child/Vanilla Fudge fans, the keyboard/bass/drums works! Hammond sound too like Small Faces. Johnny Plankton was excellent, opening with 999's "homicide"; Johnny Plankton was backed up by the dudes from Hixx with Jedediah Hixx on bass and he and Bob Daley were an excellent rhythm section! Richard Mirksy of the Wayouts on guitar and check these covers: "queen bitch"/"be my lover"/"jetboy, jet gurl", blondie's "dreaming"....picking up where club linehan-a-go-go leaves off! I texted Miguel D'Amour so he and Ken Kaiser watched me do a lot of Chuck Berry Motor City Five licks plus Hendrix's "hey joe" behind the head solo during "smokestack lightning". The Southie Boys (Quirk/Mighty Quinn/Linehan) played like the patriots during the Super Bowl and John Keegan on sax was the extra point. lastly,"seasons in the sun" I added all these little Hendrix at Monterey pull-offs and feedback; whenever I borrow Rich Mirksy's guitar for gigs, he says "My guitar would be HONOURED that you play it"....No smashing or lighting on fire though! Otherwise, as usual it was Link Wray channeling Pete Townshend via Hendrix live at Monterey! I even made ten dollars! Support Out of the Blue it COULD be Gallery East!"....
....Now Keegan still being with us he also documented this part of the day too. You can see his Mike Quirk's Birthday Party at Out of the Blue Gallery photos here.

Wednesday, February 15, 2017

"Abe Lincoln's birthday was pretty snowed-in but besides listening to Grecian Echoes WNTN in morn, sleeping like two cats in afternoon and Log Cabin fever in evening Ken and Gee Julie actually "jammed"! Me using her ephiphone acoustic coz "I wanna be like flowers, lennon and Bear"....Her head was in '72! I FINALLY figgered out "all the young dudes" (one of her favourites, though I always preferred the b-side "one of the boys" which I HAVE covered) and in honour of Byrds soundman/WMFO Morgan Huke, some Byrds, "mister spaceman" being superb (saw some IU band doin' Byrds back in '74, Crosby-era, STILL great stuff!) plus some T. Rex! rare (hopelessly obscure?) 45s that solomon gruberger had taped me back in '72 like "solid gold easy action" and "children of the revolution". Lastly, spoons-less, we figgered out a bluegrass version of "seasons in ths sun" using G/A/D, done at a "mister spaceman" tempo. You MIGHT even hear this next year on crash course for the ravers!"....

Thursday, February 16, 2017

Monday the 13th; 40 years after PFCs Donal M. Buckley and Highland, KE performed "jailbait janet" at a fort meade maryland talent show (AFTER meeting Kenny Kaiser!), I was now snowed-in, feeling older than my years and decided, on youtube to google Sophia Loren movies (I been a fan since watching boy and a dolphin on the mean screen in jacksonville NC, first grade, so that's early '63 i reckon)....SO, JUDITH (1966) is a HOPELESSLY Obscure one and damn good too! Leave it to Hollywierd; Sophia was the Jewish (?sephardic?) wife of a nazi war criminal and got put in Dauchau but is now on a secret mission to kill her husband in PALESTINE; a little google history and this is RIGHT before the British pulled out of what now is Israel, until I declare micelf king of GIZreal! age ten i woulda LOVED this movie; valiant Israeli digging in and fighting Arabs from ALL sides near Syria border; now that I reached puberty about 1969, Sophia in Daisy Dukes and high heels walking through the kibbutz will have you do "the shake.....the rattlesnake shake".....i guess I can give away the ending; Sophia wounds Nazi husband in Syria but Gizraealis bring him back to kibbutz, but since he's been supplying the A-rabs with tanks, schadenfreude is when enemy airplanes blow the Nazi up on the kibbutz...again Ken, age 10, diggin' the explosions etc., shit my father actually filmed in 'Nam. so, hey, youtube when you got snow up the arse and don't wanna deal with the cold and go to the picture show!"....

Friday February 17, 2017

"three day MISTER President's weekend surely means sci-fi fest at davis square in somerville and I mostly been stayin' home watching bad foreign movies on youtube BUT Valentine's Day Gee Julie and I went to Effie's kitchen, 37 poplar street, roslindale. right next to a Greek market in the square and a men's Greek club also. Getting a $12 dinner plus we had leftovers was awesome, Effie is from Thessaloniki and Julie told her where, two hours northeast of Athens in Peloponnese, her grandfather Gee came from (I might be rubbing off on her, I have the same conversation every tyme i hear a British accent...)...But the HIGHLIGHT of our Valentine supper was Mega tv! oldest channel in Greece. there was some wacky comedy; who needs subtitles? Then we got engrossed in a cooking show but Miss Lyn's main course was the cook: tall, skinny, black curly rockabilly 'do, tattoos....she woulda said "Sa ga po and you are a Greek God" meaning "I'm in love with Alexandros Magos and think he's beautiful" .....
| | |
| --- | --- |
| | |