2/27/2017
Tuesday, February 21, 2017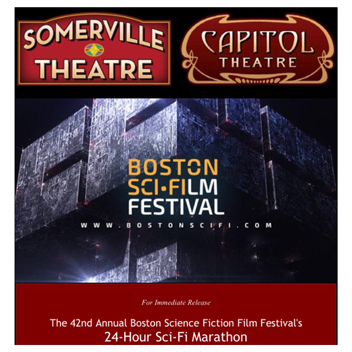 Quirk at Out of the Blue
Photo: John Keegan

42nd sci-fi marathon davis square somerville theater. roky horror singalong on old movies (theme maybe?) Duck Rogers Daffy Duck cartoon. hitchhiker's guide to galaxy. galaxy quest ("cheeky loving take-off on a star trek type tv show, cast

end up living one of their on-screen adventures. IN JOKES AIMED FOR AUDIENCE LIKE US meaning Miss Lyn's future ex-husbands! Alien mating cry contest (dinner break at Blue Shirt Cafe, vegetarian fascists! It's actually a great place- I like it). 1954 black and white creature from black lagoon. Gattaca "futurustic take on eugenics" where they can discriminate against you coz of BLOODTYPE but an untermensch beats the system AND gets Uma Thurman! Mad Max: Fury Road; these are SO over-the-top! Charlize Theron rescues some biker's five wives from captivity and the biker's gang has a Motley Crue pf vehicles looks like WACKY RACES! Theron escapes to homeland and there's a BADASS female biker gang, lots of automatic weapons, explosions and the bad guys have a guy on front of a vehicle playing three guitars! alien-deflecting helmet contest; one lady dressed by Princess Leia, Carrie Fisher RIP, a nice tribute. Brazil: saw this in '86 in harvard square with Metal Mike Saunders! Nina Unclocked (that's Unlocked, Kenne!-ed): 10 minutes of a robot talking to a psychiatrist. Time Crimes: SPAIN! dude goes back in tyme so there are THREE Hectors! "the chica" played by Basque actress! Positively 13 o'clock (0100) "down on the street" and "hey Kenne Highland! Gizmos! "amerika first"; met these fans last year (they are from Funeral Cone)! They got their new guitarist at the 'Thon last year and even said to DJ Chris (Heroes and FIGURES ON A BEACH!) "chris, YOU could be in the band"...ok, so rocker sci-fi guys who believe there's a "starman, waiting in the sky"...lotsa of guys with glasses and tattoos! (Miss Lyn would be their REAL WIFE!). John Dies in the End was done by Phantasm's guy, 0115, coast to coast AM tyme and the movies get WIERDER...stoner dudes and zombies in an extinct shopping mall and Bark E. Lee (yes this dog is CREDITED!) saves the day/world. three minutes of wizard of speed and tyme; neither heaven nor earth; France, Belgium but i mostly slept at 0303, same with This Giant Paper-Mache Boulder is really heavy (new zealand!). coffee and bagel at Mister Crepe and fucken Predator!!! In 1987 TOO much good music in clubs BUT Ah-nuld and Jesse Ventura in a chopper listening to little richard's "long tall sally" on CASETTE coz "we're gonna have some fun tonight"; like automatic weapons, explosions, action...SO fucken camp...before Ah-nuld became a Kennedy i believe! Now that I had my morning coffee it's a double feature of The Rocketeer and Tremors. The Rocketeer is set in 1938 hollywood, hero is a captain marvel type guy pilot with a rocket strapped to his back and best scene is him fighting the Nazis on a burning Led Zeppelin (oh yeah, "we" win) which'll have you singin' "amerika first" before you know it! The big band in the bar covering Artie Shaw= Ma, age 7= me, 1963 listening to....peter paul and mary? "Begin the fucken Beguine"! Tremors has Kevin Bacon as a cowboy (actually lookin' like Mark Frazier of Unattached's "red-headed stepchild"!) and giant prehistoric snake almost kills off Nevada town of 14. BUT pay attention to Reba MacIntire as survivalist husband-wife team with an arsenal that equals Some folks record collection.....after 24 Dazed and Confused hours THIS was over the top! and brunch at Blue Shirt til 1 pm! of course the Brown Shirt Cafe would serve up bier und schnitzel!"

Wednesday, February 22, 2017

"finally returning from The 'Thon 3 pm president's day, I wasn't worth a damn but decided to use Tune-In radio, i-phone/MC5 to listen to Zuma Radio 740 AM Toronto (coz a coast to coast host said "i have the conspiracy show on that channel. other note: WALL STREET JOURNAL mentioned, via George Noory, the conspiracy dating site and paranormal dating site...I coulda used that in the past, so's I wouldn't marry my cuzzins!)...ok, so (cant resist SOME fambly history), both my parents have a canadian grandparent so i'm like a quarter canadian and brockport NY to toronto proximity, I CAN pick up 740 AM at ma's house! SO such NOT so much heard artists on AM like Joni Mitchell and Andy Kim (O Canada!) I ended up that afternoon hearing TWO david clayton-thomas toons, BS&T. "and when i die" and also "hi de ho". splendid listening before i turnt onto Funhouse. But re-hearing them, what stuck out was my facebook blues project friend Steve Katz on HARP! He's not Little Walter but he blew some damn good harp on both a-sides! wikipedia, BS&T 45s discography AND Steve Katz sang the b-sides to both those hits..."sometime in winter" very rare toon! Being bored (Gee Julie singing "que pasa NY"), I also renem-buh that WCMF, rochester NY (Bob Bittner WJIB dj'd there!) played THE CITY version of "hi de ho" in '69; this was Carole King and some guys worth wikipediaing, some of whom were in the Myddle Class whom got velvet underground a gig in JERSEY! I saw Carole King at IU like 31 jan 76, two months before Patti Smith/MX80 and the tymes they WERE a-changin'! "Teddy Niemec and Bear decided right then and there" that I was a better guitar player than whomever had played with Miss Klein; maybe more exciiting but the month previous I'd seen Chicago with TERRY KATH, $8! (better than Stones july '75, same college, same price). I know I'm getting REAL record geek here but lastly, I had a Peter Paul and Mary lp that had Laura nyro's "and when I die" so I heard that maybe '68, before BS&T had the '69 hit....or is all "questions 67 and 68" or "25 or 6 to 4" or "649 steps to you" or "highland quit looking for 39 when it's 25 plus 7 plus 7 is"".......


Friday February 24, 2017

as usual a superb club linehan-ago-go practice for friday 3 march 17, c-note, hull Mass. playing with Tsunami of Sound and Greg Allen. Two new toons which, of course I researched. "dont pass me by", ringo's toon on white album but Georgia Satellites version which opens with a sped-up "that's cool" riff in D. MJ Quirk and I harmonize on this, such a great country-rockin' toon...this is Wilkie Southern Rock! also learnt was "the stroll" by the Diamonds; baritone sax by John Keegan sounded like Morphine! that Mighty Quinn/Linehan rhythm section fall in synch; again with my Dogmatics comparison but they play like O'Hallorans! SO, i thought chuck willis had done "the stroll'", but I "better hang up my rock'n'roll shoes": it was the Diamonds from toronto in 1957. written by Clyde Otis (Johnny Otis had some shortened Greek name) and he was a Marine in WWII! wikipedia info: inspired by fellow Marine Bobby Troup he WROTE 800 SONGS AFTER HE DID HIS SERVICE! (have I?) Bobby Troup wrote "route 66" (is that next? the Marine Hymn? The Marines Him?) and he was a white officer at camp lejeune NC area (kindergarten/first grade for me) whom commanded black Marines (kinda like Glory) and started FIRST BLACK MARINE BAND (usually I was the white guy jammin' with the brothers in the barracks but guess I wasnt the first though I claim to have pioneered EVERYTHING!) After, Captain Bobby Troup fought at Saipan; Music to Kamikaze By? So "route 66"/"the stroll"/"jailbait janet", a tri-fecta or maxi e.p. of great toons. And Clyde Otis died Englewood NJ 2008 so he MUST have been at Elston Howard's house in Teaneck listening to the Gruberger Brothers fight...shit, Jay Gruberger and I woulda loved to jam with him, "the stroll" being such a great E progression that solomon grubeger would have hated".....