2/27/2017
Tuesday, February 27, 2017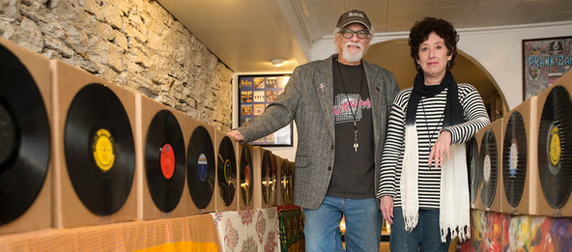 Vinyl Acres

"I spent saturday 25 feb 17 taking a nap and listening to WPAQ, Mount Airy NC and glad I did!

Ida May: the dj said he was playing 78s he found underneath his great-grandparents bed, some from 1927 and it DID make me ponder....these 78s 90 years old, my punk releases 40 years old....but what I was looking for was Joe Bussard's 130 pm old 78 shown; he's 80 years old, collects 78 but would NOT shoppe at Martha Hull's Vinyl Acres coz "country music died about '53"....there IS hope for my future! Vinyl Acres reference is coz Joe Bussard is ALSO located in Frederick, Maryland and TRUST me, ancestors of Hank Williams and Alice Cooper lived there! But back to Mount Airy (it was 60 degrees out but like a vampire i avoid the sun coz of my 10% southern european and 3% middle eastern skin colour)....Snuff and Stuff Tobacco! like them on facebook! ALL yer tee-baccy products! Besides obit-yew-Aries and church I also heard adverts for free fiddle AND guitar lessons and a jam session and also free square dance lessons! in the past I've heard an ad for a place with MEAT!!! No gun shoppes...another tyme I had tooned in and they were doin' a salute to local boy Andy of Mayberry! and did indeed play, as covered by Ken Kaiser at Jay Allen's Mess Around at Plough, "let's go down the fishin' hole", which, instrumentally, was on the R. Stevie Moore record in kaiser stadium 40 years ago...WILL Martha Hull's great-grandchildren play "i wanna burn out" Fiddy years from now? turntable be like me lissenin' to my grandmother Blodgett's 78s on the ole Victrola! with the windows shut and my uncle Howard tellin' me about ole radio shows"....

Tuesday, February 28, 2017

Sunday 26 Feb 17 Ken and Gee Julie go shopping at Patel Brothers on Moody Street waltham and that street looks like how Central Square USED to be; worth a commuter rail ride or bus from central (MASS AVE!) Patel Brothers has DVDs! But since my interest lies more in the arts than cooking (eating is ANOTHER thing), Ken and Gee Julie went to the Waltham picture show which is a Kendall theatre affiliate (passes work here too!) and we saw Red Turtle. excellent animation NO dialogue a "circle of life" movie and you'll like the lil crabs scooting along the beach of the shipwrecked isle; Robinson Crusoe actually gets a mate from a red turtle! whom, in water, favours Venus de Milo with Lady Godiva hair....a lot of symbolism, wikipedia gives away the plot and you Gizmos will "Cry Real Tears"! We stopped into The Outer Limits, a comic book store and this dude had my LIFE in there; Marvel and Classics Illustrated comix, Beatle collectibles that, boy, if I'd kept them...Elvis picture sleeves....he said he got them from people's attics and what not; DO go there. Also found a bookstore with $3 albums, Seatrain album with "13 questions" looked like a definite possibility (that song was on WCMF rochester NY 1971!) cool books also...lastly, supper at a Thai/Vietnamese place....I shall surely be going back to Waltham soon! the 'burbs aren't exactly cookie-cutter YET!"...
| | |
| --- | --- |
| | |
Wednesday, March 1, 2017
"reading Monday 28 Feb 17's NY Times (yesssss.....) page A18: fucken Brockport NY! Not since about '82 when the Wall Street Journal mentioned closing of Owens-Illinois Glass Plant puttin' a lotta west virginny hillbillies outta work in the Rust Belt has Brockport made the news. This tyme: SQUIRREL HUNTIN'! "most protest is from Downstaters that wouldnt know a Rembrandt from a Remington"...Brockport local: "it's a country thing"...Now you see why Lydia Lunch and I moved to NY to live with Suicide or jam with O. Rex (answer: we were that much closer to Ken Kaiser and Elston Howard in Teaneck NJ). Brockport Elks club sponsoring this, did a lil google as to WHERE on Sweden-Walker Road it was and answer: due south of where the Swing Set used to play plus where Ma's mother was born and about three country miles north of where I was in a band called The Squeeze about '71 on the Swamp Road (my friend's house smelled like sulphur from the water; rotten aigs!) I see Northhampton Park, that's where they nabbed a serial killer that was Jack the Ripper-ing 'ho's from Rochester....and Ma says "the city's rough"...shee-itt....I worry more 'bout them damn hunters (WEAR ORANGE!) than I do 'bout gittin' my ass capped by Heath Street Projects! coffee kickin' in and Ken Kerouac has to write more for VULCHER!!!!!!(LOVE them on facebook!)".....
Thursday, March 2, 2017
what better day to spend Saint David's Day than with the St. Paidrig Day crowd celebratin' Club Linehan-A-Go-Go? This is practice for friday 3 march C Note Hull gig; Nantasket Beach is where the Mary and John landed, that's ancestors of Johnny Jumper Cable, (me) and.....BRITNEY SPEARS!!!! (and her ancestor went to IPSWICH!!!! home of The Fools)....highlights that I remember are me trying to add Hendrix's "one rainy wish" (I THINK that's the toon) to "seasons in the sun" and fucken "dont pass me by" (Beatles) so TOTALLY Exiled on Sticky Fingers me doing Keef-cum-Unattached-cum"Gizmos world tour" 2014 "brown sugar"-y licks and John Keegan a-wailing like Bobby Keyes which is how he joined in first place 2014 Gizmos east coast tour doing crawlspace's "the devil talks in tongues". More Dead People Facts before they go into Vulcher: mutual Rhode Island ancestry of me/Jim Morrison/Mark Farner! (yep, we's ALL kin!)...so during "the stroll" and John Keegan's sax solo, I feel obliged to do Farner's chords from my 1969 45 of "Time Machine" and in a FURTHER Farner fest, Terry Knight and the pack's "love love love" as covered by Brownsville Station! MJ Quirk keeps pickin' the hits, "the Mighty Qinn" AND Kev Linehan rhythm section keep getting tighter and next gig I know of is save Out of the Blue gallery on father's Day!".....And Go Fund It before the show too.