3/10/2014
March 03, 2014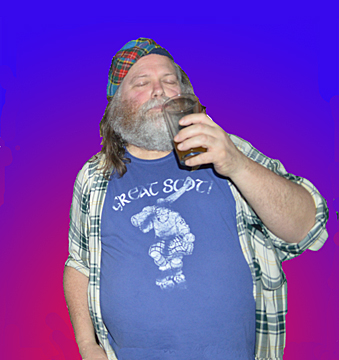 Saturday night at Cantab Lounge: after 6 going on 7 did a Budgie (!) cover; it was tyme for Pabst Blue Ribbon (fuck that shit!) and Maiden New England! Gee Julie wuz hangin' with the popous at the Greek-American social club, whilst I helped her cuzzin schlep his ENORMOUS drum kit downstairs; Mark Geanakakis drummed in Two Million BC, whom I saw at the rat about '82; at the tyme they WERE Spinal Tap! So Maiden New England is an Iron Maiden tribute band; the South Shore has plenty of male-dominated '80s metal tribute bands BUT, in this combo, besides ChinStrap's bassist is TWO ladies who ROCK!!!! Kristin Paris (on Facebook!) "shreads" and does DOUBLE leads and singer Adriana from VENEZUALA has duende: projects her vocals, emphasises the visuals and every songs ends like "Kielbasa" (Johnny and Jumper Cables; Stanton Park 45). after a couple PBRs ($4, bottle), I decided "yeah! Tazmanaian diablo on vocals and Animal from the Muppets on drums!" after schlepping the drums UP the stairs, I wuz fried, mellowed out at a Sunday movie Davis Square,Somerville: American Hustle. rotary phones, 70s clothes, 70s soundtrack, 70s sleaze, this movie is Giroux-approved! (lotta backstabbin' deals etc.). so see it, recomened by me, cost $9, will see it again coz,of course,i DID sleep a wee bit....

March 04, 2014

it was a cold Monday night at the Midway but we still had fun! Climate Change has new rhythm section, keyboards, Mike Wheddle on guitar and Matt Gilbert on lead (kind of a Roky/Stacy Sutherland vibe), so dancing gurls though; i thought they were camp. Gyro Luau are VERY rootsy; Johnny Del was in Souls, plays a big twangy rockabilly guitar, John Cagnina's brother was Tony (and Mechanics) and Peter Goutzos ("Little Hawk" is his native name) drummed in Vinny Band! They were somewhere between CCR and Brinsley Schwartz/Rockpile. Gravedancers did a lot of their fine '70s-rock cd and end of night was me and Matt Gilbert doin' "ballad of dwight frye" (eerie coz was last song i sang to Joe Coughlin (RIP) and we also did it in Alice Highland, a Halloween in '90s; i felt his spirit);"Dead Flowers" (sung at Rat Beach Party pre-party with me/Gilbert and Christina Angell (RIP)) and lastly, "you shook me" with me, Gilbert on guitar and Cagnina/Goutzos rhythm section! granted, Cactus was an American Led Zeppelin, but we were pretty damn close....look for more jams by this combo!...."

March 06, 2014

since I am now between gigs, I decided to "get my Kraut on, yo" and attend free/cheap events at der Goethe-Institut, Boston. Last night was a discussion on Marcel Proust's Swann's Way; what i learnt: the narrator, a closet homosexual, got ALL bent asking a woman: "have you had realtionships with women?" also, der Hot Blonde Pagan teacher, said: "what do you call a procurer?", then asked same in german; once she figgered out "oh, a pimp", she goes "I call a pimp a pimp" (in Deutsche accent). then sado-machosim was mentioned SO we got homosexuality/lesbianism/masochism and a pimp....sounds like a Velvet Underground album! Maybe I'll actually read some Proust! coming soon for this What Is German series (see Goethe website): DH Lawrence! hey wait! HENRY MILLER was Deutsche-American! (like the 1/8th that I am)....I learnt something and was FREEEE!!!!!!!!"...........

March 07, 2014

did a double-header with Gee Julie and her hybrid car; went to Goethe Institute for DEFA Wall Propaganda films; Look at the City, GDR,1962; the Commies said west Germany was Nazis and also dont forget that western decadence of the Coasters' "Charlie Brown" and the Ray Coniff Singers! (? Ma usedta lissen to them....yep, western decadence)....RECEPTION afterwards and we socialized with ex-pat Germans and Buddhists!

Then off to Tavern at the end of the World; Natalie Flanagan did a killer "Love in Vain" and Eric Martin and Chris McLachlan did the "Tommy overture" pretty damn note-for-note...I LOVE Natalie's thursday residency so scoopies: thursday 27 march is THE Kenne Highland 58 birthday bash with Highland Clan and Natalie Flanagan...so now you know and see you there; Trick Wallace reads my writin's so let's not forget St. Patrick Day is his birthday AND Max from Sonic Daze will be in town!"(going!)".....

March 08, 2014

well, it's 1989 ok....all across downtown Quinc-ay"...Maiden New England (female-fronted Iron maiden tribute) played South shore music hall Friday night and gee Julie's cuzzin Sabbath Drums (2 million BC!) agreed that the club looked like...Lucifer's! rock-la-homa comes to the south shore and (lack of) hair metal still reigns! Venezuala-born Adriana Solarzono (and excuse my spelling) singer is a cross between Janis Joplin and Diamanda Galas: yes, THAT intense! BOTH guitarists (male/FEMALE!!!) SHRED like Johnny Black, bassist Frank Sabbath is in Chinstrap, so punk/funk/metal lead bass that ONLY Jay Gruberger (RIP) would love and Sabbath Drums is like Animal from the Muppets on meth! (OR Bill Ward/Ian Paice on speed, this comment is SO 1974 Solomon Gruberger(RIP), O.Rextasy) yep, gruberger brothers would LOVE this show (we usedta cover Sabbath in '73, but by '76 it was Ramones).

was too burnt from work to stay for female-fronted Guns and Roses band but I will Shirley (Jerry Shirley? Humble Pie?) go back to this club for tribute bands! Adriana kisses my hand in her Latin way and said "compadre!"(looks kinda like Cat Deleon; compliment!) and one "townie" said: "I'm gonna tell my singuh he sux! after watchin' yew"...yep,"good people" last night and DONT forget the Latin American denim jacket with leather biker-bearded contingent drinkin' Heineken cans! a very passionate crew of "good people", i gotta say.....and Adriana downs as much booze onstage and says "mutha fucka" like Ken Highland in the Jumper Cables aping Rob Tyner! maybe Blowfish and Miss Lyn will check this act...."

March 09, 2014

another fine night at Greedy Geezer's garage night, Quincy, Mass. I will "waste" space on Gyro Luna, Quincy debut, since their musical pedigree is as big as my hog; and I got "a toilet in japan!": rootsy trio whom i met at rat beach party; there's pub-rock, Brinsley Schwartz/Rockpile/Mike Deville/CCR;back when folks wrote SONGS! Johnny Del was in the Meetings, then the Souls with Adam from Private Lightning; John Cagnina and bro were Tony and the mechanics; and Peter Goutzos, the Jimmy Carl Black of the band (Little Hawk; not a "fake Indian" like our editor!) drummed with Twelve 76 (Salem soul/horn band ca. 1969;double-check my facts) and Vinny Band and Fools. Johnny opened for Wayne Kramer once and knew Cub Koda in the '80s ("I played his '53 Tele!") and as for rhythm section: "you know Alpo?!?" lotta DEEP North Shore roots here, veteran musicans, playing Plough friday 28 march, day after Kenne birthday party, thursday 27 march with Natalie Flanagan!...."

Twelve 76 IS the band did the great Northern soul 45 out of Salem with Peter "Little Hawk" Goutzos on drums!

March 10, 2014

Gee Julie religously visits Morgan Huke, WMFO; has memory loss but mentioning Natalie Flanagan jogged his memory! am mailing a card with the Tavern at end of world crew signed:(sic): Mister Morgan Huke, 272 washington street, gloucester,mass. 01930. and he IS akin to our most inbred president: William Howard Taft! (his Ma was a real Southern belle).....I have no memory loss as of now; I merely develop domestic amnesia.....(hahahahahhaha!)......"