3/18/2018
Monday, March 11, 2019

sunday 3 march 19. in harvard square. Raven Used Books 52-B JFK street (wait! that's on church street now! ) picked up High stakes and dangerous men: the UFO story by Neil daniels; mine was $5.95 but there's a couple copies on amazon....answering my own questions, I DID dig UFO, WIUS, indiana university promo albums on chrysalis, then the ramones happened and "too hot to handle" may as well have been Spinal Tap...plus making my OWN albums where i played better than Ace Frehely AND Michael Schencker, but not June Millington!)....all this to catch a black and white noir DETOUR from 1945 'drama/crime", a genre that I DO love: as did Lou Reed! SAM THE SHAM AND THE PHAROAHS and Sam Spade; even Sam McAfee in Chloe! "I dig eveything"

Tuesday, March 12, 2019

sunday 3 march 19. left harvard sqaure "Two trains runnin" to tavern at end of world. The Motherfolkers were great! rootsy, CCR-type rock with harp; these guys had been to the mama kin blues jam and knew charlie leger of sweet cheater. MJ Quirk lead off the open mike (every sunday 7 pm!) covering the strangemen's "hitchhike UFO"; i did some solo slide blues; Rob Lynch did a mess of irish songs (his specialty!) PLUS (never ceasing to blow my mind) ALL the words to Harry Chapin's "Taxi"! (one sunday i jammed on dylan's "tangled up in bue" which lyrically is almost WAR AND PEACE!). Lastly and THE highlight of night was natalie fanagan and charles hansen doing pink floyd's "comfortably numb" with Charles soaring on Dave Gilmour lead. 11 pm and you saw the Dark Side of MY moon as the snow began to fall

Wednesday, March 13, 2019

coffee, 0600,WMBR tuesdays is "if six was done",Thor's Day is Pontoon palace....whichever, it was Wimmen's Week and fucken Ida May, they played Fanny's "aint that peculiar" one day and "hey bulldog" another day (ironic I had dug out my Bill Deal and Rondels cassette with a cover of that Yellow Submarine song! Not covered that much!). So I forgot how great a band Fanny was! This leads into another Solomon Gruberger tail for Ken Kaiser: Solomon used to tape his records for me on this shitty recorder that was O. Rex quality! Those reels to reels...sheesh! But he did tape his Fanny collection to which I thank him posthumous. Also, pretty sure, my 1973 fanzine Rock On (Boston Groupie WHO?!?!?!?!??!?) had a Solomon-penned review of Fanny Hill which I probably typed on a typewriter i bought on the Ridge Road the first tyme I heard "Little Willie" and Grand Funk and Stooges were on the cover....fast forward to Saturday and "something happened to me three days before yesterday" to paraphrase the Stones

Thursday, March 14, 2019

day of Wodin 6 Feb 19. practice for club linehan-ago-go. gig offers keep coming in but let me promote the NEXT one; friday 5 april 19 cantab with Butterscott; it's Jonathon Scott birthday and we ESPECIALLY want to thank Joel Simches for the gig offer! And thanks to all who DO email for gig offers of course

Friday, March 15, 2019

saturday 9 Feb 19 was John cale's birthday but I was busy enough! 330 pm set at midway for club-linehan-a-go-go, used a Billy Connors amp and I got a randy California/Spirit sound on everything plus playing with my fingers ala Johnny Angel Cantone's '78; made the Hendrix riffs sound good! I know we opened with "circle sky" sung by drummer Kevin Linehan and i tossed in Yardbirds "what do you want" in key of A which works. ending with lady caroline doing "I got the music in me" AND she and Mj Quirk harmonised nice on that 70s oldie "Gold"; I kept quoting from Deep Purple's "pictures of home" and Kiss "I was made for lovin' you baby" plus a lot of feedback/toggle switch.....shit I'm giving away my secrets! Billy Connors and State of the Union rocked like they ALWAYS do, so read previous opinions, aint nuthin change "if it aint broke dont fix it"! Crunchtime gave me a cd and when Brigands/Charlie dont surf (whom i was offered to play with! my '70s pyrotechiques on Clash songs? Holy Smack tan Blue!) and Brigands played a Halloween show Jacques (thank you John Surette!), the Brigands and the Charlie guitarist met BUT on bass is Billy Harrison whom I met Halloween '82, 20 ashford street, same night i met Moose Mudbug! Straight ahead guitar-rock ,one of the many styles i like "you CAN judge a band by listenin' to their covers" so Dogmatics "sister serena" (our John Keegan on baritone sax!) sums it up. many gig offers were proffered, "we gotta do this again"; more fun than speed dating! (where you Best Bette becomes your Losing Bet!)....Now I could i top this great afternoon? read your fuckin newsfeed numbnuts! Liz Borden said JUNE MILLINGTON (FAnny!) sally o' brien's that night, $10! If I were GG Allin,I'd have shit micelf (agin!). Suffice that when I saw June Millington do "midnight hour" with that same fanny-era Les paul with Liz Borden and Linda Price on vocals,it "tales of kenne highland/while his naked ears WERENT tortured/by those sirens sweetly singing!"....the ghost of Solomomn Gruberger sent me there! and drummer alice de Buhr and I have exchanged tribute...why does Solomon wear the Fleetwood mac t-shirt on afrika korps album? "i first heard "over my head" and thought it was Fanny!" He was right! June's voice is christine-ally Perfect! I end this week "from the beginning' (coz "Tomorrow never knows"; i'll get to hal blaine and Asa brebner next week)...from the wikipedia for Phillip Berg; (original name Feivel Gruberger born 20 aug 27; shit I got married on Solomon and jay's uncle boithday? And Jay said "listen! someone broke a glass!" (I was pretty drunk) ok: "Berg was as Shraga Feivel Gruberger in 1929 in brooklyn to an orthodox Jewish family. His father Max Gruberger (grandfather to O. Rex!) imigrated from Nadvorna in Galiziz, a town now in ukraine and worked as a clothes presser in Williamsburg"....For those that knew and loved the grubergers Oscar was the older brother! and he begat O. rex. Thus it is written, thus spaketh GizMoses!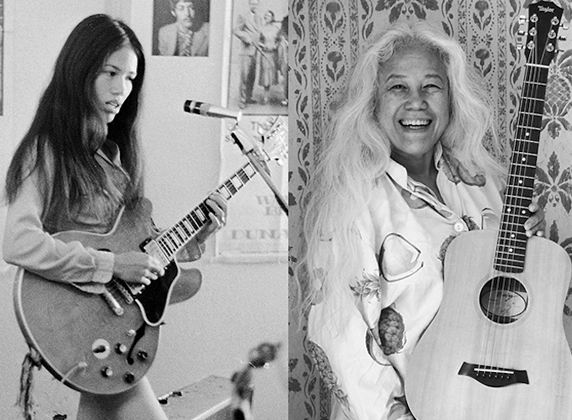 June Millington of Fanny