2/27/2023
Wednesday, Feb. 15, 2023

"Saturday 11 Feb 2023 715 pm. That date in 1977 jamming with Ken Kaiser on first ramones album. 46 years later; somerville thee-ate-er, $10 senior! (met kaiser age 20), movie; Women Talking. ok if i didnt fall asleep it was good! Mennonite colony in Bolivia, women are EXTEMELY abused and they talk of leaving like my cuzzin David van Cortland Crosby "we are leaving you dont need us" only it's horse and buggy on a dirt road "very free and easy"....The abuse these ladies take from this pacifist (?) sect is not for the squeamish but maybe a "message' is supposed to be here. Like a French existential film, they spend the first half "talkin'' 'bout "should i stay or should i go", but,not giving away the ending, they got tired of waiting for Godot! Somerville has GREAT $10 seniior selection,so get you ass there and president's birthday of course is sci-fi marathon!"........

Thursday, Feb. 16, 2023

"Sonntag 12 feb 2023. double feature $18.00. Back To The Future/Bill and Ted's Excellent Adventure. In 1985, Miss Lyn and I hung with Cheetah Chrome when he was working at Huskie's,so i went from the Dead Boys to Huey Lewis! best part of movie, Michael J Fox plays with r and b band and says "it's in B, just follow me and keep up"; SO Kenneth J. Highland! It's 'johnny b goode" and chuck berry's "pretend' cuzzin gets on a land line and says "chuck chuck you know that new sound you're talkin about?". prom: 1955, "B. Goode": '58; at least THAT Gizstorically accurate!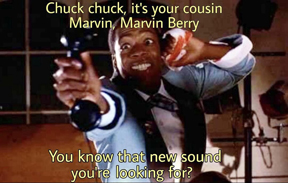 Bill and Ted's Excellent adventure is class of '88, 1989 movie (sorry, too busy in the Rumble to watch) and dudes! the '80s hair metal soundtrack is like totally awesome dude! (especially Rick nelson's young'un's with 'we're an american band" cowbell and anythemic chorus!). Going back in time in a Dr Who phone box and meeting Gizstorical figures? phone calls are 20 cents! Ken and gee Julie dancin' in aisles as credits roll to the Nelson song and then, during Coast to Coast AM i was Tony orlando pre-dawn: "puke five times in the toilet if you et somethin'/ dry heaves/ if the answer is no"..........
Friday, Feb. 17, 2023
Lastly, couple months ahead, mad painter cd release Jungle 22 april 2023, 47 years after Gizmos; I am still in love with Ken Highland and think he's beautiful. Til then, I'll be starring in Paws and Order, obese black feline assaulting BGN editor on face, resulting in huge gash under left eye. we have a suspect in custody (photo below). and at the Sci-Fi fest, mach bell stars in Attack of the Killer Pop tarts! ("phase one in which Doris gets your goat")"......
Tuesday, Feb. 21, 2023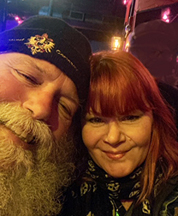 Kenne & Justine

"freitag 17 feb 2023. as tempting as it was to catch Cocaine Bear the somerville thee-ate-er, i kept on truckin' to the Burren, red on red showcase $20,

Full House, sold out in fact. sittin' with my Syracuse homeboy Anklin dan who confirmed 'take the skinheads bowling" was by camper van beethoven "BUT (record collector talk) I liked Cracker more. This was covered by Cold Expectations, guitarist from My own Worst Enemy with a great rhythm section! "It's keegan o'clock' with Zoot horn keegan, BGN. what song? jeopardy clock ticks for me, anklin Dan, bret Milano and the winner is: captain easychord/many facts: "Kenne, this is Inxs 'the one thing"; I THINK Anklin asked bret and he didnt know!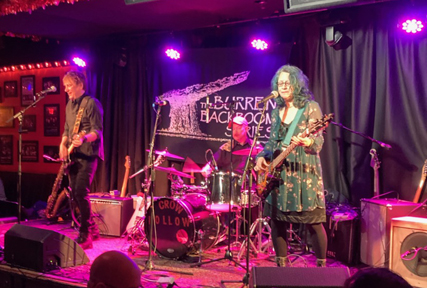 Cold Expectations
"opening tune of Crow Follows was to me, The jefferson Follows as the Spragues channeled kantner/Slick (through resolved white, Grace Slick is miss lyn's cousin!). linnea herzog hopped on stage, then it was B-52s harmonies! guest guitars: dan Coughlin, children of paradise, chaneling Keith Richard and next adam sherman of Private Lightning doing some Yardbirds-era Jeff Beck trebly leads. "Nine Times Six is 54' played backwards means "27 twice" so (hidden meesage!) it's about Jimi and janis,mannn....(walrus was Paul, another clue for y'all!)
lastly, ELeven folks onstage not for "i shall be released" (last waltz) but: iggy's "the passenger"! BUT best part, "Best Bette" was hangin' with my "niece" of red on red, justine Covault who opened with "when's your next gig, muthafoya" to "i love you" and kenne lee lewis Humbly (sans Pie replying "I dont blame you." I'm in love with Ken Highland who thinks he's beautiful too!".....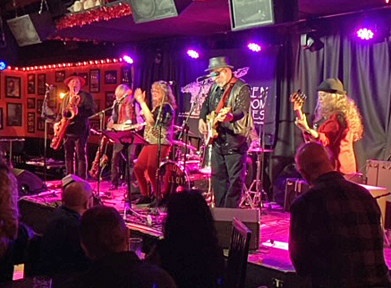 Crow Follow w/alotta guests
Wednesday, Feb. 22, 2023
"Sonntag 19 Feb 2023. before i set out for a Brazilian breakfast buffet, I had tooned in da blooze on WHRB 0800 or so and waited til THE last note, about 0818 of the 1971 Hooker'n'Heat album. Kenne Highland Air Force infuence; "Boogie Chillen number 2" for 11 minutes 33 seconds! everybody does a solo! Al Wilson on harp, Arlington High graduate like Flynn Young/the Frantics/and red on red's daughter! When I'm 104 years old like nathan Beauregard at the Ann Arbor blues and jazz festival, THAT will be my band! (doin' john lee Hooker versions of Stooges Funhouse)!".....
Thursday, Feb. 23, 2023
"day of Thor 23 feb 2023. cruising throuigh youtube i came acrost Oz band "Fraternity- "seasons of change" featuring Bon Scott. This toon is totally 1971 mad painter! AC/DC singer (born in same wee town in Scotland as me Darling ancestors) with BEARD and WIDE belt with WIDE buckle playing a "stairway to tazmania" RECORDER! The beauty of this Oz rocker is I'm sure Simon Bonney was NOT a fan nor Nick Cave, though all "punks" had their early '70s "hippie' look. Either way, the band IS my cuppa tea with more variety than AC/DC, actually. send all hate mail to me at 8452 Ridge Road, brockport NY 14420"...
Friday, Feb. 24, 2023
"freitag von mein kopf 24 feb 2023. "when's your next gig moddafocka?", my distant cuzzin jUSTINE cOULT (ORIGINAL SPELLING) Red on red records asked.
answer: Asa Brebner tribute, doors 6 pm, Burren sunday 5 march 2023.
Michael wheddle tribute Holy saturday 8 april 2023 C-Note Hull; 4-730 block for KH air force/mad painter/ Janis covers reed ("we read the beat/we read the beat/we read the beat...yeah! we read the beat1".
lastly,so far, kinda, saturday 20 april 2023 Mad painter cd release party! Hope I maybe see you all there!".......