3/20/2023
Monday, Feb. 27, 2023

"Freitag 24 Feb 2023. Bevis frond the Scene WMBR. 0743. "Like Birds"- the Young Flowers. Late '67 Cream/hendrix trio from Denmark! (SO Hopelessly Obscure). Bevis was goin' on about the guitar sounding like Jimi's "third stone from the sun" but the drums are SO Ginger Baker! Now, a fact Miss Lyn WILL dig; this HEAVY! trio is in a Danish 1970 film called Quiet Days in Clichy! (I remember, but didnt buy the album; Country Joe is on it). NOW, for Miss Lyn to get the daily double, what author whom liked the Katzenjammer Kids wrote the book that is the title for this film?...(Who was Henry Miller!-ed). Kenne on staycation for a week; tv/records/books!"...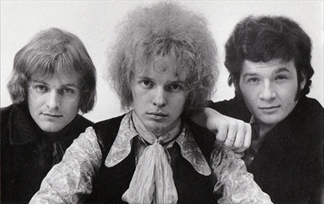 The Young Flowers
Wednesday, March 8, 2023
"saturday 4 march 2023. jammed with drummer Jon Cohan whom had been in a Humble Pie tribute band with Johnny Black/carl Biancucci at Right Turn. Proving our "Head's in '73" OR a secret desire to be like Thindertrain ("Thundertrain? Thundertrain?!"- artist friend Linda re-invented as Miss, 1 Aug 74 from the Gospel according to saint mach) let's Let the music do the talkin'! 'live with me/all this and more/rock and roll queen/Gudbut T' mach/ landmine/caught in a dream/misty mountain hop/communication breakdown/that's cool/diesel diesel/georgia skinheads AND to quote Joe Coughlin RIP 'who the hell would want to marry a guy who thinks he's Johnny Winter?" it was the Johnny Winter/Biggie ratt versions of "silver train" and "rocknroll hoochie coo"...i DO wonder how much of this Johnny Black song choice mach Bell can say "I sang that 50 years and 100 poptarts ago!""....
| | | |
| --- | --- | --- |
| Mr. Carl Biancucci | Johnny Black | Jon Cohan |
Thursday, March 9, 2023
Sonntag 5 March 2023. Asa Brebner tribute. MAYBE the most fun since recording first Gizmos saturday 20 march 76! Photos are all over facebook, songs are from both Asa tributes, so lemme look at MY SPACE of photos with notes coz "readin' the name" only way I remember who's Still alive and well. and in my Romper Room "mere" I see Wayne Valdez, USMC introducing Tony kacynski, Figures on a Beach. Shel Pierce and Joe bagdaady of Runes! (BGN interview). Lt larry Newman and Ralph Fatello, "Nam vet of whom the only WOOD STOCK he saw was an M-14! (I didnt qualify on mine; "I lost my heart on the rifle range"! How the hell am I supposed to shoot straight if I'm singin' Blondie songs?!?!).Lt larry Newman commanded a ship in USMC; this show was the wackiest ship in the Army! F-Troop live! I see Randy Black, Limbo Race and Linda Price, L'enfants du paradis! The darlings! (Billy loosigian on lead guitar!). Corolla Deville North shore rockin' with Johnny Fatello doin' some WAILIN" lead that woulda raised Alpo from the dead! Frank Rowe of baby's Arm with Richie Pah-sons Unatural Axe; what is this 1978 cantones?!?! Mr. Vout from Speed Fossil with my tenth cuzzin Justine Coult of red on red, whom can claim the Sinclair tartan. Most every song had a female trio of Linda Price/emily grogan/suzanne Boucher that rivaled Lynyrd Gizmos Honkettes! *"oo/ooh/ooh". Oh yeah, I sang "I'm in love" with a gospelly big ass booming voice that cuzin justine "I could hear you all the way downstairs"....aint no difernt then singin John the reveletor! Show ended Suzanne Boucher singing Phil haynen's "jack's on drugs' ; Johnny and the Jumper cables should hang it up doin' that toon; MC Highland with his doody doo sez 'you cant touch this"!"....
Monday, March 13, 2023
"Freitag 10 march 2023. actually held the mad painter cd IN MY HANDS and looks damn good. facebook page has all the interviews/radio airplay etc. basically a practice for upcomng gigs next months; "Takin care of Business' COZ like the isleys sang "I got work to do"..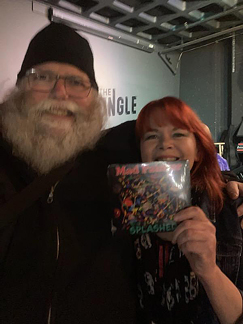 Mad Painter CD
in Justine's hand
Tuesday, March 14, 2023
"saturday 11 march 2023. ran into Anklin Dan on my way to the Jungle, gave him a mad cd swap, I say...Next up at this red on red event, my tenth cousin once removed justine Covault got a mad painter cd; doing cd release party hype and they both WILL be there, Dan/Justine. The Idiot Kids from detroit opened up; glam/punk/hardcore with the melodic songs sounding like Neighbourhoods "no place like home" played at 78! Talking AT them in the Heavy Jungle parking Lot, they claimed to be "downriver" to which I go "Linkin Park?" Jams WERE kicked out as this band, being from MC5-ville DO indeed "kick 'em out". They even knew Charlie from the Stools who drummed with Gizmos August 2019, Outer Limits, Hamtrmmack (HE kicked 'em out!). I've been a justine fan since Grand Theft Auto; she and "Best Gurl on the Planet" juanita the sceen queen rock tight like they'd played in malachite or Swank and Jim Janota and Chaz hanson take a page out of the Johnny and Jumper cabes notebook; playing a practice tape of "landmine" to the former Underachievers drummer, Saint james sayeth: 'this is how rock nroll SHOULD be played!" cables/Unclean...dang, they might even be kin! Soraia (like ALL the bands on facebook!) has two lydia Lunch lookalikes in the band and my review of the singer, in a few short words (I'm a cross between Iggy Pop and Simon Cowell): Detroit Cobras Rachel nagy channels Tina Turner AND Wendy O. Williams! NO need to "be more flamboyant"; she is! Bonus: Kiss's "Strutter" with the guitarsit wearing a T. Rex Slider t-shirt playing BETTER then Ace frehely as played by me in kaiser Stadium 11 feb 77! Nice folks, both the Detroit and the Philly bands and my leg was singing "Psychiatic reaction" so sadly i missed Linnea's garden but the guitar always sounds good on them; call this: "saturday Gig" by mott the Highland! saw a copy in '75 at house of Guitars; the clark was Saint gregory Prevost!"......
| | |
| --- | --- |
| Idiot Kids | Soraia |
Wednesday, Feb. 22, 2023

day of Wodin/ides of march 2023. as my tenth cuzzin once removed Justine Covault of redonredrecords asked "when's your next gig moddafocka?";check this tri-fecta!:

sunday 2 april 2023 - tavern at end of world open mike.

saturday, 8 April- mike wheddle tribute; i play between 4-730 pm c-note Hull.

saturday 22 april 2023 mad painter cd release party Jungle saturday, matinee! doors open at 330 pm.

All gigs I am age 67, onstage since....15 march 75 brockport Ny High! (Anklin Dan: "kenne you got any Rochester connections?" Never did! Though Black Sheep with Louis GRAMMatico DID play sme stage and used boy's locker room as dressing room; Lou and i "rapped""......(hey it was '73! december! saw kiss for stooges two weeks later NYC! "My head's in"....a $300 record, on youtube!".....