3/23/2020
Monday, March 9 2020

Sunday ides of march 2020. Marshall Law (crank it to eleven!) not so bad coz Bounce TV at 0500 was showing Dolemite! There's SO much blacksplotation I can catch up on under Lockdown but youtube may have soundtracks (Yup - full album-ed). This Rudy Ray Moore film release 26 apr 75; I was possibly still living in Brockport NY and read a letter from a fanzine buddy about Dictators Go Gurl Krazee; the next week Saigon fell, my Dee-troit grandmother and seventh cuzzin died, then it was "Bye Bye Kenne" on a bus from detroit to Bloomington indiana. wikipedia: "Dolemite is a pimp and nightclub owner"....well, Boston's Sugar Shack was still open and Rene Sampson was still spinnin' at the Other Side, so the nightclub scenes: if Jimmy Boticelli was 1976 Wayne County, he'd "Cream in my jeans"! IMDb > title > soundtrack lists the Dolemite (1975)- Soundtracks- IMDb. "composed by Ben Taylor. Music played by Different bag and Revelation Funk Band". The nightclub scene at the end was typical of Detroit's Rooster Tail and if you want funk/afros/jerri-curl and elephant bell-bottoms....my fellow film fiend is another Ken, mister Heavy Leather Topless, Ken of clann MacIntyre...again 0500, coffee, sky outside is "Paint it black"; I felt like i was at an orson Welles schlock movie marathon! More of that til they lift the club ban etc and i have gigs"......


Tuesday, March 17 2020

"Monday 16 March 2020. I had gone to Armageddon records in harvard Square before the Plague and picked up a four cd Miles Davis Bitches Brew with outtakes; "I LOVE electric Miles" -screamed John Keegan who does do some Funhouse-style free jazz on my new Kenne toons, again put on hold from the plague. Bought on the road fall '69, kerouac mentioned Miles, 4 July 70 took my paper route money and bought Bitches Brew and first heard John Maclaughlin; FIDDY years later STILL holds the test of tyme! Got my first Giztar 25 dec 70 and I STILL cant play like John macLaughlin! Also of note, Miles take on CSN "Guieveire", where he does things only that Coltrane did to "My Favourite things". To make this the jazzbo Groupie News, WHRB this morning had a human playing jazz as usual! Havent checked out WMBR or WMFO. AM going check out some Boston Groupie chicken legs and Turkish online radio from Istanbul! Evet! (that's "yes" in Turkish but DO say "evet" to Evert!)"

Wednesday, March 18, 2020

Til Tuesday Saint Patrick's day. 0600 ScyFy channel has Twilight Zone til 1100! Being essential personnel, I could only watch one (kinda like watchin' the Chocolate Watch band at 0345 in my South Carolina trailer in Marine uniform back in '79!) but was a good 'un. A spacecraft gets marooned and the "Plymouth Rock" stone says "1991". Those lucky bastards! They missed out on grunge and Monica Lewinsky! After being rescued after "Thirty days in the hole", my New Math goes: "2021!" (parents: cousins. man: rain. My birth certificate says "certificate of live birth". A lie! I'm allergic to krpytonite!). So that hasnt HAPPEN yet! Ironically it was a no-war/no disease community....Science FACT; stranger than fiction!"....

Thursday, March 19, 2020

day of Wodin 18 march 2020. 0600 and coffee (FUCK!!! I'm back in Parris Island! minus "TV Eye"!). some classic movie channel. The Snakepit. 1948. Goddam has mental illness and Bedlam changed! A few Nurse Ratchets but what was the 'smoking gun" was....smoking! I think my cuzzin Ma gradiated Brockport NY high school that year and my cuzzin Dad was in Cooley High in Dee-troit. Shrinks talking with the pipe clenched between their teeth! Doctors gesticulating cigar in hand like Groucho! (you wanna vote Marx-ist: THAT'S the man!) (so fuggin' cheap he'd fix the economy!). Before the bars closed, folks was pissed off coz that cloud of smoke in the Abbey Lounge dissipated coz of smoking ban indoors! So what's a-gonna kill ya? second-hand smoke or the Plague? Gee Julie and i working on (key of F!): "you fatalistic fuck/ you know you're shit outta luck!". overheard at work Saint Pairig's day by Irish-American security guy: 'you're gonna die anyway/ might as well enjoy the ride!" Aye! An O'Doul's to that even if the Druid's closed, aye!"....


Friday, March 20, 2020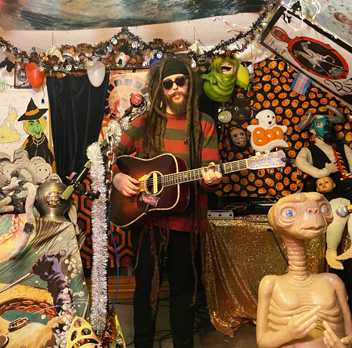 Walter Sickert live streaming

"Freitag 20 march 2020. this date 1976 gizmos recorded first e.p.! on tape! vinyl! readin' the Ahchie Bunkah Tymes (Boston Herald) Brett Milano had an interesting piece on musicians that cant play or tour (local) singing into their computers, live streaming. (LINK to article) Lissen to Gizmos; Demos/rehearsals! i sang into a cassette recorder! 1927 Carter family sang live into somethin' or other made 78s! Folks (Coal Miners Daughter) usedta toon into Grand Ole Opry in hard tymes: now they await every Jay Allen broadcast! Loss of gig income hittin' musicans as hard as Dust Bowl wi' the Okies! WHOM shall be the next Woodrow Wilson of clann Guthrie/ my 'ant" (Ma's sister and cuzzin) said 'depression didnt hurt us much; folks in-town(Brockport NY) got affected more". Kenne, not Bernie for President! "Mister Highland.....we're in the middle of a depression; what do you propose?". me; "PROZAC for everybody!!!!" GONG!!!!!!!!! (does the Boston groupie tv eye get the Gong show? The unkown bleeding comic!".....

Saturday, March 21, 2020

"saturday 21 march 20. 0300 at least, coast to Coast AM. They announced Kenne Rogers had died in MY sleep (1025 PM) and then played "The Gambler"; they're in a train car swiggin' whiskey and smokin' cigarettes! That's so LAST century, unsure if 1800s or 1900s. Then WHRB with REAL djs saying "there's no gigs!" I's at work lissenin' to Hillbilly At harvard and Kenny's death also announced and they played "Lucille". What I DO want to say, before he started doin' housewife ballads like "you wallpapered my life" was the psychedelic guitar on "Just dropped into to see what condition my condition was in"; psychedelic guitar PROVING Kenne is brother to 13th Floor Elevators producer Lelan Rogers! (I think this is a Rick Harte tale; buy ANYTHING on Ace of hearts, support local music, yeah, yeah, yeah)....One last thought before this weeks closes; coast to coast did "open lines" and a LOT of truckers call in, so thank GOD for them coz you got food/booze/cigarettes; with the Plague, driving truck as dangerous as those ole Cowboy movies! "a,yea....ok, pilgrim, we got some trouble with the Hekawi tribe.....they're lost!" hahahahahahaahaha!