3/27/2017
Monday, March 20, 2017
| | |
| --- | --- |
| Historic East Greenwich Main St | Biscuits n Gravy for breakfast |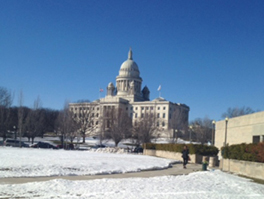 East Greenwich Train Station

"spent Saint Paidraig's Day in a state founded by ancestors of Alice AND Highland, that meaning commuter rail to Providence Rhode Highland. WHERE shall I go from KENNEdy center? why the 14 Ripta West Bay bus is JUST waiting for me! Dad's ancestor Susannah Spencer Sweet was born 4 march 1698, so THIRTEEN days after her 219th birthday, I was "dealin' with the Dead" in the ole east greenwich cemetery in 40 degree weather. looks like i walked a mile of HISTORIC east Greenwich Main Street, founded 1677 by BOTH my parent's ancestor John Spencer (no Blues Explosion!); Ma's Baptist ancestors all left for south shaftsbury Vermont in 1762 and the family ended up Brockport NY 1833. Quite a nice town I DID take photos; brunch was Dante's Kitchen, "american fare with southern flair" so eating $9 biscuits and gravy = southern birth, Yankee Heritage and one big ole Cybil War! Seems BOTH my parents have roots in West Bay, I SHALL RETURN and glad they followed Roger Williams here; maybe that's why Ma had Roger Williams albums on KAPP? (photoshoppe muzak man and colonial RI founder together!)".....

Tuesday, March 21, 2017

"saturday 18 march 17, in '76 rockabilly yobs was recorded and first Gizmos rehearsal, i believe, all in Gulcher #4, i think...BUT during IU's unbeaten Bobby Knight basketball season, I'm tuned into WEEI AM, IU getting a new coach...from Indiana and only five wins? meanwhile march madness kicks off, and west virginia mountaineers beat Notre Dame so i googled and yes!

my granddaddy McBee's second cousin Fielding Yost had a fierce rivalry with Knute Rockne, so Coach Yost was smiling from his "mee-che-gan" grave. After shopping at Haymarket (though I'd rather be listening to After Bathing at Baxter's!) Ken and Gee Julie ate at mu que ca. vegetarian plate (FOUR sides!) only $9.95. Brasilian food and music, which I SWEAR was same khords as Kinks "No Return" off Something Else. Then my huffington news app about five pm anounced chuck berry's death at 90. end of era but lets look at the beginning: I buy Beatles second album fall '68, wonder who is "C. Berry" that wrote "Roll over Ken Kaiser"; early '70 my cuzzin lets me borrow "johnny b. goode" b/w "around and around" in in march 1970 at some Greece NY mall record shoppe, Chuck Berry's greatest hits, 1964, mono $1.57! I had a guitar by christmas...and will STILL be playing chuck berry licks with club-linehan-a-go-go father's day out of the blue fundraiser! I' m actually NOT sad chuck berry died coz Two Great Guitars (on chess) he's back jammin' with Bo Diddley! and Jay Gruberger is on bass! and they're playing "kenne highland at large"! can we add Link Wray to the mix....oh wait, I emulate all THREE (holy trinity! eddie cochran's "three stars"!) every tyme I DO play guitar with club linehan-ago-go! so 47 years of lissening to chuck berry= 75% of my life and half of his, kinda, RIP Chuck Berry".....

Wednesday, March 22, 2017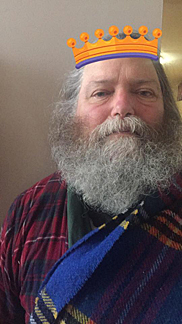 King Kenne's Birthday is April 2

"sunday 19 march 17; again, a Gizstoric 1976 Gizmos Friday weekend but ok, maybe I'm NOT 19 anymore coz: Ida May: foldin' mah white Sox and other laundry a-lissenin' to WJIB's country memories (BOB BITTNER!) and ole Buck Owens come on with HIS original of "act naturally" so i usually sit 'round the imobile home a-pickin' and a-grinnin' when I'm not ?? posing as King Kenne for my birthday party invite (click the link to get the invitation!). Fire and Ice down copley sqaure 630 pm sunday 2 april.(and see jiblantos saturday 1 april, midway pm show, I SHALL be holding court!) Fire and Ice....WILL it be as good as Black Sheep singing Free's "fire and water" at brockport ny high december "head's in '73" OR even me covering it with the brooklyns, pre-Da Rods? item C: reading Sybil at 1369 coffee house, inman square, free cup of coffee c/o an antique Gee Julie card then D: supper with Gee Julie and Miss Lyn at the Inn Square S and S Men's Bar (Plan Nine/Hoplessly Obscure july '83!) and (The E-Types): rest of day read all the good parts til almost midnight of that Ministry dude's bio c/o Blowfish. "you cant sit down"? you cant put down! sex, drugs, rocknroll and Aimme Mann? the young snakes even? synchro sound? loved the boston references plus Chicago hockey. For a guy born days apart from John Keegan, we all got the same classic rock taste and, like me/slickee boys/jeff dahl (guarding the pentagon!) seeing ramones october '76, mister ministry and ERIC BOUCHER (jello biarfra) seeing ramones janaury '79 boulder colorado; Ministry mofo (Al Jourgensen we're talkin' 'bout here-ed) even had a punk-rock gurlfriend whom took him to ramones otherwise he'd still be lissenin' to classic rock! (or classic country like me and GG Allin; those guys released country lps, Jody Moore has our SMILE (unreleased) on her phone, though it was also on myspace)....i may quote from this book from tyme to tyme as i research certain dates and facts and what was I doing (NOT selling as many "units" as Ministry, that's a damn fact!) (though 50, 000 Gizmos fans cant be ALL wrong can they?)...hey, abbie hoffman was even more punk shoplifting 45s in the '50s....STEAL THIS BOOK!!!!!"....

Thursday, March 23, 2017

before i take the MTA to Greenbush uncovering GG Allin's SCITAUTE MASS roots (Tilden gravestone in Men of Kent graveyard; that's Merle Sr.'s ancestor, buried with five Hylands! also uncovered GG and merle descend from Richard Warren from the mayflower, through their dad, log cabin, New hampshire (?!?!?!?!?)); let's hear some of "rock and roll music" (CHUCK BERRY!): april fool's day afternoon midway show, after haymarket, I'll be "holding court" at the Stigmatics coz any friend of GG Allin's is a friend

of mine! My REAL birthday sunday 2 april 17, Fire and Ice (Foreigner's "cold as ice"? singer DID play Brockport High '73!) 630 pm, Leave It to Kaiser to point out a MISTAKE in invite, but really: if you're living DO stop by! though I do welcome ghosts or even members of Spirit that are Spirits (randy california; his stepdad Jack Cassady etc.) saturday 8 april; STILL hoding court at Jiblantos midway afternoon show, i'll be by after Haymarket to hear them cover my cuzzin (dont make me prove it) Don Van Vliet of New Netherlands "zig zag wanderer"! and lastly (tying in dead ancestors who DID rock with my current incarnation): club linehan-ago-go the sunday of memorial day in Hull! that's 28 may 17; Dad's Phelps ancestor who has a wikipedia entry landed on the Mary and John at Nantasket beach with a Hugenot minister ancestor of a Jumper Cable AND, the ancestor of Brittany Spears! that was 20 may 1630, so maybe 387 years later Britanny and the Jumper Cables COULD exist? first sober SupaBowl I had, fucken de-toxin', fucken JONES-in'! for booze and Britanny sang "walk this way" with tallerico and my cuzzin George W. was president (Kins they's ashamed of?) as Gee Julie and I were listening to George Noory and coast to coast AM on WRKO 680 AM the other morn (0330 maybe?); no wait, this was youtube: Planet X, coming closer to destroy us! Between being cuzzins to George W. and Britanny, the church of euthanasia is lookin' DAMN good"....

Friday, March 24, 2017

"more Zoomer radio toronto, robbie remembers: the sixties at six (pm): "BIG TOWN BOY"-shirley matthews. what a GREAT song by a Canadian soul artist! wikipedia record geeks facts: released same tyme as "she loves you", december '63; I know us Highlands left Manassas, virginny for clarkson NY on lil richard's birthday (5 dec 64)....oh wait, I was still in Manassass when "she loves you" came out but pretending it was 1863, since we lived so close to Bull Run. CHUM-AM debuted those two 45s, Toronto station, i remember it. Shirley had a few more hits, some rare Northern Soul, then left music, sadly now dead. BUT the best google (and "big town boy" 45 was on atlantic!), a young AWOL sailor name Rick came to toronto, fronted the Mynah Byrds which had future buffalo springfield and steppenwolf members (Mynah Birds have wikipedia record geek page!). Shirley Matthews told AWOL sailor and those around "this is my son": ricky james matthew (previous Johnson). After Mynah Birds got signed to Motown (Neil Young on guitar!), Stevie Wonder said "call yourself, Rick James, bitch!" (I just added that last part as a comedy routine). SO altogether, everyone remembers Ricky James Mathews, but Shirley Mathews remains...Hopelessly Obscure....but 45s on youtube! speaking of Evie Sands has a new vinyl, follow her on twitter!, another "shoulda been a contendor" but STILL making music! dang, the ghost of Solomon Gruberger musta had me mention lady singers....when I start reviewing Dory Previn...as Iggy says on "loose"...."well, look out"".....