3/28/2016
Monday March 21, 2016

"Gee Julie informs me of DAS FINSTERE TAL playing 1100 sunday 13 march 16, coolidge corner, $5, goethe institute. "a lone rider arrives in a small high mountain village; nobody knows where he's from and nobody wants him there". a lotta Clint Eastwood in this only it's a SWISS western! the British actor favours DiCaprio; town is run by an evil man name BRENNER, who "takes" brides on wedding night, so whole town is akin to him! Gee Julie had scheudenfreude as Sam Riley/DiCaprio blows away the evil BRENNER clan (is that how Terrydactyls became extinct?) and rightfully so; Brenner crucified riley/dicaprio's father on wedding night! kinda gruesome, dark, Gothic, German, dare I say GRIMM? But $5 for a Deutsch kinko on der Sonntag morgen ist wunderbar und take your schatchze fur essen! (forgot where we went byt mein schatzsche lieben me; DNA results coming soon as to who ist more Deutsch!)"...

Tuesday March 22, 2016

"since John Powhida got reinstated at MFA, I lifted MY sanctions and (just to save $$$$$MONEY$$$$!!), renewed my membership ($8 movie tickets vs. $11; go 15 tymes a year=equal!) for Turkish Film Festival!!! (since 2001!). new DNA test sez I'm 3% middle eastern (anataloia turkey=melungeon ancestry?), so RIMOS AND ZIMOS: PEACE IN TOWN was me and some REAL Kids coz it was like Muppets in Turkish! two towns feud with each other coz of an uncle and a granny misunderstanding where to meet for a date and I actually thought it had a GOOD message for All Kindsa Kids: you only fear whom you DONT know! and also how to get along when they save a lil fuzzy hatched out of an egg baby, people working together, yea, yea, yea...1230 pm, 20 march 16; if you'd told me THIS is how, in Boston, I'd be spending my weekend (20 march 76 was first Gizmos e.p. recording session!), I'd have said: "what are you NUTS? Civil Defence!"....

Wednesday March 23, 2016

"MFA, 230 pm, sunday 20 march 16, turkish film festival: LEMONADE. Turkish father in Macedonia's dying wish is get blessing from his bastard son, so his other son goes to ISTANBUL looking for him. LOTS of comedy and brothers are an ODD COUPLE; Macedonian is "good son", kinda favours my Dad! (6 % middle eastern DNA, picture sleeve of "Landmine") and other son is a smokin', drinkin', cussin' (tried to learn "fuck' in Turkish with subtitles!), soccer-playin' mofo; Byron Highland clone gets him drunk in Istanbul to bring him to Macedonia BUT "how the FUCK did we end up in Bulgaria?!?!?!?" FLAT TYRE, and you gotta see them attending gypsy tyre seller's kin wedding! drivin' two outsize tyres, athletic brother sez "let me drive", then..."HOW THE FUCK DID WE END UP IN RUMANIA!"...yes, it's a laff-riot, $8 with MFA member discount! Turkish Film Festival all month long!"..

Thursday , March 24, 2016

"MUSTANG at MFA Turkish film festival was SOLD OUT! looked good too; for innocent horseplay with boys, the domineering father locks away his five daughters in their home, but they REBEL/escape...so I used MFA membership to eyeball some 1809 London lithography (whence my Highland immigrant ancestor born near ashford Kent, south of there, days of Dickens) AND dining (15 % member discount!) in MFA restaurant, whilst John Coltrane's "my favourite things" played...after buying Gee Julie a rice ball at Lili's Gourmet, tremont street, Coast to Coast AM DID play Doors "LA WOMAN" about 0300, reminding ME to tell EWE in that Meltzer book I got last year in Bloomington, R. Meltzer and Patti Smith gittin' drunk back in '71 upon hearin' of Jimbo's death, lissenin' to LA Woman; I was only 15 then and hadn't YET received a letter in the rural mailbox at 8452 ridge road, brockport NY from Kevin Allin, Lunenberg, Vermont, though GG biographers say at that tyme he also was a Doors fan and us both HAVE been banned in Boston!"....

Friday , March 25, 2016

"MFA Turkish film festival: Remake, Remix, Rip-Off! as a lover of Plan 9-ish cheapo films, interview with Turkey's answer to Ed Wood! his superhero movies team up Superman AND Batman only as bad guys for instance, there's Star Wars/Rambo-type films on a Bollywood level BUT: political: THEN a far-right gummint (MULE!) gits in power, films/directors are banned and/or NEGATIVES burnt; one Turk sez: "you guys are from Germany, right?" shoppes in Deutschland have all the missing exploitation films....need to research this genre more, see if on youtube, there's some WACKY shit and 3% of my Mideast DNA LOVED this film as did the 97% European"....

39 years ago Saturday 2 april 77: RAT: DMZ (covered "raw power"! and Johnny Barnes!) BACK TO THE FUTURE: cantab Friday 1 april 16 and midway 2 april 16 and am I REALLY gonna be 60?"...

"between IU basketball and oldies radio, (MY weekend), lemme announce an AUCTION: Bowie tickets from CHICAGO art exhibit 2014, will sell to HIGHEST BIDDER, autograph by me, so " te Me" (aerosmith), money goes for future Gizmos World Tours (LIKE that page) and THAT is the week that was! (Ken Kronkite!)"....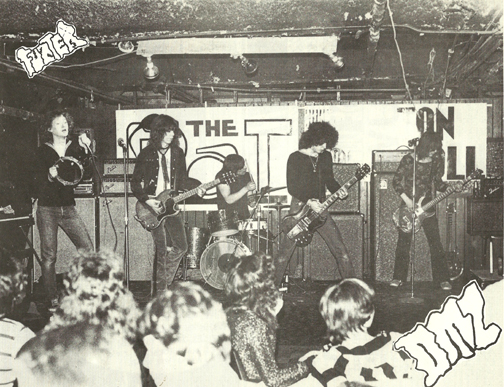 Photo: Deb Beaudry