3/31/2014
March 24, 2014
Saturday was at the bar next to Cantab, eatin' red meat (burger), drinkin' beer, watchin' March Madness (Michigan won! they kicked out the JAMS!) went downstairs CANTAB, saw The Rods, a Faces cover band whom I recomend. Two of The Brooklyns are in it, Tom Leger(Fighting Cocks! manage by Charlie MacKenzie (RIP)) on drums and his lovely wife Mo Kavanaugh sings as "Broad Stewart" in blonde Peecocks wig. from "3 button hand me down" to "stay with me", band was note perfect and in wigs and 70s attire SO if Solomon Gruberger were alive: "look like Thundertrain in '76, but sound like 1990s Black Crowes". Added treat: "let me love you" off Beck's Truth album, evoking the Boston Tea Party '68, where I wuzn't.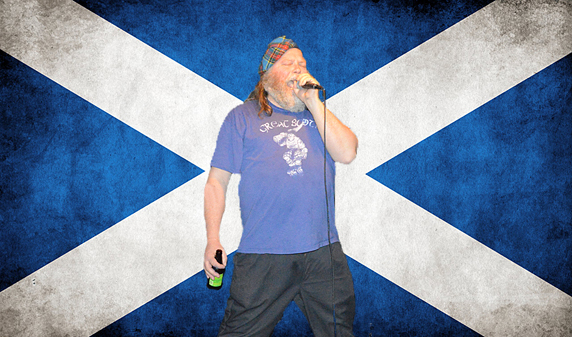 other news: Gee Julie and I ate at Quincy's Filipino restraunt Sure Pinoy (gets rave reviews on Yelp!) yesterday, watching a Filipino soap opera; HER comment: "why, did they have too many shoes?" (Imelda Marcos joke). Gizmos World tour kickstarter is kickin' ass and I wont disclose how many thousand we gettin' offered for Cleveland 1 Nov. (hint: = my age in 1981). lastly, with Chinstrap on Mantis Khiralla's cable show 3 april and ALWAYS toon into the Mantis show! I had a diabetic hemorage on the floor and the next week Mo Brooklyn cut her finger! Let It Bleed! (Bayou Boy version).....
March 26, 2014
"I am a big fan of Trash Night at the Brattle ($7!); tonight's feature by our flamboyant host in a Smiley Face t-shirt was Class of 1999; a 1989 fan with bad '80s fashion. it has that post-apololyptic look ala Mad Max and guys Miss Lyn woulda liked (mohawks, make-up) and teen gangs are ruling Seattle, so they hire these robot teachers to whup ass on the juvelenile delinquents. Gee Julie was studyin', so we watched it AGAIN (for me) on youtube, for the parts I slept through. So robot teachers run amok, boy gets gurl, bad guys (robots) die; did i say predicatble, trashy and CAMP? ( a lot iregular dudes there, Mr. Niemiec!) Pam Grier was a robot teacher, she whupped one punk in her chemistry class by grinding her high heel boot into the top o' his foot! ouch! Clockwork Orange McDowell is in this also. No trash night in april, but early May "til they kick us out". We're talkin' schlock once a month vs. the around the clock festival! one of the reasons I'm GLAD I moved to Boston, even if Gizmos fanbase is in midwest".....
March 28, 2014
Thursday night at Tavern at End of World; Vicki Porter, Hot Blonde Pagan on acoustic and singin', first song: "sounds like Salem 66"; Tony on bass (born day AFTER me!) was in Metropolis who played the Paradise with machines but it was REALLY 1981 coz Doug Vargas is on guitar, GREAT band! I had Tony Kacyniski of Firekingas the Rich Coffee guitarist and MJ Quirk/Matt Burns rhythm section openin' with Seger's "ramblin' gamblin' man", then Ken Kovers Kub Koda: let your yeah be yeah/smokin' in boy's room/barefootin'. move north to Flint, Michigan and Tristram Loslaw (Someone and somebodies) liked our Grand Funk Live album take on "inside lokin' out', me on harp (this is starting to read like a 1973 O. Rextasy article, cartoons by CARL BIANCUCCI!). kick out the jams/lookin' at you, Highland/Kacynski channel Kramer/Sonic, then I take off the guitar, have a beer and a shot and I felt the Asheton brothers onstage for 1969/wanna be your dog/down on the street/tv eye/search and destroy, dance floor filled with Hot Blonde Pagans and, Keith Beauniece's dream, one Griega with long.....dark...hair....Natalie Flanagan was a true artist, understated, great songs, not having to resort to cheap theatrics like me (haha!) a rock gud tyme and that's it til next year!".....
March 29, 2014
Fireking at Plough and Stars; cant say enuff great things about these guys! Miss Lyn woulda liked the 1983 John Boucher/funny haircut/Spit on Sunday sound of Figures On a Beach (Sire; and their bassist does Heroes at TT's, more wear black, lissen to the Cure Miss Lyn music) BUT Fireking is if Cheap Trick were from Detroit! I sat in front of Smitty's drums (actually Vinny Band Peter Goutsous coz Gyro Lula played, Brian Young WMFO mc); Machine Gun Thompson (MC5) and Pistol Allen (Funk Brothers) meets Bun E. Carlos in a fez! (13 points: Scrabble!) (It's 15! Ask Rick Paige-Ed.). Last Train to Quincy, missed Gyro Lula BUT had WUMB on in morn, Albert O. does a '60s show and check this: "epistle to dippy"-donovan; "it wont be wrong"-Byrds; "good tymes bad tymes"-stones AND for my good buddy Frank Lima, major Kinks fan: "the world keeps goin' round".AND in my p.o. box: Gizmos buttons of first 3 e.p. picture sleeves,"Jewey Ramone" has them as incentive for Gizmos World Tour kickstarter. c/o Kyle Gross, Gizmos fan, LIKE: The Brothers Gross and Draw Blood-facebook (I am chuck berry; they are the Stones!), he has an online store also, so pledge money if you want me to leave town..."Indiana Wants Me"....goin' back there in June!"......
March 30, 2014
talked to Chris Ewen, Figures on a Beach/Man Ray who does Heroes at TT's; new Boy George album is downtempo and reggae, so Gee Julie and i opted for Soul-le-lu-jah, though Machine WAS bandied about, but I'm Just a regular Dude"! PJ Grey at Zuzu's played the '60s soul, Ty Jesso from the Itchies also there; inside the upstairs of Middle East ($7 for BOTH rooms!) was '70s funk like Bobby Byrd "if you didnt have soul", P.Funk with "I love you CC" and they INVITED folks ONSTAGE near the turntables to dance, so Pabst Blue Ribbon in hand, James Brown's "Soul Power" came on and it was 1981 again, me drunk off my ass playin' my James Brown Hot Pants 8-track, 25 walbridge street, allston and dancin' BETTER than James Brown! reality is, the edema in my leg swelling went down (my great-grandmother Highland's grandfather died from dropsy in 1800s Ontario; dropsy=edema, genetic, Ma Highland was 250 lbs., Dad's mother was 300, I'm 290)....a great fun dancin' night and we'll shirley go back again!......(Who's shirley? Is she any relation to Ida Mae?-Ed)