4/3/2017
Monday, March 27, 2017

"saturday 26 march 77 at CBGBs; mark thor/dmz/thundertrain/third rail/willie loco, reviewed by me in O. Rextasy. That was two score years ago and after shopping at Haymarket (though i'd rather be Bathing At Baxter's), Ken and Gee Julie drank coffee, heard Cat Steven's version of "here comes
| | |
| --- | --- |
| Jenny Hurricane dancin' to MOTO | Smit E. Smitty diggin' Search & Destroy |
my baby" on AM 740 toronto british invasion show 6 pm, then 8 pm, German plate at Doyle's and 9 pm: HELLO SUZI! smitt e. smitty, Fireking's be-fezzed drummer put together this one-off for pop overthrow and fucken open with "september girls" and "BABY BLUE"! (big star/badfinger!) where WAS my skinny tie? George Perkins of Litehouse dresses like that kinda and REGRETS missing those toons, so a one-off, this is a two-off....can we get a three-off? JV McMoto said an echo and bunnymen toon was done (her an early '80s fan) so that equals SMITTY'S figures on a beach roots. lastly was a Bev Bevan (my facebook friend!) two-fer: "mamama belle" ELO and fucken the Shazam version of "hello suzi"! Move fans RIP: solomon gruberger and alpo, and smitty did the bevan drum break "note for note" so that's my O. Rextasy review. Modern Day Idols had Tony Savarino in a Marine haircut looking more than a little like Gy. SGT. Byron Highland USMC (RIP) and he was wailing like Jeff Beck meets Hendrix on the Strat BUT the fills were right for pop songs, one was some Ian Hunter cover. Good band! also excellent was MOTO, they now are "Midnight MOTO" with Midnight Creeps drummer AND guitar player plus Jenny Hurricane bopping in audience and doing merch. So the Midnight Creeps dude plays a Les Paul with a Rory Gallagher paint job and Paul does Thunders leads and my view was "Now you have a Sylvain". Still poppy, Buzzscock-y melodies and the out-of-print "I hate my fucken job" is a TRUE mantra! Lastly, Greg Allen's former guitarist who knows Rich Coffee of Gizmos and Gee Julie says looks like Peter Gabriel (though Curt plays WAY the fuck better ROCK) sounded like a Johnny and Jumper Cables tribute band! yea THAT good! tall, skinny, tattooed singer with rockabilly hairdo is Miss Lyn's real husband and good singer too! Doing Pistols "did you no wrong" b-side (as covered on Never Mind the Gizmos) had true Mick Ralphs licks and Curt a self-admitted fan. He also played Chuck Berry pinkie tricks like a 20 year old Ken Highland covering eddie and hot rods "teenage depression". Lastly, fucken "search and destroy" was a Highland-worthy cover; if i had a nickel for everytyme Rich Coffee and I covered Raw Power, we'd be....DMZ 40 years ago!"......

Tuesday, March 28, 2017
| | | | |
| --- | --- | --- | --- |
| Lunch at the Landing | Lunch | 1600s Church | 1600s House |
sunday 26 march 17 Gee Julie headed down the Cape to hang with her writer cuzzin whom wrote a history of Marina Bay, Quincy so I headed to the North Shore instead, 130 pm train to Lynn. All the Gizstorical stuff was closed and Central Square looks real funky but the God of the Puritans is with me and there's a bus to Marblehead! Now I can get my WASP on, yo! All the Giztorical stuff was closed, but just seeing houses built in 1600s was splendid plus clones of my mother dressed in Burberry raincoats, walking their beloved dogs and smiling and saying hello...they MUST know my mother was a Blodgett! Maybe it's my overbearing bearing! Maybe with my sci-fi marathon watch cap I look like the "son of a son of a sailor"....maybe Jimmy Buffet shoulda sailed on the fucken Titanic!!!!! ok, so since Gee Julie was NOT around to cook healthy food, I SHALL send the BGN photos and highlights of this "day tripper" yeah was I was recommended Mattie's which looks like a yuppie Yankee version of that Perfect Storm bar in Gloucester. No place to sit so "winner by elimination" was The Landing. caught some March Madness, good fish AND they had an old-timey band there! walked back to bus and passed Elbridge Gerry's house and on way back to Boston discovered Miss Lyn is NOT akin to him, but her Gerry ancestor was in Charlestowne Village BEFORE the Devon Gerrys...yet another day trip, yeah for the Swamp Yankee Groupie News! " (Kenne Highland has single handedly destroyed all my family genealogy myths!!-Ed)
| | | |
| --- | --- | --- |
| Miss Lyn's relatives? | North Shore Beach | Old Time Flag |
Wednesday, March 29, 2017
"WMEX contacted Gee Julie and the Zombies cancelled due to illness so we have a rain check BUT as i waited for her at Upper Crust pizza in coolidge corner in the rain, I went on family search and discovered Patti Smith's given-away-age 20, born 1967 daughter has Patti's family tree for me to lift mah laig on! (some people play fantasy baseball, others those stupid fucken games; I'd rather deal with dead people!!!!!!!!!). And Patti's ma has a New England kennection! Her ma's a Williams born 1920, Bridgeport (Lathe), KENnecticut. Patti's grandaddy Frank Milton Williams born 14 december 1899.....wakefield Mass.! house looks like it's standing about a mile from the wakefield comuter rail; Isn't this north of John Keegan? didnt i find a shitload of remainders of Leo Giroux Jr.'s The Rishi in a bookstore in Wakefield? it's was twenty years ago today; tyme to return! 1910 census: Williams family in.....east somerville!!!! fucken Rush Street, kinda off Broadway, near Cross, pretty obscure....1920 connecticut adresss. man, they rambled like dad's McBee family COZ: Patti's great-grandaddy Joseph Lee Williams born raleigh NC! Ma was a Hart from Illinois....and a post-1865 marriage like that only leads to a...surely you heard of the Cybil War, Sherman? ka-klunk".....
Thursday, March 30, 2017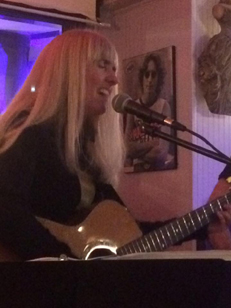 Vikki Porter

"since y'all COULD be reading this on that holiest of holidays sunday 2 april 56, 61 years after I was unleashed in northern Virginia, let's unfortunately, delve into the "No Future" of "Future/Now" gigs.....saturday 8 april-jiblantos midway cafe pm show, then pete's bar in quincy Gee Julie's Sabbath Cuz who was the SECOND drummer in 2 million BC (Harlequin know him) is doing his Iron Maiden tribute thang SO if you went to UFO/Saxon on my birthday, head-bang with me to a guy who i've sang "search and destroy" with! (christmas sang ole country and elvis with Mark George's/Gee Mark's cuzz and uncle! Gee Julie has sang also; dang! almost the Carter family! Cee June Cash?)...vikki porter, whom sounds a bit like Salem 66 (tavern at end of world thursday before memorial day. club-linehan-ago-go got TOO many fucken gigs and MJ Quirk in five bands? But let's just start with memorial day sunday 28 may 17 versus 30 may 1630 when the mary and john landed with the ancestors of Johnny, Jumper Cable (me), Bebe Buell and Britanny Spears! either we sang Puritan hymns or bawdy tavern songs..."know thee she craves the keilbasa"? and father's day out of the blue, go fund Tom Tipton! "know ye verily that spring cometh and the wenches are rising"....so know THEE that I SHALL be in a tavern acting non-Puritan 11 generations later and know ye also I talk not out my hindquarters! Make Amerika Great Britain again and make EVERYONE speaketh elizabethian english! if not, thou mayst fornicate thyself"....