3/30/2015
Monday March 30, 2015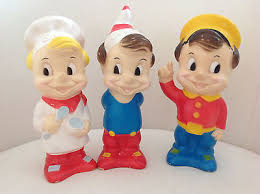 AM radio, especially WRKO, which mainly played '60s oldies back in the '60s, if i'm Wright, Brother, never ceases to be entertaining with KEN-servative talk (disclaimer: sure my kinfolk THINK this way but i'm in liberal-ass Boston, which should go back to the ways of my Puritan ancestors and have a "whippin' post" in the town square; as played by the allston brothers!).anyway, tooned in 'bout 9 pm to THE GUN SHOW!!!! "if you're packin', call in and tell us what you're carryin'!" YEP! GUN TALK!!! so after feelin' Back 'Ome in western NY, i wake up to Coast to Coast, always good fer a laff at 0200 and in Nevada they found the 45 inch footprints of the red headed giants! (I aint ginger and merely take a 13 EE shoe!) for my native american friends, the author (Coast to Coast facebook page!) sez she's "endorsed" by tribesmen coz "these are proof of our legends". check this: DNA of some woman thought to be native was 1/2 human, 1/2 ape! red headed giants 'sposed to be some kinda (I'm your) boogie man; if i wuz in NC early '62, i'd be protectin' my stuffed snap crackle and pop dolls from this critter and rollin' off'n the bed and cuttin' open mah haid on dad's metal footlocker (ok, so i had early childhood head injury)...an interesting night to be sure!".....
Captain PJ called, sounding good, be sure to friend PJ Leblanc! his sister does his site and he is down with Gizmos World Tour which leads into the old 11 july 15 Go Fund Me for Gizmos in bloomington; 2013 we DIDNT play atlanta but i was down there for NCAA basketball (actually passing out drunk during the finals with a bucket o' beer in richmond virginny with a Jenny Wiley descendant!) this year, i'll be wintering in Newport (yesssssss) at the Francis Malbone house (his descendants married my Blodgett cousins, yesss.....) as the finals are in INDIANPOLIS! have you seen the schedule? Indiana loves it's college hoops, it's Breaking Away bike races and it's Gizmos! so send money to get rid of me as Gee Julie goes on a spiritual journey (or a "Magic carpet ride"!) one last bit o' Gizmos as i told Miss Lyn at a crowded Mike's Diner after a sold-out Salad Days; young Kelsey Simpson's ard-ih-cul on How i became a gizmo (welcome to my nightmare bein' in a band with Alice Highland/Axel Crypt!): seems in '76, a young Ct. college kid name Thurston Moore III asked Eddie Flowers if he could join the Gizmos (thurston was 18);Eddie: "naw....we got enuff people already"...shit! Kim Gordon on bass?!? in the Gizmos?!?!? she's damn sho' better-lookin' 'n Criag Willis Bell or Mad Max in a minskirt...and "rich coffee sittin' a bale o' hay, he aint gud-lookin' but he sure can play"..."wilkie South's gonna do it again!
Tuesday March 31, 2015
A Hard Day's Night/Working Class Hero, my life is a (ex) Beatle song! BUT WRKO 680 Am had a couple-a tidbits: Kenneth Korps Kaiser sent me a clipping but: Fort Meade, Maryland shooting! and the guys were dressed like wimmen! Not back when Jimmy Carter was president, the Ramones were alive and I wuz guardin' them gates, USMC! I was also explaining to an Airforce vet/soundman to Lyres/Neats/Real Kids that I wrote some of my BEST Korps songs whilst guarding those gates! 8 songs on Hello World, I would usually, like Gizmos: demos and rehearsals, write the lyrics whilst day-dreaming on duty, then put 'em to music off duty...but hell, i didnt never shoot nobody! should i call into Gun Talk? "hi, this is Ken Nugent and i werent never no draft dodger like the Nuge!" 0300 or so ("3 AM or nearer"-the Guess Who with Randy Bachman gonna be at the rochester NY music hall of fame which i aint never gonna be in...)....Coast to Coast wuz talkin' 'bout levitating tables chasing people around the room; I ALMOST went to one them events at Quincy's First Spiritualist Church, but all ever done "In My Life" wuz lissen to my "I've got levitation" 45 (13th floor elevators; if you buy 3 13th floor elevators records; THAT equals 39, tell Ken kaiser the news, 39 IS there!) circa 1973, 8452 ridge road, brockport NY 14420! (Ma moved from there sayin' "take me back to gramma's farm"....TOO many ex-Beatles quotes today, that's grounds for my second divorce!). another Coast quote for Coasties is how much the paranormal has become part of pop-culture; agreed, rest of discussion VERY insightful and lissen to podcast on Coast to Coast facebook page! (AGAIN; MIRIAM LINNA on my AM radio during a blizzard of Ozzz, sure cure fer de "Sometymes in Wintertyme Blues", cross-breeding my facebook friend Steve Katz with my facebook friend Leigh Stephens; collect them all!!!!!!".....
Wednesday April 1, 2015
was it wall street journal this morning? Joni Mitchell in ICU, age 71? (Gee Julie said she WAS a smoker!) cue up "scorpio queen" off my Gemini on a full moon cd! speaking of Scorpio's, Pat Barreat ("aqaurian angel", same birthday as my mother!) was Ida May: first person to wish me happy birthday BUT item B: JAMES STRAIGHT will be scheduling appointments today for dentist to the Stars, Geoffrey Davis, DDS, boylston street! Go see James Straight live! (I usedta roadie for the Beauracrats in '80!) AND (already used this joke BUT....)....whenever y'all sittin' in that chair....you tell that dentist...you got a WIDE STANCE....(I got 31 teeth and my uncle/cuzzin Howard Spencer, 12th cuzzins to the earl spencer, Blodgett had ONE, so that's a FULL set uh teef between us which is more'n ANY member o' Black Oak arkansas got!"....
Thursday April 2, 2015
well, it wasnt april fool, but 0200 of my birthday, I SWEAR i heard Coast to Coast do an interview with a 3-headed person! George Noory said there were some Two-Headed people (siamese twins) but guess there is ONE case of Siamese Triplets! two brothers and a sister's heads, two arms, two legs, they are Walmart greeters in lafayette indiana! all this i'm sure on the Coast to Coast page; they were one body under a giant sweater and George Noory said this was THE most bizarre interview he'd ever done! hmm...lafayette...bloomington...Gizmos...MUTANTfest...KICKSTARTER! send money!"
Friday April 3, 2015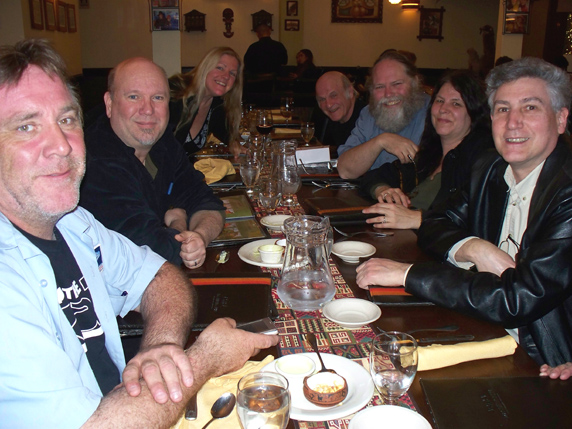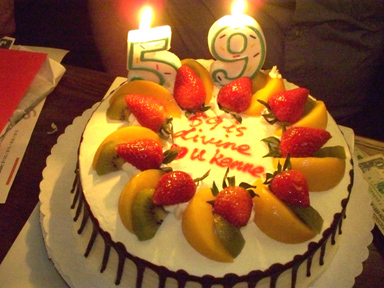 "ok, so 59th birthday: machu picchu, union square, Peruvian food; there were 11 people there, Gee Julie, Miss Lyn and Michele Meadows and almost a band: the Korps/Highland/Moore/Quirk/Burns/Keegan (wasnt this a Gizmos tour?). michigan tales: "ron asheton tried to pick me up when i was 19 but i turned him down!" so...a band that covered "she's my best bette" can truly sing "she was my losing bette!" Ken Kaiser had THE best stories, like when we rumbled with some townies in 1980 after watching the MIA Carl Biancucci in the Phantoms ("you got a beef against my brother?") and of course, it was a table of WJIB listeners! lastly, folks whom i lissened to as a teen sent greetings (they are facebook friends): steve west/GARY PUCKETT/Harold C. Tennage Lust Black/Jackie Runaway Fox AND, coz sally o'brien's had a bluegrass jam (gotta dance the manure mambo!), let's not forget my "cuzzin" CHELSEA MCBEE, a very talented banjo picker with my grandaddy's scots-irish name o'McBee;also at sally's was three ladies singin' harmony AND fiddlin', a guy on dobro, mandolins, capoed guitars, doghouse bass=all my west virginia birthdays and let's NOT forget (nor shall I let you!) that Dad's grandaddy Willard McBee was borned 7 march (captain PJ's birthday!) 1866 basnettsville west virginny, popul-lation 435....SA-LUTE! like they sez in hee-haw"
Saturday April 4, 2015
ok, so i slept through the real kids at midway BUT in my "golden slumbers" (Ma bought me abbey road gizmas '69, bay-bay), wrca 1330 am had an olde-tyme radio show of Pride of the yankees, 1943, gary cooper as Lou Gehrig! it was REAL good also; radio, like books, making you imagine more, of course. also think i caught stu fink's "like us on facebook" country oldies playin' a Sun JR Cash recording...and coast to coast had a call-in to george noory as to whether that 3-headed person in indiana really existed; George says: "well, you CAN google it" cryptically; folks sayin' it was a prank...right now playin' with dead people and readin' michigan marriage licenses; found dad's uncle and his ma, so that's MORE dates to discuss with Ma, since we like reciting dates to each other, Gizstorians that we are...
playing with dead people being my FAVOURITE thang, i have a couple Motor City facts from incestry.com that = me researching my father; Ida may: ron and scott asheton's ma ("Ann...my Ann"; first stooges album and read a niagra detroit interview thang on my wall); sez they arrived from austria/ukraine 1913 (dad's grandmother came acrost border from canada in '12, i beleive): GERMAN spoken at home! if they were polish, they'd be "niemiec", which means "mute" coz THAT Gizmos folks spoke german so the poles couldn't understand, or something like that, Teddy's nephew told me before "disaster in dayton"; I WAS impressed AND it's a google-able fact! also came acrost Patti Smith and Sonic Smith's line; patti has roots in colonial billerica, wonder if i'll uncover a witch or three...Sonic has a westerly rhode island to clay county kaintuck line which is a LOOOONNNGGG migration (well, 1800 they were in Fayetteville NC and THAT trek i'd like to travel by bus);seems Sonic and i have a mutual maxon ancestor in RI; reading further Mrs. maxon was killed in an indian attack in pelham, long island along with anne hutchinson, that great dissenter and ancestor of george bush. my great-grandmother highland was against liftin' yer leg on a family tree, afraid of what you'd find, but shit...cuzzins with Sonic and jackson smith (and patti by marriage!), i shall certainly boast about this at my next anti-social encounter!
Sunday April 5, 2015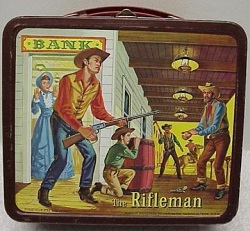 ridin' My White Bicycle at the gym, chanced on ME-TV (no, NOT ME on television...)....wicked rare= Steve Macqueen, 1959 in Wanted Dead or Alive! Brownsville station songs riffin' in me head; then the Rifleman! kindergarten, '61-'62, camp lejeune, NC (Bebe Buell's dad was station there!) had a metal Rifleman lunch box, maybe i thought i was johnny crawford, though i DID fall asleep on the bus on-base and they woke up lil Kenny Highland; "what's your name, lil boy?" Me: "i'm the Rifleman!" still lost, still per-tendin'....as is, this 1958 episode was wrote by Sam Peckinpah and a gun slinger was....Dennis Hopper!!!!( it's actually the very first episode of the Rifleman Season One Show one)
Gee Julie showed and rowed and us "jocks" had a Punjabi platter at Punjabi Dhaba, mixin' a song on my Be More flamboyant cd with "human garbage disposal"! after we fell asleep in front of the harvard ave. bulgarian orthodox church, we woulda been the DEATH of the Store 54 party ("i'm so tired"....white album beatles!) but coast to coast was worth waking up for: easter= shroud of turin and they found PRIMATE DNA on the blood...host
was toronto's conspiracy show dude so when he said "and here's "ophelia" by the Band"..incidentally, Cindy, Lavon's Helm ancestor from Germany is buried in winchester virginny! i been to patsy cline's house there, just found out this Lavon fact....also "here's a band you dont hear too much these days: the Ozark Mountain daredevils!"...sure sounded like "that's cool" to me in mono AM; WHRB had some chess blues by howlin' wolf and sonny boy williamson and WSM playin' some wonderful southern gospel this Easter everywhere morn....my taste is as wide as my waistline! (size 38 special, i think)".....
researching my kinship by marriage to patti smith here; Patti meets my distant cuzzin fred "sonic" smith 9 march 76; highland/flowers see patti/MX-80 bloomington 14 march;Gizmos record first e.p. 20 march. but again, in Bloomington, it was Big Red basketball and looks like the b-ball final in indy-nap'lis is duke vs. wisconsin! sadly, more people at this event in indy than was people at Gizmos in Indy last year; but i still had fun!"