4/8/2018
Monday, April 1, 2019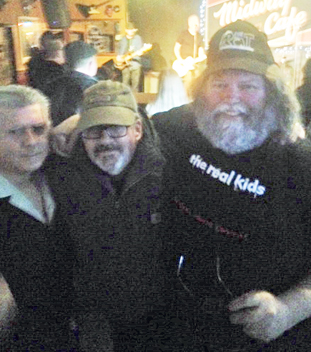 Carl, John, Kenne

Sunday 24 march 19. WHRB hillbilly at harvard says they's a bluegrass jam two pm every sunday doyle's; it was superb! walked over to Midway, Thigh Scrapers did a credible "1970" (as did the Damned, of course). (sending photos). 1.4.5. was next, that Chris Spedding cover always boss. Stigmatics sounding closer and closer to the Red Star album Real Kids each tyme i see them. Classic Ruins always superb, they got an encore. Before Carl Biancucci was Jack Bruce-ing all over the place, he and Johnny Jumper Cable (photo) discussed: JUMPER CABLES reunion! fuck it, it's in print, it wont be A hard DAy's Cable with us going "where's Tommy?". The Glider boys gave me and Frank Rowe a ride to Tavern at the end ("of your career"; Asa brebner) and highlights that i remember a week later was MJ Quirk doing T Rex "lean woman blues" (I THINK I was stoned and did this with Blaros guy Rob Johnson at TT's '86 or maybe "nothing was real and nothing (to be well-hung) about".....Frank Rowe admired Rob Lynch doing the descending chords of Gizmo and Garfunkel's "america" (I think I had the Yes 45! about '72) and my "tour-de-force" was an a capella Son House "John the revelator" with my big-ass boomin' voice goin' 'crost field hollers with a touch of my cuzzin's album Trout Mask Replica (read Vulcher!). 5-7 pm is me and frank rowe tavern at the end of the world,hope this makes the listings!

Tuesday, April 2, 2019

brattle theater. the good works of claire denis (part one!). monday 25 march 19. Beau travail. I love her as a director! filming "seamy, forbidden" topics. this'un based on Billy Bud, dont ask, i aint tellin ya jackshit. but gays in the military being French Foreign Legion. a bit of reflections in a golden eye BUT: the ending! (wiki): "the final scene is a lively acrobatic solo dance to "the rhythm of the night" at a night club in Djibouti." to be seen to be believed but check youtube of course. Til Tuesday 26 march 19 I cant sleep. "story inspired by a real-life Parisian serial killer dubbed "the granny killer". Raymond Chandler AND Lou Reed go to Paris! integrated same-sex couple murder grannies in Paris and it REALLY fucken happened! The Afro-pop music is superb, if I'm NOT playing music, gonna see part two of her movies with my Brattle membership!

Wednesday, April 3, 2019

wed 27 march 19. regent theater, menotomy 730 pm, $15. STIV: NO COMPROMISE, NO REGRETS. filmed by same dude did J. Thunders bio. Highlights to be, in precise Modern Lover order; Steve Bator Senior, of Czech Gypsy descent i read (mother was Pa. Deutsch) was in a polka band! (like Gizmos drummer one state over in Indiana!) Dude from Blue Ash that did the Bomp power-pop records was in a band called Mother Goose; Stiv joined AFTER he left; Stiv influenced by Iggy and Alice Cooper. the "I gave Iggy the peanut butter" tale related but for a Halloween 1975 gig by Frankenstein (I've seen the setlist; Rich Coffee and I COULD have jammed on same covers in Sulak's basement, Highland Indiana since we met same month); the props/makeup etc. so TOTALLY Alice Cooper i was loving it! Alpo and I once at the rat watched the Dead Boys CBGBs footage; Alan told me in his lifetime "they wanted me to join but i said fuck your Iggy Pop/Stooges ripoff band" or some such Alpo-ian comment. When it got to the 80s I fell sleep. A Hard Day's Night! Somerville theater had some Jack Nicholson; Psych Out was same night as Stiv but i went a month of saturdays November 82 and it IS on youtube. Thursday 28 march 19 HEAD played somerville theater 730 pm $11. No Micky Dolenz this tyme but I had mailed that autograph photo to my sister (I told Micky about her now born grandboy!) and I surely heard the Head soundtrack enuff after i bought it for my sister early '70s....damn fine music, even covered some of it in my life

Thursday, April 4, 2019
Luke & The Apostles

Friday 29 march 19. 0700 Bevis Frond WMBR played Luke and the Apostles from Toronto; how could i live so close to there and miss them! go on youtube but what "sends" is me is that fuzzed-out Disraeli Gears/Pugsley Munion (Fitchburg Mass Cream/Mountain trio! I jammed country once with the guitarist) guitar. after work " sun shines on the common at 715"....well, getting dark but I was in mood for asian movies AMC common; More than Blue, a Taiwanese remake of a Korean film (trailer on youtube). Two high school friends live platonically, orphaned, secretly love each other even after marrying/dating other people. Guy dies from leukemia ala Love Story, girl allegedly had left her husband so her true love can die on her shoulder and allegedly commits suicide...yeah, yeah, yeah it's romeo and juliet but if you dont "cry like a baby", try watching fucken Emmet Otter whilst in the marines! sub-plot is girl was a lyric writer for Asian pop singers and the REAL star is the GaGA-esque pop "tart" who dressed like a Gwen Stefani video. and I DO love the music coz I heard it on WILD AM! (which is now Chinese, not soul, but all these minor-chord songs are sadly tragic even if all i can say is "nee how"). Got a bunch of shows coming up, too many to list so movies will be a rarity and I only read books on the tube!"

Friday, April 5, 2019

Every day is a saturday 30 march 19. $8 matinee somerville theater 145 pm: US great shadow-zombie horror flick and there's ALWAYS a laff in those: "alexa call the police"...."playing "fuck the police" by NWA"; perfect soundtrack as terror zombies hold vacationing family hostage! 1986 flashback has Hands across america and a michael jackson Thriller t-shirt, pasadena california. Mad Painter practice highlighted now by our Vanilla Fudge-ish version of the Bee Gees "to love somebody"; to be heard Koto 5 July 19! lastly, Kim Ackland birthday party, all the bands good, price right (FREE!) Plimsouls ending with "million miles away" and "i wanna be your dog"....home 0130, awake 1000 but that's next week"..