4/9/2018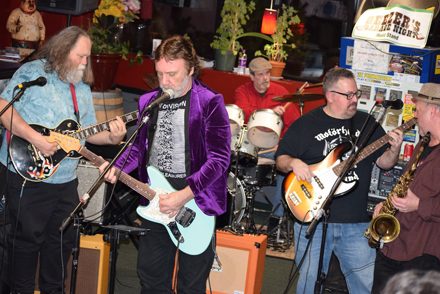 C.L.A.G.G. at Geezer's Garage
(photo courtesy Tokyo Tramps)
Tuesday, April 3, 2018
Geezer's Good Friday Garage Night granite street cafe, quincy. Joey Fingers, whose birthday I AM playing 20 april 18, and granite street band opened, Al Hendry, drums and a bassist from the ole blues jams down by the shipyard, i think. good stuff. Lindsay and Masa could almost be page/plant Highland/Moore! Lindsay DOES have the voice; aerosmith "rag doll" I even enjoyed kansas "dust in the wind" with Masa's intricate picking; this cat is good! Declares I. Bubba Loaf is guitar and Al Hendry drums (this guy is nonstop!) kinda Zappa-esque tyme signatures and a soul sistah whom wails like Danielle Dax; quite a progressive sound! the bayou boy orchestra is Geezer's kids and Tokyo Tramps doin' cajun/zydeco; if yer not havin' a gud tyme, go up to Salem and hang a few witches, then ye bluidy calvinist...school of HARD Knocks not John Knox singin' 'no fun".....Tokyo Tramps superb as always whether doin' blues or Robin Trower-ish blues-rock. Doug MacDonald band, Patty Short in "Sunglasses after dark" and beatin' the SHIT outta those drums like Meg White-cum-Bonzo via Gay Hathaway; Doug MacDonald's reverbed guitar skitterin' like Bo Diddley all over the place and stream-of-concious lyrics all over the place. Kevin Linehan was dog-sledding so drummer was...Al Hendry! this was a blazing set, "midnight to six man" coulda been freakbeat! me and my Norseman kin Frank Chip Langille duet on "ramblin' gamblin' man" which i turned into a gospel revival, having listened to Golden gate Quartet that morning. Tokyo Tramps joined us for "goin' down" and only I can toss in "I'm your captain" whilst in D; Joe Quinn solid on bass, John Keegan on a wailin' sax, MJ Quirk always dressed snazzy; AND fucken "rattlesnake shake" as my birthday present....ok, I'm good and wait'll you hear the Highland/Q power trio on Four and 20 april!"....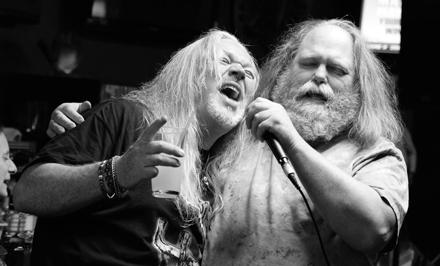 Chip Langille and Kenne
(photo courtesy Tokyo Tramps)
Wednesday, April 4, 2018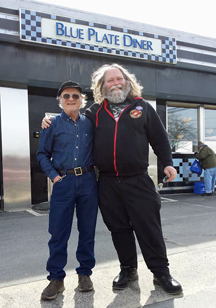 Mr. Jody Moore and Kenne
Photo: Jody Moore

April fool's easter sunday, what better day for Highland to hang with Moores! Jody Moore did an album of photos, so....met Moores Blue Plate Diner Middletown RI and it's a "classic" diner so recKENmended! then up north to Barrington RI, to ye olde Allin burying ground where is buried three generations of GG's ancestors. we got a revolutionary war officer and his brother general Allin, we got Allin, esquire....they were NOT "Broke Folk"! Marked my territory on an Allin tree then talked to a swamp yankee name Paige, Jody's husband being a true maine-r; a lot of "a-yep' etc. from all of us out "thah". Then over to Providence and down the way to exexter RI; my great grandmother Highland's great grandfather was Sweet Gardner (a "blind gardner"; no "i"!) born 1773 exexter which is all swampland and looks like 1718! (me posed next to cow manure sign!) My distant cuzzin Mercy Lena Brown, rhode island vampire and descendant of rebel puritan Herodois Long as am i had all sorts of "tribute" at grave (photos) plus a sign-in sheet! Woods were used and good thing Jody brought a roll-a toilet paper! lastly, Sweet Gardner's uncle John Gardner, revolutionary way soldier was down the way on reuben Brown road (he a mercy brown cuzzin) and we wuz on gravel roads, wildlife refuge, enter at your own risk....is this new england or Appalachia?!?!? (DID look like west virginny when i spent 51st birthday a-looin' fer Mcbee graveyard). that's kinda 'bout it but i WILL be back to South County as i got Gardners/Sweets/Spencers et al. and many graves to find and maybe even "many rivers to cross", mon....and i 'ave gone through h'agony! (smokin' a spliff with Toots Maytal before watchin' the Who, IU, sunday 30 nov 75!".....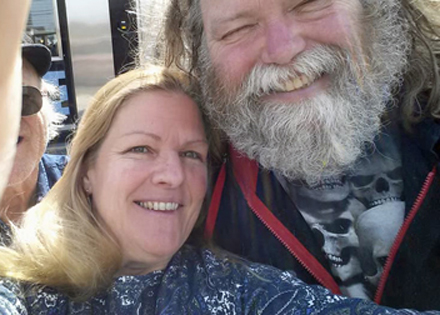 Kenne and Jody Moore
Thursday, April 5, 2018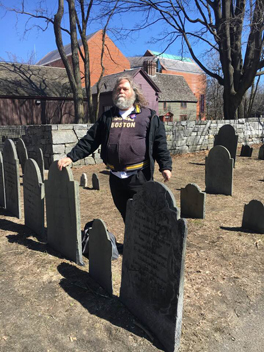 Kenne at Olde Burying Point Salem at Hawthorne plot

muddy waters birthday, 4 april 18. Andy Excuse put together a splendid night of music at Opus, Salem, mass. after BGN crew of Highland/Keegan/Cardinal et at Lobster shanty,

club linehan-ago-go blasted off nine pm. using an Andy Excuse tube amp fuckin' Thunders all the way with "let's go" and "pills". tryin' to remember rest of set...i sang "around and around" merging Thundertrain's 21 aug 77 cantone's version with real kids of that same (Borgioli) era. My attack on such '50s oldies as "tallahassie lassie" was inspired by facebook birthday greetings from link wray's daughter care of those Robert Gordon albums. i did the ole Hendrix guitar-behind-head trick during animals "I'm mad again" and if Robin Trowers' drummer plus Gods guitarist wished YOU birthday greetings you gotta hit grand slams out of the park! steppenwolf 'sookie sookie" had appropriate 1968 riffage, I did a lot of Jimmy Page live at anderson theatre and "dont pass me by" (Beatles white album) was all three Skynyrd guitairists at once! Joe Quinn/Kev Linehan REAL tight (three years now) rhythm section, Mike Quirk gettin' REAL comfortable as frontman and John Keegan on that wailin' sax!

Thee Flyin' Fish fronted by Andy Excuse with half the Stigmatics, this must be the night of bassists fronting bands but Andy and MJ Quirk both doing quite fine indeed! Tight rhythm section and Bob Roos gittin' into a lil Yardbirds/psychedelia and garage, early influences than Stigmatics but I dig it ALL! (Andy was in an early 2000s Nuggets-cover band called Garagemo-nauts that evolved into Thee Psych-O-Daisies fronted by me).

Laslty, Evert, good to see Matt Burns reunited with Jim Alger, Spike redux but Joe Packard's BASS is what really adds. first number, bass cuttin' through like Mel Schacher on Grand Fank live "are you ready" and I damn sho was! Matt Burns excels in trio formats having leant to drum from red Grand Funk album and when Jim Alger played wah-wah it echoes those first two 1970 UFO albums with the 20 minute jams; Thunder and Roses from 1969 also, a power-trio enjoyed by my cuzzin Kurt Cobain. A splendid night.

Stayed Hawthorne Hotel, next morn went to salem witch trial memorial (Miss Lyn's uncle was John Proctor) (hung) and I was hanging in ole cemetery with a whole lotta Hawthornes (famous kin sez author nathaniel is kin to both a witch trial judge AND an acused but that IS how the hysteria was...)...finally a plug for Polonus European ice cream and deli, Salem endorsed by Tony Kazcynski and you can get Polska gear, groceries, pierogis AND listen to Abba! sadly, after easter, I was told they were OUT of kielbasa! To Salem soon I hope to return! Is Koto next?"......

Friday, April 6, 2018

"My birthday and the twelve days of kenne just keep on giving! so there's l a go fund me for that Gizmos documentary and a nice still of me playing guitar behind my back whilst underneath the Chicago Transit Authority (which rumbles by during Gizmos set from tyme to tyme). So "Midwest can be alright", go fund me Gizmos documentary, new issue Vulcher and Eddie Flowers STILL ALIVE AND WELL! "Miss Lyn, Boston Groupie News PO Box 450 Cambridge Mass 02138 sez "I'm in love with Ken Highland and think he's beautiful!" So does he! "Kenne, PLEASE comb your hair"-Miss Lyn in scary Salem 41 years later. Me: "I want to look like the Melvins" (and I'm cuzzins to Kurt Cobain TWICE, Dead People Facts!".....
| | |
| --- | --- |
| Kenne at an Allin grave | Kenne at another Allin grave |
| Kenne in Exeter RI - how appropos | Kenne at yet another grave |
| Mercy Brown's grave | Exeter Cemetery |