4/16/2018
Monday, April 9, 2018

Sunday 8 april 18 fenway movie theater roulette "winner by elimination" is: A Quiet Place. I musta jumped 13 tymes; Stephen King, whom I bumped into at a writer's conference early '80s says: "the main thing is the silence"....so these blind alien critters when they hear you, attack you; Little Falls NY is near Utica NY three hours east of Brockport NY, I love the ole town, antiquities, old farm equipment; "country comforts" from the ole Blodgett farm. Family of five walks barefooted and are kinda survivalists; director born 1979 saint elizabeth's hospital, brighton mass. right down the street from where i wrote the hopelessly obscure e.p. on majestic; he is the Patriarch. family uses sign language coz the girl really IS a deaf actress and she's brilliant. Her hearing aide feedsback and THAT is what defeats the critter (spoiler alert!); ok the ending; the Ma is barefoot with a shotgun, central NY mountains, the boy had just rescued his deaf sister from a corn silo and then drove a pickup truck pell-mell....hell! in 2020 that's the ONLY way to defeat evil critters! Stephen King and I say "see this movie!". Doug Allen's Steven says: "eat some paste!""....


Tuesday, April 10, 2018

"Go Fund Yourself! one COULD say but these causes arent some bullshit "i'm a junkie whah whah, i need money" bullshit excuses.....Caleb Garcia tells me he's 25% funded for Gizmos documentary ("drugs are for thugs"!) so go fund him, he was credited in Ken Burns PBS Vietnam thang....Dan Vitale needs go fund me for Chetstock, ANOTHER film I'm in..."they gonna put me in the movies/they gonna make a big star outta me"...and my interviews in Gizmos AND Cheststock is me "actin' naturally"! My communications degree from high school at work! I never met a microphone I never liked! Speaking of microphones, Scott Morgan, Rationals, had the Cameo-Parkway 45s back in '73, three years before I started spewing Gulcher vinyl, so DO go fund me, my facebook friend Scott Morgan before, of course, you fund any movie with "megalomaniac" (Robot A. Hull in Creem, quoted to me 30 years ago when Johnny Angel was in Thrills with my cuzzin Merle Colby ALLIN JR.!) IN Creem was Robot a. hull quote...i may be facebook friends with him also!"....

Wednesday, April 11, 2018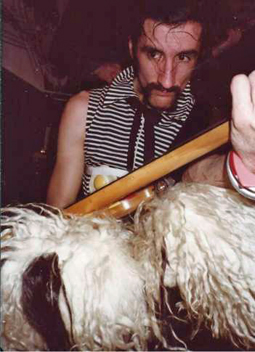 Kim Kane

Til tuesday 10 april: in copley square, Miss Lyn's favourite restaurant The Globe, now located in rattlesnake bar, half-price appetizers 5-8 pm, (they have a MUCH better staff now-ed) ESPN on the TV Eyes on me. Then all of a sudden "waldo jeffers had just about had enuff"....what the grand funk? they're playing "the gift' by the Velvet Underground! strangest fucken dinner music I ever had....followed by "little johnny jewel" by Television! Was this "obscure punk" Sirius or something? Anyway, wired on dunkin donuts let's look at TELEVISION and I did lissen to 'em enuff even in my trailer in charleston SC. Sometyme early '77 or so, Bethesda Md., Kim Kane, slickee boys said to PFC KE Highland USMC "Giz! Giz! check out this 45; the production is as bad as O.Rex!" Kim Kane drank so much tea he was "totally wired" when excited about the latest punk release as he tried to collect them all! He bought records I NEVER bought coz, like water, I could hear them at HIS place! So "little johnny jewel" came out in '75, NYC was happening between Dictators and my cuzzin Patti's HORSES. Television's first gig was 2 march 74 and april '74, Sol Grubeger declared "we're gonna do a record!" HIS song "feel my love' (O. rex gulcher cd), me on drums age 18 (what is this? the Iguanas? Steven Tallerico in chain reaction? three of the greatest frontmen born in april: Iggy/Tyler/Kenne!). since we didnt have terry Ork, O. rex didnt release til fall '76 by which tyme I know i heard Live at CBGBs in patricia ragan's basement in "Annandale" (Lifeless Pedestrians!) Virginny....the Rat, BGN, Real Kids did not EXIST to me in '76....damn I WAS missin' some gud shit! ok enuff reminiscing on television, it and the velvets just background happy hour fucken MUZAK and Lou Reed Lester Bangs rollin' over in their graves...tyme to cue up "rollin' over" by the Small Faces! "we're gonna pay a trib....ute to the....rooooooooolllllllllliinnnnn' sto-hones!" Now Steve Marriot COULD project a vocal!".......

Thursday, April 12, 2018

wednesday 11 april 18 i was in davis square "hipster capital"-Utne Reader for my Gene Vincent leg ("Woman Love" was prescribed!) so passing by somerville theater, i was: death of stalin 445 pm;yes! $7 matinee before six pm ($7-age 65 and older!) so besides SEE IT, a quick review: Mel Brooks/The Producers/ "springtyme for Highland" only it's `1953 USSR and Stalin's death, the Party, like the Damned, like to "stab your back" over power....the way the Commies are portayed is as oaf-ish as the nazis on Highland's Heroes AND as Robert Cameron White (RIP, but Pergerine White Mayflower descendant) said: "what the fuuuuuccckkkkkk????? there's nothing wrong with a little cartoon fascism" (e.g. dictators/ramones/afrika korps). it's listed as "comedy and comedy/drama" in wikipedia, there's a facebook, again, I DO recommend it, even the tragic parts are comedy ala Fiddler on the Roof? i'll let y'all decide, $7, shit you cant even see good bands for that no' mo!"....




Friday, April 13, 2018

friday the 13th 18, 0645 perhaps on BBC radio Ulster: "48 crash' by Suzi Quatro! "my head's in '73' what a great flashback! rides on a D, then G to E ad nauseum like a Solomon Gruberger song (Eric Hysteric, Frankfurt, Deutschland, covered "Suzi" by O. Rex, drums by me!) when O. rex went to see brownsville station NYC 9 july 74 perhaps, Solomon kept playing a cassette tape of "48 crash" over and over driving me and Jay gruberger mental! (well, didnt take much......)....and since my Head IS in '73, let's not forget friday 20 april 18, granite street cafe, quincy mass. 11 pm Kenne Highland Front and Center! on youtube was a Don Kirshner of Grand Funk madison Square Gardens december '72, in which I WAS in audience ("In held Twaas I"?) with the gurl whom I "respected more" took me to (Ken kaiser, Gizmos world tour: "what were YOU doin' in Union city NJ airport" answer: I had an earworm of a toon off T. rex's Slider (panned in Fusion magazine by Metal Mike saunders); that one goes "John Lennon knows your name and i seen his".....back to Grand Funk (why the Funk NOT????!?!?!!?!?!?!?), Freddie King opened up and I re-appreciated his set; like Gene Cornish, that Young rascal said : "hey I was from white bread Rochester NY, what did i know about Wilson Pickett?" age 16, 1972, I was only JUST buying Chess albums coz the Stones did, so Freddie King was merely an Eric Clapton influence, as I was "diggin' on my limey metal blooze"....this grand Funk youtube has Freddie doin' a "La grange" style boogie, drum solo, then "Goin' Down", the whole band is black, playin' with SO much fucken soul....though, also hindsight, i never realized how much gospel influence Grand Funk had! from the beginning of this youtube, farner with guitar acrost front, then playin' keyboard intro to "footstompin' music"...what a fucken opener!!!!! well, they didnt call me The Grand Funk Punk back in Rock On! in '73 for nuthin'! Grand Funk railroad now more than ever! and Shirley an influence on Ken Highland Front and Center as was Jerry Shirley and Humble Pie rockin' the fillmore!!!!!".