4/17/2017
Monday, April 10, 2017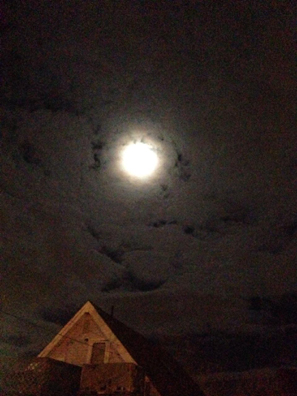 Full Moon!

saturday 8 april 17- after years of Gee Julie not seeing her cuzzin Mark George drum (he was two million BC's second drummer) we FINALY made it to pete's grill, quincy, near the shipyard for Mark of the Beast, his Iron Maiden cover band. Mark plays EVERYwhere in all kindsa tribute bands and this was at least in same state vs. NH or RI. And we walk in and..there's another cuzzin- David G! (there were fourteen kids in previous generation versus seven in Ma's so I'm outnumbered!) My Iron Maiden knowledge is negligible but wikipedia says "formed XMAS '75" (I met ted niemeic/formed Gizmos 5 dec 75) and their first gig was some pub in London 1 may 76; by then I had recorded first Gizmos AND was guarding our country against the British but hey! they outlived the Ramones who released "blitzkrieg bop" 45 february '76. other reason for "respecting them more"; besides the usual heavy/prog influences that I dug in high school from WCMF rochester NY was "twin guitar attack" Wishbone Ash's Argus! Now THAT's obscure! early '74, even after seeing Stooges/Kiss NYC, back in ole brockport NY caught Wishbone Ash on don kirchsner and liked the double guitar. So yes they do it right and these guys travel from fall river/ri/wilmington mass/sudbury to play this stuff EVERY weekend! Mark George as usual "looks like ronnie james dio and drums like ian paice/bill ward" and i think his deep purple band playing Pete's next month. it's just a townie/biker south shore road house but wednesday has karaoke and thursday is blues jam. yes, i may as well be in brockport NY. early '70s, Barge Inn. (I called Ma the next morning and Jailbait Janet's dad had died; tell Ken Kaiser she was fourth generation German like ALAN BAASE!). Lastly, there was a full moon plus also (exclusive!): Ken Highland falls asleep at heavy metal concert! (photos by Gee Julie). actually i cant wait to return: SABBATH COVER BAND day after Good Friday and night before easter!"....
| | | |
| --- | --- | --- |
| Cousins! David G, Gee Julie and Mark G | Mark of the Beast | Kenne falls asleep at a metal show! |
Tuesday, April 11, 2017
Rain of death: Daryl Gizmo 2 paril 17; jailbait janet's dad two days later; then I get birthday greetings from Stuart Argabright; the Rudaments opened for Jon Richman in DC in '78, Kim Kane called him "lil Iggy" and he's name-checked in "have a lark". facebook friends but took THREE years to know of his "big sister" so a quick RIP on Brenda Lee Argabright, whose vienna virginny high school photo is on ancectry.com. I also discovered this DC via west virginny family hailed from palatine germany about hour or so north of the Rhine from dad's grandmother (the Fischers) and when Han George Erckenbrecht landed in philly september 1732, Peter "the German" Fischer bought land in Amwell NJ 1730. "reincarnation"= 1980 Pastiche win Rat Rumble, I meet her, she gets copy of Hello World, sees the HEROES at the Underground 9 sept 80; we drink a lot of cossack vodka before going to cantones. meet terry dactyl through her on a friday the 13th fall '81 lizzy borden cantones; she brings Dusty Numbnuts Hixx to cantones hopelessly obscure/The Accidents 13 march 81 (carl biancucci on bass!) Halloween '81 was with me at 20 ashford street when Uwe stallscmidht said "LSD for breakfast"; is probably on background vocals on Five Beers album, radiobeat sessions. rest is a blur outside of playin' hillbilly music at middle east bakery. oh wait! She drummed in Junta D'Amour, with Tim Sprague child of paradise, a lot of Noise Pencil gigs plus Hopelessly Obscure at Down Under december '82. met Denise of D-Club through her at kenmore square rehearsal space. telling her brother giving her a proper obit besides Charlestown paper (on line). SHe DID become kinda Hopelessly Obscure but others in memoriam should remember her and Junta D'Amour whom Migeul D'Amour opened for at Down Under. Big cat lover and "survived by cat Smokey";let me mail now my pledge to animal rescue league and i promise to stay in good touch with "lil Iggy"".......
Wednesday, April 12, 2017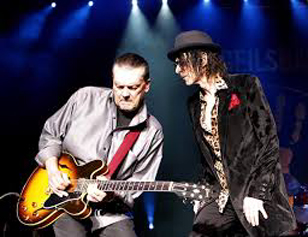 Geils and Wolf

"WRKO was all over the place J. Geils RIP age 71. Though We Went to Different Schools Together (the Jaggerz) in late '75/early '76 Richard F. Coffee DID show me how to do Geils "chicken-pickin'" off "hard drivin' man" off Full House album (listened to a LOT while partying with Jailbait Janet's bro). BUT, for Dead People Facts, Vulchur, I discover off family search and the census that Jerome Geils Jr. is great-grandson of John S. Geils born 1860 Germany, immigrants 1875. basically lives in the Bronx and J. Geils grandpa was a bookeeper for cotton goods....now if HE knew Ken Kaiser's grandfather....and Coast to Coast listeners, it gets better! let's say it's 1880, which, costume-wise, I wish it was! John S. Geils, age 20 COULD have gone to 30 Broome street Newark NJ where Louis Kaiser born 1825 Deutschland uber Gruberger was born and was a cigar manufacturer. (it's now a synagogue for sale!). the clerk behind the counter would have been Ken Kaiser's grandfather's uncle age 16, Solomon Kaiser (the Grubergers were still in Lvov and called Casweiner and THOSE facts died with THEM!) Proximity of Solomon Kaiser and cigar shoppe to WMFU and great-great-grandson playing as a Gizmo: 12.8 miles which is ALMOST 13! Either way RIP Jerome Geils and ALL FOUR generations of Geils ("and nary a Bohunk amongst them!"-R. Meltzer!), a Bronx NY punk and he dont take shit from.....Peter Wolf! and THAT is no Hallucination! (other fact: the Hallucinations had a Shapiro whom was father of Jason of Vitamin but this is geting HOPELESLY obscure!"".....

Thursday, April 13, 2017

"a lot of good weather and good gigs coming up but in the Slim and the Supreme Angels "give me my flowers while i'm living" dept. saturday 6 may 17 PM show (PM-Dawn?) is a benefit for Jay of Red House. i last saw him Rat Beach Party whilst roadieing for Adam Sherman of private Lightning and asked "Kenne how long have I been knowing you?" so maybe 30 years ago, since the first tyme i set foot in Green Street Condos was friday 13 june 86, plan 9/Classic Carls, I walked in and saw an all black band doing classic rock; I'd been reading greg tate in village voice and black rock coalition which is bullshit since blacks INVENTED rocknroll! But what sold me was, Wasted, an all-black band doing Zeppelin's "celebration day" with the soul Zeppelin only wished they had. Red House now is a trio with Peter Goutzos of Vinny band on drums and sounding more like Hendrix's band of Gyspys, if, for wont of a label, would be the pre-ultimate "black ROCK" (but not ROLL!!) band. Jay is illin', medical expenses etc. so come on out, lotsa good bands, good tymes, good partying and good cause! (maybe i'm splitting hairs on the Black Rock thang but instead of writing to the Voice 30 years ago...I was too fucken drunk to write so i'm writin' it now!"....