4/17/2023
Wednesday, April 12, 2023
Holy saturday 8 April 2022. celebration of michael wheddle at C-Note, Hull. a whole mess of bands opening with Blacking Out, punk metal, from bellingham,Mass. next up Squeaky Wheel, great Dust-sounding power trio with members of harlequin, Bruce Scott of The Beachcombovers and Al hendry on drums.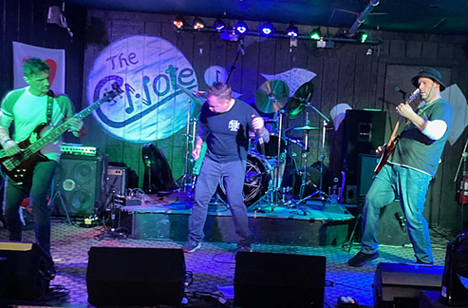 Blacking Out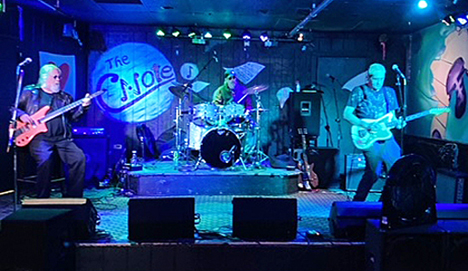 Squeaky Wheel
Delia Davis, whom was in X Dreams did a medley of beatles bridges, then Lady Caroline sang the Count's "saltwater summer" (A varulven e.p. i first heard at Groupie Towers in '77!) and Caroline and Delia did "dream a little dream of me" which was splendid.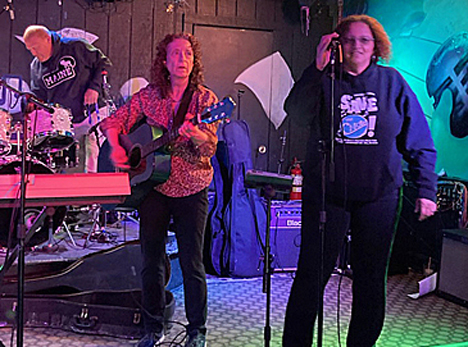 Delia Davis & Lady Caroline
The kenne three-fer was me and larry Newman and Jeff Hill, the Count"s drummer, doing "Pills" and "Sister ray"(SO O. Rex '74!), then a Kenne Highland Air Force set with Jimi's "I dont live today" done John lee Hooker style, tribute to red House. Mad Painter debuted the "Painter ladies" ("and a bottle of wine mama"!), getting good exposure and more fans, one of whom is rick sanger of tsunami of Sound;so...a tsunami of paint gig?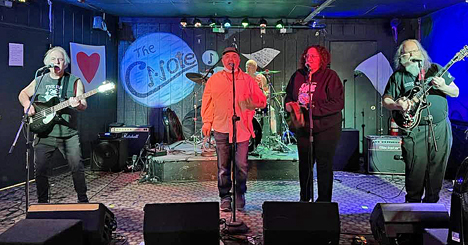 Count Viglione's Band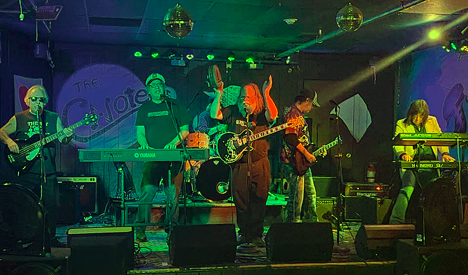 Kenne Highland Air Force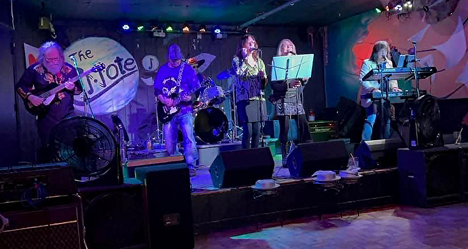 Mad Painter
Photo Tom Despres
i dined at Schooner's next door, missing Tsunami of Sound, but I'm sure that YOU should VENTURE out to see them! When Al hendry got onstage after Tokyko Tramps did their duo thing, my notes say Al (the Mitch Mitchell of the Kenne Highland Expirience) "sounds like axis bold as love", the Tramps. Al was in squeaky wheel/air force/painter/tramps this day.
1-4-5 was a trio, Judd Williams on drums; these guys maybe were Syracuse's own The Most sans skinny ties. Paul "4'5" Armstrong did some keith Richards licks and bassist sang ramones "here today gone tomorrow", taught me by ken kaiser in kaiser stadium late '77, when the Flashcubes were begining!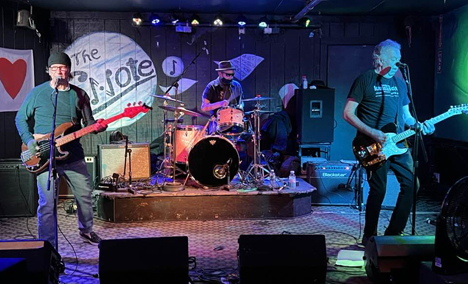 1 4 5
photo Tom Despres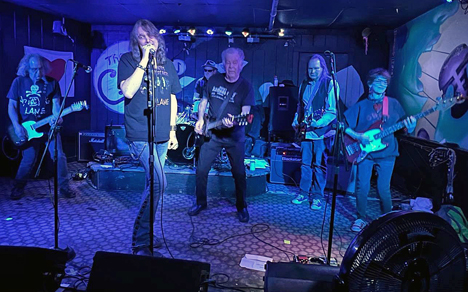 Johnny Thunders Orchestra
To end it, the Johnny Thunders Orchestra. Brian Young sang a DAMN good "chatterbox" with members of the Most/Stigmatics and Rochcester's own Antoinettes! Though, to close nite, my homeboy "Paul 4-5" said "we saved the best for last" and I sang the Contours "do you love' Sonics style, even tossing in "Pyscho"; there's youtube of a lot of this which will live on longer thn me, though age 67 is Younger than yesterday!"......
| | |
| --- | --- |
| Michael Weddle Photo Memories | Michael Weddle Photo Memories |
Thursday, April 13, 2023

"Monntag 10 april 2023. 213 pm. "wow! The Third Bardo "I'm five years ahead of my time" 1967. Now that's psychedlic garage. discovered a couple of ongoing shows on wnyu, Plastic Tales From the Marshmallow Dimension and Closer to the edge. one of them have already played Mad Painter and now both will"-alex gitlin, mad painter keyboards. He lists a couple other toons in a text; 'rainy day mushroom pillow" (strawberry alarm clock with a gene dante cousin!) and "eternity's children- sunshine among us-1968"...."let's all get up and dance to a song that was a hit before Alex Gitlin was born".......

Friday, April 14, 2023

"Freitag 14 april 2023. as my distant cousin Justine Covault DOES ask; "when's your next gig modda focka?"

And that IS the Mad painter cd release party saturday 22 april 2023 at the Jungle, doors open 330 pm!

sunday 23 april, Hummingbird Syndicate with the great Jon macey at tavern at the end of the world and 7-10 pm is Mr. Ohan's open mike, of which I plan to partake! It's springtime, you gotta get out of that "post Covid haze"!"......