4/18/2016
Tuesday April 5, 2016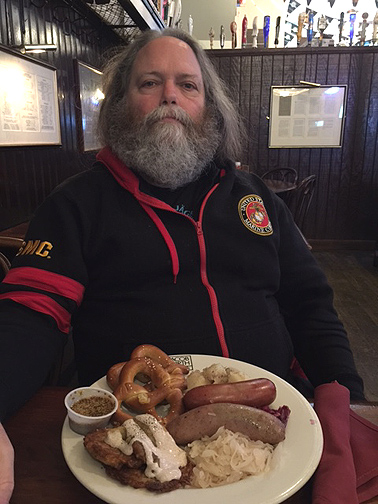 Photo: Gee Julie
Monday April 11, 2016
I had a tri-fecta of GREAT weekend AT LARGE, off beaten path, fun the weekend, so, as usual, let's begin with...
IDA MAY: after researching my granddaddy Private John Wilbur McBee WWI military record (26 sept18 St. Michael til 11/11/18 Argonne forest, 53rd pioneer, STILL researching that outfit), Ken meets Gee Julie at Jacob Wirth. Age 60, living in Boston since 1980, NEVER BEEN THERE! though it's been there since 1800s and I arrived on greyhound Saturday 12 march 77 (REAL KIDS AT RAT!) when greyhound was on stuart street (dirty old boston is great facebook group of olde photos of '70s Boston, when, like my Mayflower ancestors, i "arrived"/"discovered" /STOLE/GLOMMED ONTO a pre-existing society or "go native" (vs. "go commando" so which one DO you want!?). achtung, der essen!
Gee Julie: "Kenne, your birthday's OVER unless you want to celebrate it every day!" and yes, each day I am alive, I DO rejoice, shout "hallelujah, "give me my flowers while I'm livin'"-slim and the supreme angels!!! so I had a bigass German sampler, and irony = my granddaddy McBee fighting "THE HUN" when his great-great John Youst came von Bavaria 1773, fought in Amerika First revolution, then settled in western Virginny (these Yousts are also my Confederates in thr Attic). so gut essen, the 1800s wood was AWESOME! same décor in an old german beerhall in northside Pittsburgh which my granddaddy McBee COULD have walked to in his spats and bowler hat! and since Ken Kaiser liked the SPORTS PALACE in my column, Bruins are OUT, lost to Ottawa, no Stanley Cup, I presume, Mister Livingston, Mister Peabody".....
Tuesday April 12, 2016
"first a plug for Vulcher, new PRINT fanzine to be done by eddie flowers/Kelsey simpson (GIZMOS!) and LIKE it on facebook! so 6 pm Saturday 9 april 16, age 60, acting MY AGE and instead of being at Hardcore Cotillion, me and Gee Julie lissenin' to Jimmy Jay on WMEX 1510 AM, saturday 6-9 pm. a STELLAR show and since I already wrote a melter-esque DETAILED piece for Vulcher, here are highlights:
interview with Charlie Thomas of drifters who misses his old friend Ben E. King, is age 79 and had an interesting tail of how Sammy Davis Jr. gave him his start at the Apollo! wicked rare= the ANSWER song to "daddy's Home"! (sorry, i DO need to research this record!).
a VERY bizarre interview with ? of mysterians who has a birthday soon (again, he and Jimmy Jay are my facebook friends and ARIES DO make the best frontmen!); long rambling tail on mysterians getting inducted into hall of fame and in Q's dream, the presenter was....STEVE HARVEY? ...Jimmy Jay: "?, you had "too much to dream last night"!" and snippet of THAT Nuggets classic, AM radio, MONO, man! followed by "96 tears" of course!! then third caller for JOHNNY RIVERS tickets....Gee Julie: "Kenne, is America playing?" and she WAS the winner! (winner by elimination for being with me also!) so that's up Lynn Saturday...MORE tickets and dig this: "what was the flip side of this 45?"...("wipeout"!) and every damn fool knows it's "surfer Joe"! verse FOUR is "the Marines Him" coz Joe is in marines at pendelton, she cut his locks and on on maneuvers..."Joe got cold"....if I'm not giggin', I DO toon into Jimmy Jay!!!! he also spun records at Triple O's in southie and mentioned King's Row, need to mention this to club linehan lads".....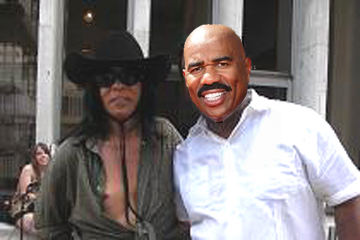 Question Mark and Steve Harvey
Wednesday April 13, 2016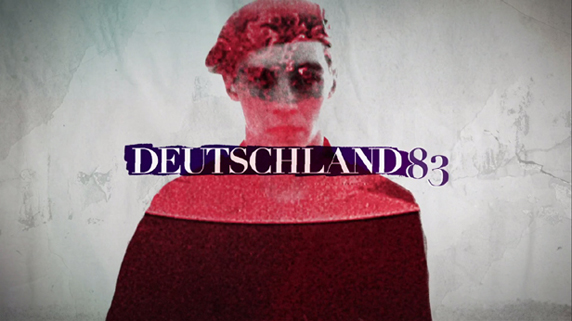 "Sunday 10 april 16 Goethe institute, binge-watching 4-7 pm on Deutchland '83. whilst watching beer/wine/crackers/cheese/sausages/grapes available. as a "Cold War vet" the Cold War "intrigues" me; so many double-crossing double agents I cant keep track who's east and whose west German! Wikipedia entry if you wanna geek out on details but highlights are: GAYS IN GERMAN MILITARY!; sex commune!; Ronald Reagan! ("that arrogant American actor will start WWIII!";Trump = Reagan redux? duck and cover, kiss yer ass G'Buy!). a berlin club ("Nightclubbin'"?) and lotsa '80s music: ZZ Top, the Cure, MTV stuff, LOVIN" IT! there was some military SNAFU and (read subtitles): "DAS IST DU FIASCO"! speaking of operation Able and Pershing missiles (we were?) Harry Vee, der sanger ub der Broken Jug von Bamberg sprechen mit moi (what is this "Not so sweet" Alsace-Lorraine?) that he was only 20 miles from the Pershing missiles that ALMOST went off (east/west conflict) and my joke: "jah, mein freund, das IST ein "Rain of Death"!) Jordan Kratz of Big Meat Hammer, an avid WWII buff, also has seen this, comments on my wall. weather gittin' nice, go to Goethe for more events!"....
"also in deutschland'83 re: a code they couldn't crack: "we're going to have to send this to Fort Meade!" (subtitle). I DID guard them gates '77-'78 and wrote Hello World! (one copy ist in Flensburg mit Pierre e Coutre, another west German und mein freund like Herr Vee!".....
Thursday , April 14, 2016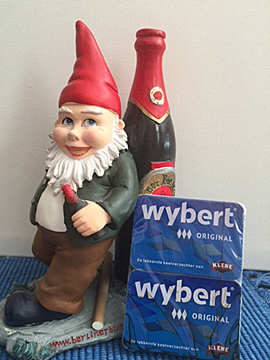 Kenne unwittingly looking like Big Bobby!!
Photo: Gee Julie

"a tri-fecta from that great day of WODIN!!!: Gizmos world tour news: Chris Stigliano, whom does BLOG TO COMM loves new Gizmos record and sez it sounds like '76 sessions; Whybert? (that's some lil gnome Gee Julie got in Europe). coz I never advanced SINCE 20 march 76 (Forever 19?) , so am pretending Ramones album NEVER came out a month later (or, am I, LAST MAN STANDING, a wee bit jealous that, like mary wells : 'you beat me to the punch"?).

Gittin' man Kraut on, yo! Goethe Institute; the refugee crisis: Europe at the crossroads? FREE! professor Michael Goring has ZEIT-STIFUNG EBELIN UND GERD BUCERIUS von hamburg, for ASSIMILATING refugees; VERY interesting talk for all you Bomp List politicans, but the "after-party: ist essen und essen mit GRUEZI SWISSBAKERS, which ist Boston based, der essen wast wunderbar!!!!

BUT let's sail to the Azores as Miguel D'Amor called as I's at Back Bay! 13 minute phone call (me: "Michael, this is going in the boston groupie news"....): great tyme my cantab birthday, loved Club Linehan-ago-go, loved Gee Julie's 60th birthday cake por moi, curious on Bob Mackenzie's new band AND here is lineup of Miguel's new "almost ready" band: Miguel and Jeff from Venutians on guitar (Michael does solo on "Best bette"); bassist was from that 2000-era '80s influence band The Information! (wanted to see but didn't, me!) and drummer is Matt Burns from V. lastly, "Michael, y'all been to them Port-a-gee restaurants east Cambridge? I go there always get fish". Miguel D'Amour: "you can get "any kind of fish you like!" Miguel D'Amour on Jim Condon (RIP, our bassist): "where else can you find a Satan-worshipping Republican with a suitcase full of beer? he was one of a kind"....

Cinepunks has interview with Dave bass Brown of negative FX! ....

"from Gizmos page, new book out! THE GOLDEN AGE OF INDIANA VINYL RECORDS: 1950-1990...ok, happy, made history"....

Saturday , April 16, 2016

before I march off to Lexington like my Blodgett/Tidd/Draper kin (Ma's side) did, let's actually TALK ABOUT MUSIC instead of Meltzer-esque mishegas...Gizmos in Atlanta "comin' up fast" (pts. 1 AND 2): early Johnny Winter!) and Dan Vitale again wants me to promote Chetstock, Saturday May 21, hopelessly obscure 815-845 pm plus I am master of ceremonies!

after "any kind of fish" you like at J& J's portegei restaurant, somerville, Ken and Gee Julie went to Sally O'Brien's. opening was a soul band octet: in cold blood/10 wheel drive singer; 3 horns, guitar/bass/drums/keyboards and delights were Buddy Miles "them changes" and I got to dance with paula worsley from WMFO on ides of march "vehicle"; tell Vulcher magazine that punk rock NEVER happened, in them pre-Gizmos years unless you count blood sweat and tears/the stooges ann arbor '68, maybe? Moose and mudbugs ALWAYS sound like the Korps with Ken Kaiser on guitar and Moose IS jay Gruberger with a kazoo! John Keegan on sax on mardi Gras toon, this really IS Moose's best Mudbugs THOUGH a surprise visit from Paul Dionne (he played percussive egg with Moose); he'd drummed in the Givens with Dangerous Byrds in Stores Margery Meadow (the malarians/the givens/hopelessly obscure, "no sleep til geno's" '87 maybe?); seen her too, photo op, yeah, yeah, yeah. lastly Tsunami of Sound, a Gee Julie fave, gold lame coats, covering "percolator" BEFORE Ken Kaiser (like his rabbit, he was STEWING and cant WAIT to read this week's column coz he understands it!). talked after with "drummer man" Rick Sanger (Venutians in '80s) and "drummer man" is what adam west called him, tole me about tsunami hangin' with Batman et al. we bought a cd, new one comin' out, maybe you'll see tsunami and hopelessly obscure, maybe HELL, Michigan will freeze over (? Mysterian-ly DID post that on his page!) makin' plans for johnny rivers/America in lynn and need to research Mr. X's military career....Paul Dionne ALSO in the "39" club, SO 39 years ago today dead boys Rat, Gizmo meets cheetah chrome".....