4/24/2017
Monday, April 17, 2017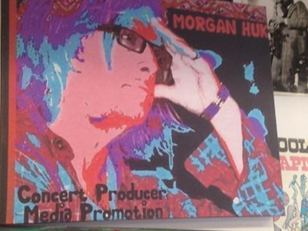 Morgan Huke memorial

"Gee Julie picked out Gloucester as a Good Friday destination on the MTA, so highlights were: Mystery Train Records with Morgan's Memorial! local music posters via Morgan Taft Huke, RIP. we bought sabbath's masters of reality and deep purple's machine head plus they were playing ZZ Beard's Tres Gizmos. what a great store! albums, cds, 45s...rockin' ramrods "dont mess with fu man chu" and ten years after "hear me callin'" b/w "i'm goin' home" released 29 nov 68. then onto the Dress Code, second hand clothing store, the owner was in Big Idea with Gary Cook, post-Infliktors. also with her husband in The Unusuals, whom I think I saw this photo in the Beat. husband also played in The Upstarts, good power-pop. daughter is Isabella Koen whom is currently touring Europe, doing electronica; I had fun talkin' with Ma about The Rat days! Lastly, dinner/lunch menu at the Azorean, even better Portuguese food than east Cambridge! It just SCREAMS Miguel D'Amour! Lotsa tscotchkes from Azores plus a mandolin for fado on wall and, Hopelessly Obscure fact: Miguel's dad, straight from san miguel, played mandolin! You can see it in Miguel's frantic flamenco right hand. Dollar General was closing and Gee Julie made out REAL good and back to Boston 7 pm...."it's such a perfect day"....lissenin' to Lou Reed b-sides in '73 and meetin' him in '90s!"...
| | | |
| --- | --- | --- |
| Azorean native dress | Awesome food at the Azorean! | Mandolin at the Azorean |
Tuesday, April 18, 2017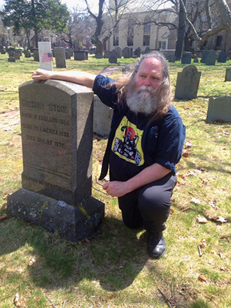 Gregory Stone gravestone

"Easter Everywhere and since my Puritan ancestor banned it and all Holy Days 1659-1681, I said "let's go to First Parish Cambridge" (now unitarian). REAL Kids had an easter egg hunt in ye olde graveyard where i found a memorial for Gregory Stone. Ma's Blodgetts and Dad's Kilbournes sailed from London on the Increase landing in harvard square sunday 7 june 1635. also on board was Gregory Stone, ancestor of Miss Lyn's "Indian" grandmother (OK so I'm not First Nation, *sigh*-ed) and brother Simon Stone, ancestor of Carl Biancucci's ma. any descendants at a Johnny and Jumper Cables show acted VERY non-Puritan! And a Stone descendant married my Blodgett ancestor seven generations back, living on adams and north, lexington, mass near where Terry dactal lived, but they left to be first white man Brimfield Mass. walking to central on Cow Path Lane (Mass Ave) Ken and Gee Julie et at Life Alive lissenin' to X, "sonic reducer" and the first Damned album!!!! I was Rat Scabies on utensils and tables!!!! finally, a Brattle gift card from a Gerry descendant, we walked to Tory Row (Brattle street) for a double feature of day the earth stood still and contact. 1951 Earth is SUCH a classic but the robot GORT whom I first saw on my distant cousin whom dated "Jailbait Janet"'s copy of Richard Starkey's Goodnight Vienna; actor was seven foot tall! and Gort-talk, man..."Gort meringa nicktoe"....I guess that means lift the lady onto the spaceship? Or "Gort meringa"..."come with me, follow me"? Contact was also out of this world! famous kin has Jody Foster as a John ALDEN descendant ("what the fuuuuuuuck"....) and William Spencer of Cambridge/Hartford, like my dad (wife Agnes Harris has royal descent back to King Egbert!)...but yeah the aliens contact her, sifting through radio static (hey i do that!) and going through a worm hole to be united with her dear dead Dad...heavenly! Plus a religious wacko about science versus God, Gary Busey's son, long blonde hair and he looks like......JIMMMMMM DANDY!!!! (who also descends from a Hartford Connecticut founder). again, another "perfect day", glad I am above ground".....
| | |
| --- | --- |
| Gort - firing | Contact - sifting through radio static |
Wednesday, April 19, 2017
"willie loco nominated for citizenship award 3 pm sunday 7 may gloucester unitarian church so y'all go! In between Coronation Street on youtube, I been, as usual researchin' rocknroll family trees so yesterday: David Crosby! Nine generations back a Yorkshire Puritan name Crosby sailed from London arrived Harvard Square, same as Ma's Blodgett ancestors. The Spencers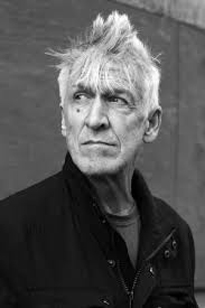 WA

(both sides) followed Reverend Hooker (also an ancestor on dad's side) to found Hartford (Dead City Rockers!). Cambridge clerk (this also in cambridge historical society so i DO need to spend "One Rainy Wish" there...) was Dad's ancestor William Spencer who had a lot and three acres of land on Brattle Square and Mount Auburn Street. right side of charlie's kitchen and only minutes from PO Box 450 and Groupie Towers. what becomes Coast to Coast is, on wiki-tree, coz obviously David Crosby is bigger than me in girth and music, is my ancestor William Spencer sold Simon Crosby his lot and then "removed" to Hartford. Ken Kaiser will smoke a Lewis Kaiser cigar and note Crosby's ancestor and Ma's Blodgett ancestor BOTH died in 1639, so I wasnt looking for 39 but Crosby's ancestor died in....'39! Crosby's widow granny removed to "Braintree" which (find-a-grave) has her in that old cemetery downtown Quincy Mass where Cal Cali HAS trod! maybe a block or so from Granite Rail. New England roots of my favourite Byrd (coz he was such a wiseass!) but Crosby and my great-grandmother Highland both descend from some albany NY Dutch patroon, so he was my cuzzin anyway....AND william spencer is also a Jody Foster ancestor so that's Crosby Giz and Foster, Brattle Square! where'd i watch Contact on the Sabbath? Brattle theater! "there are no coincidences"!-George Noory"....

Friday, April 21, 2017

"40 years ago at american university, washington DC, saw slickee boys and the Look before they had Mersey Mersey Me personnel changes. this was 30 april 77, 30 april 17 is greek independence day parade; once i saw constantin mavroulis lead off parade. running parallel same day is a Japan festival on Common....at Noon! "all those girls look like you" if it were a Gwen Stefani video....i had a vacation day yesterday and a nice afternoon in Bates Hall boston public library, 1800s books of local history. So Paige's 1877 Cambridge tome is now 150 years old which is how I feel on "One More rainy day". Still pursuing the Ken/Crosby connection and on "four and 20" it WAS Deja Vu; 1635 cambridge selectman was Dad and Jody Foster's cuzzin William Spencer but in 1636 and 1638, Simon Crosby (nine generations til David) was selectman. When william spencer left to found Hartford, Crosby bought lot 32 (map on my wall) which is now a bank machine, next to million year picnic comic store, next to Tower records or are THEY gone now too? bank machine used to be a cool bookstore too. Also, dealing with the Dead, I have uncovered TEN cousins to the Gruberger Brothers! on my wall is an article from the Guardian how Phillip Berg, whom formed a Kaballah cult and had Madonna et al involved was born Phillip Gruberger and 1940 census has Max, born poland, Oscar born Poland with a cigar in mouth saying "get a job, you fat bum!", the Sigmund born NY and in 1929 right before stock market crash was Phillip. a brooklyn insurance salesman, deserted family and became Phillip Berg and wasnt even a real rabbi, that shyster...PLEASE note the Gruberger brothers never told me about this branch (only Mordercai and Esther in Dumont NJ) but using family search through the I-phone Five, the Grubergers are comminucating with me! The 1940 Williamsburg/Brooklyn address for Max Gru-boig-er (a "presser" meaning a dry cleaning business already!) WAS 0.7 miles from where I played "black to comm" with Ken Kaiser in the Gizmos (Union Pool was club, second street or something was address; do you know what kind of real estate WilliAMS-BOIG IS now? versus the "shetl" of Newark where Louis Kaiser manufactured his cigars; uncle Solomon Kaiser got into selling "German yeast" by 1900...Kaisers and Grubergers better businessmen than my farmin' ancestors who basically walked through bullshit everyday (or cow pies)...lastly, a quote on my wall from michael koenig of take it magazine with me, re O. Rex/Kaballah Gruberger/Berg connection: "Philip Boig? He was legendary!" as was Take it magazine!".....