4/25/2016
Tuesday April 19, 2016
"what the FUCK am I doin' in Lynn, Mass. on a Saturday night?!?!? answer: Gee Julie had won johnny rivers tickets from WMEX Jimmy Jay, so she was up north so I took commuter rail from the Garden to Lynn. what a great funky Dee-troit lookin' city!!! everything is old and run-down! there's a O'Sullivan burger in Somerville and one in Lynn!
Nugent is coming to Lynn auditorium, so eat meat here and check your gun at the door! as I kinda Meltzered "takin' a shit in the rainbow theatre lissenin' to blue oyster cult", heard "last concert here was Pat Benatah! she was pissa!" after watching Sox beat Toronto (Ken Kaiser sports Palace!), walked into...CITY HALL???? there's a concert hall here! Mark Lindsay comin' on happy together tour here! where'd all these ole white folks come from?
America was NOT on FIRST, instead was a solo acoustic Brazilian who did "oldies" and ended with "proud to be an American", LAST. jOHNNY RIVERS WAS INCREDIBLE, sounding just like them A-Go-Go albums I bought in '70s thrift scores. Gee Julie felt he favoured Ken Kaiser (versus me in my 1974 high school photo lookin' like his 1968 reflections album according to Carl Bruce-ianucci!) (even wore a Beachmasters-style shirt!) and did a precise Kenny job of playing my bluesy leads; good singer, good guitarist! all covers though but GREAT toons and you know 'em...sing-along on "baby I need your lovin'" ("guys, you gotta sound like you WANT it...didn't you take your Viagra?")...THREE song encore ending with a Gee Julie footage of "secret agent man"....then cruisin' BACK to boston WRKO, dale Lawrence and hearin' "the letter"....JUST like "amerian graffiti/I wuz so proud of you" "North shore gurl gonna love ewe forever"!.....
Wednesday April 20, 2016
"writin' for Vulchur: Thurston Moore III of sonic youth! when asked by SE Flowers, reply: "hell yeah". guess this makes up for telling him NOT to join the Gizmos! (haha!)."
"Lazy Sunday afternoon, 17 april;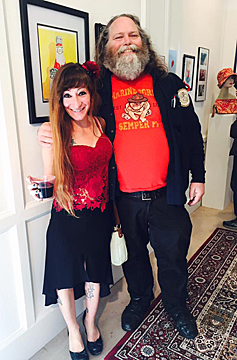 Kenne and Jen Swanson

IDA MAY: ONE HOUR of WJIB country memories salute to Merle Haggard!!!!! startin' with "fightin' side of amerika first" and endin' with "I take a lot of pride in what I am" and all the other hits in between! facebook invite to some circus affair in davis square, somerville, then a Beatle brunch at Burren (nice job on "Misery" guys!) then 1:45 pm matinee at Somerville theatre ($7!) for 10 cloverfield; this'un's a good-un! John Goodman is BRILLIANT as a doomsday bunker guy that kidnaps a young lass who keeps trying to escape; the bunker is brilliant and there's a cd jukebox; John Goodman's big ass dancing to "tell him" by the exciters is like watching me or Jackie Gleason dance! (or Gene Gene the dancing machine!). Gurl escapes, kills Goodman, goes outside and there really WAS an alien invasion! gurl throws Molotov cocktail into mouth of alien, blows up space ship, saves earth, then goes "oh fuck!'. is this NOT SCI-FI marathon material?!?!?

and now for something completely different, invite to Somerville museum and open studios, Jen Swanson had a Warhol-looking catsup bottle/salt/pepper shaker displayed, she was glad to see me and she was prop gurl for alice highland '97-'98. everyone else was art people, but I went downtown, saw Jen's painting, ate some food...."so I left"".......

Jim McCarty of Detroit Wheels, age 70, has SOCKED IT TO ME BABY: new cactus video/album/tour coming up! rhythm section is same Katz I saw in New Netherlands last year with vanilla fudge THOUGH they should have Carl Biancucci on bass and since he thinks I favour Rusty Day of Amboy Dukes, I should be singin'! or maybe unless Johnny Black's fishin' you MIGHT see Ken/Carl Cactus kovers before WE turn 70!"....

re-reading Atlanta Mess-Around facebook invite (Gizmos are Saturday headliner!): "drink PBR and Jameson, NO FOOD, stay at the Highland Inn!"....if I were half my age it'd be party central! fortunately, atlanta has a radio station broadcasting COAST TO COAST AM, so i'll be in bed by micelf (NO GROUPIES! A IS THE WAY!) tuned in to George Noory as I snore-y"....

Thursday , April 21, 2016

"PATRIOT'S DAY. Gee Julie drives me to Lexington and she has a "real cool tyme"...that....DAY! boy scouts at catholic church had pancake breakfast, Gee Julie takes photo of me with the POPE ; ye olde Burying Ground has Blodgett graves but I only found my TIDD cuzzins, Paul Revere and some redcoats were ridin' 'crost the green and we petted some horses in a trailer. stopped into buckman tavern; an olde map has TIDD HOUSE 1670 and Blodgetts lived on adams street in 1600s;, bought postcards; a Monroe fired THE shot heard 'round the world! 2 pm parade: colonial and redcoat re-enactors marching, the DAR, classic cars, classic aging veterans, folks wavin', a Yankee reenactment outfit, an "oldies" band playin' "twist and shout" EXCELLENTLY on a flatbed PLUS Shriners and Aleppo clowns and free American flags being handed out so OF COURSE I shouted out "Amerika First"! drivin' past Lexington High recited STELLAR alumni of "Camelback....'dactyl's high school"....Gee Julie and I did "most likely you'll go your way and i'll mine", WJIB ON in car, RADIO ON!!!!,
| | |
| --- | --- |
| Photo: Gee Julie | Photo: Gee Julie |
so went to Harvard square (let's see my Lexington Blodgett grandpa's granddaddy landed in Harvard square 1635; i do these things UNconciously!), et at Algiers, brattle had a MUPPET fest so opted for 5 pm MUPPETS TAKE MANHATTEN (1984). funnier'n hell, Animal is a blast, Ma likes Miss Piggy (she told Captain PJ this XMAS '84!) and Miss Piggy on roller skates! the rest is awesome for the cameos (Liza with a Z, et al) and the fact that....it looks like the '80s! best vacation day I took and didn't leave towne, gud weather too! lissen to WEATHER REPORT!!!! (a non-sequitor but decided, for NO reason, to bring jazz-fusion into this...why? coz before they heard the Damned, Bad Brains was playing Return to Forever-type music whilst I was stationed at fort meade! IMAGINE if they'd heard afrika korps in '77! (Jay Gruberger and I would have JOINED them!)".....

"Prince's death in my newsfeed BUT ole Richochet Reynolds, black oak Arkansas (yes I'm facebook friends with BOA!!!!!) said "God decided he needed another lead guitarist and lead singer"...a MILLION country songs wrote 'bout that! and thank THE LORD we STILL got.....JIM DANDY!!!!!!!!!!!!!!!"....

Friday , April 22, 2016

"obviously death of PRINCE was ALL over AM radio last night, so 'round the dial highlights; hearing Prince played on AM radio in mono! the WEEI sports jocks were discussing basketball and what a great movie Purple Rain was, making out with gurls whom you respect more at the drive-in (!); 10 pm danny stiles on dials on WRCA, playing this great ragtime guitarist (I forget whom, sorry) and mentioning FATS WALLER! (both him and danny RIP, but still GREAT AMERIKAN (FIRST) MUSIK FUR ALLES!); midnight is chrystal's tyme machine which played show toons, then good ole Coast to Coast (will I NOT be dumb and on my new smartphone get the I-Heart-RADIO app?). George Noory is a Prince fan! ("I think my favourite is "let's go Krazee"; I DO love the Hendrix-y ending to what amounts to grand funk's"footstompin' music" redux); George had ALL KINDSA conspiracy theories about Prince's death that kept Gee Julie awake, but even better was the guy with THE 27 CLUB! (those whom died at 27!) 2+7= 9 so numberically you are at end of life; as I told Gee Julie: "fo' Fiddy Years Ma been talkin' there are no coinicdences with numbers and it's INBRED in me! I actually DID find 39 once! lastly wall street journal this morgen, even THAT bloke said "my favourite Prince was"...cant deny his effect on music which = Gizmos in altanta next weekend OR chetstock 21 May! here's one to "lay back and groove on a rainy day"....Saturday 20 march 76, Gizmos record first e.p. and draft Midwestern high school senior PR Nelson on lead guitar AND Michigan underage senior Madonna Louise Ciccone...I WOULD have gaven Prince the final solo in "chicken queen" along with Rick Czjaka and put Madonna on backup vocals, with Patti Smith, who WAS ken-sidered!"....