5/1/2023
Sunday, April 23, 2023
"saturday 22 april 2023. Mad painter cd release party WAS a "My head's in '73" flashback party and "where do i begin'...Richard "mensch" Mirksy and his New Wave gang opened with Blondie's 'dreaming' into 999 "Homicide" into Buzzcocks 'what do i get" into david Jones "queen bitch...how much DO I love Johnny Plankton! Kevin Coombs on guitar with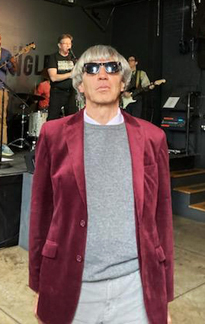 Mickey Bliss

fiddy per cent of Miles Dethmuffin in audience, Linda Bean having rumbled was in absentia deo. I told Miles "y'all were the Beatles, Linda's in Wings!"; kevin said "no we were the jam, she's Style Council",

Ad frank made some whack Sweeney Todd reference... with micky Bliss, esquire there, this is NOT slander NOR libel! mad painter brought in drummer Al Hendry's Quincy crew, Sharon Crumrine brought in HER fan club and some Ginger Ibex, my 10th cousin once removed Justine Covault gave me some old kenne vinyl she had (photos)...hey this is reading like Rock Scene with who was who at max's! Stigmatics still sound like 1977 Afrika Korps me, dan McCarthy on drums, he from Downbeat Five AND the varmints; a treat to hear Billy Borgioli's "cant make you stop". lastly, Thighscrapers whom keep getting better and better; Miss Lyn admired Jimi james guitar playing, he having played in lady luck at Timothy's two with THUNDERTRAIN! (NOT mentioned in Saint mach's gospel, but Saint Coinneach has the craic). "1970" by stooges was a treat, schmel herbie hind standing there (doing a great job on bass I might add!!-ed) Ron Asheton style AND Brian Young sometimes looking like 1973 Alice Cooper! We DID have a "Be more flamboyant" contest but since he bowed to me...I won!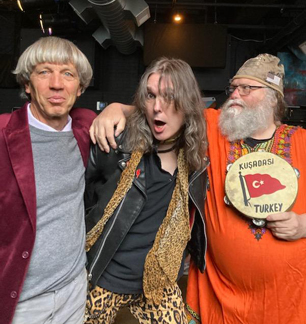 Wes from Vera's was there so gee Julie (whom sang and moved great!) and i and captain easychord and matt Burns of V adjourned and et some vittles! A "perfect day" til Coast to coast AM came on wrko 680 Am at 0100!".....
Johnny Plankton &....(Photo: Capt Easychord)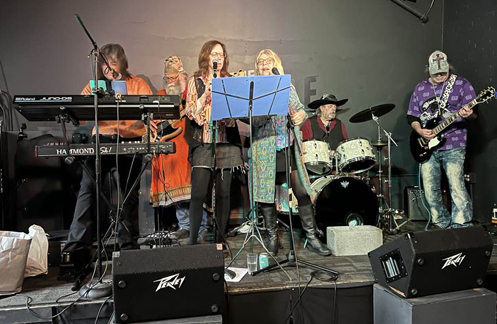 Mad Painter (Photo: Capt Easychord)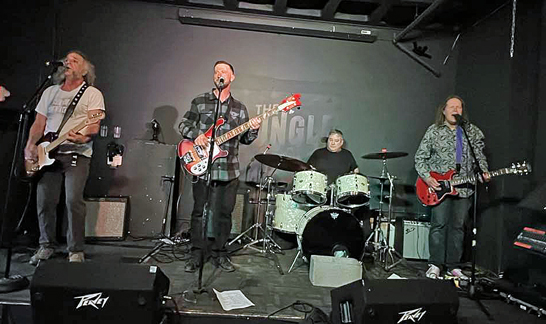 Stigmatics (Photo: Capt Easychord)
Thigh Scrapers (Photo: Capt Easychord)
Monday, April 24, 2023
"Sonntag 23 april 2023. got out of work 1800, invaded tavern at end of world 1900, encountered Allied Forces of Hummigbird Syndicate; no enemy encounter. Mr. Ohan had his open mike 1900-2200,so....Suzanne Boucher had some bluesy Bonnie Raitt orignals, good stuff. frank Rowe was acoustic with Dylan harp rack and sang a song about the Goddess Bra factory where he ALMOST got me a job after my honorable discharge in 1980 and failed attempt to rescue the hostages. Ribaggedon Rob Lynch did marshall Tucker's "heard it in a love song"-marshall tucker; "rocky mountain high"-J. Denver BUT the Dead's "Ripple" had couples dancing and me and Shawn Devlin of Big World takin' turns on tambourine! IF you had told me that Dienstag 9 sept 80 heroes/Big World at Underground I'd a-said "oh dolly you must be mad/ what happened to the Sweet and love albums we must have"...(answer; Lindagarrow on discogs!).
| | | |
| --- | --- | --- |
| Suzanne Boucher | Frank Rowe | Rob Lynch |
CAPTAIN EASYCHORD! 'welcome back kotter"/"bad boy leroy brown","night chicago died"/"nice to be with you"/"my blind shrink". Moi cousine Justine Covault, red on red records re: "Night chicago died": "NO WAY!" (she's irish twins to my sister/cuzzin so she was ALWAYS cool....)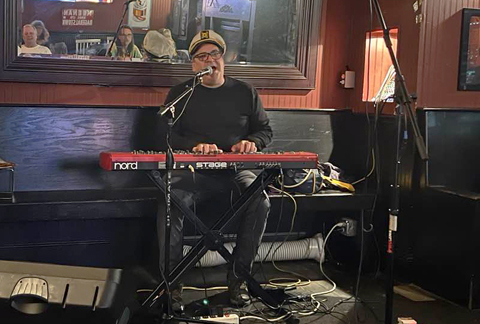 Captain Easychord
i sang some blues with captain easychord (keys) and charles hanson of Ross Phasor on guitar. I THINK it was the electric flags "texas"/John lee hooker "boom boom"/'goin' down slow"-Highland Wolf (we are both "300 pounds of heavenly joy"!)/ "john the reveletor"-Son House, good call and response from my congregation as Ich ist ser sanger mit der Teufel musik von der Sonntag.
| | | |
| --- | --- | --- |
| Charles Hanson | Doin' da blues | Kenne |
MISTER Ohan says next tavern open mikes are 7 and 21 may AND even more important; MISTER Heghinian says his church is having the Armenian festival 19 and 20 may! An Ohan tri-fecta?!?!?"....
Tuesday, April 25, 2023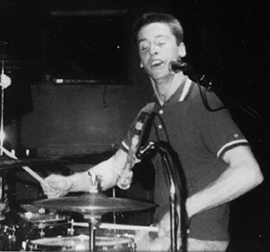 Rob Wallace in The Not (photo courtesy of Al Quint)

"Monntag 24 April 2023. Facebook said Rob Wallace, whom was Sylvain to my Thunders in Thee PeeCocks is sadly RIP. he DID play guitar in Shaggas BUt let's look at his drum career. discogs has The Not/ discography. Break free was a 1983 "punk,mod" casette e.p. that woulda been me in Hopelessly Obscure. 1984 brought Cat number 001 What;s the reason. producer: Ritchie Pah-sons! engineer- Mike Hanrahan, whom also engineered the 1983 eddie walker and the matyres 45 "crazy like me/simone"; guitar: larry newman!. 1985 brought Kids Survive 12 inch NR002, Not records. "recorded at Euphoria Studios, revere, ma"; once saw Two Saints Two Simons (Ritt) there; laslty, Johnny Black/Jumper Cable was in a Richie parsons band The Big Huge, Rob on drums; Johnny gave a facebook tribute all sa. BUT, as a member o' Clan wallace, ole Robbie tacks th' high road bock t' Scotland!".....

Wednesday, April 26, 2023

"day of Wodin 26 april 2023. 0436 Coast to coast AM 680 AM WRKO bumper music is: "500 miles" by peter paul and mary. Flashback coz my parents DID have the first Peter paul and mary album that came out may 1962 (drinkin' that camp lejeuene water!). wikipedia lists THREE 45s off that album: "lemon tree" april '62; "if i had a hammer" july '62 and "500 miles" in december. think i got an eledtric train set that Gizmas, jacksonville NC, age six and YES this album was pre-beatle soundtrack music!"....

Thursday, April 27, 2023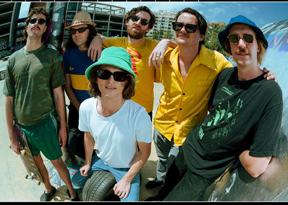 King Gizzard

'day of Wodin 26 April 2023. 732 pm whilst dining at Siam Ginger (Highland eats Thailand!). from alex gitlin; "mad painter is going to be on a novelty VINYL release in England paired with an Aussie psychedlic band: King Gizzard and the Lizard Wizard; they have a youtube channel! One side is them, the other side is mad painter. The label is barrel and Squidger. Five songs for mad painter, three from Splashed (Kenne on bass) and two from first mad painter album (on youtube, no kenne. it's a long way from Gizmos 20 march 1976 recording session! and 4 april 76 photo session ("I'm in love with Ken highland who thinks he's beautiful")".....

Friday, April 28, 2023

"day of Thor 27 April 2023. In '76, i passed by a copy of kick out the jams and got a plane to parris island, SC but THIS day I stopped into Vera's, which was Toast/Precinct etc. Wes runs the joint and came to mad painter for the cd release party! So i gave him a cd (That's him to the right) and tellin' ALL to eat here, good italian food; I can barely say biancucci, never mind tiramisu! After the jungle, brought Gee Julie/captain easychord and matt Burns of V here; Captain had DISCO FRIES! tho past, they Do have events in the room I once played. DRAG BINGO on wednesday! come here for '90s Night 10 pm-0200 on Saturdays, where easy ed/jimi Boticelli/Todd Purple once played. I asked the young lady waitress "oh yeah it's a great tyme! '90s music, '90s movies, everybody dresses '90s"....told her i usedta (still do!) dress like my cousin ken Cobain! Though i told her in '70s, i was doin' the '50s look and she said "white t-shirt like james Dean". There IS hope for "Your generation"! (don' mean jackshit to me)".......

Saturday, April 29, 2023

Frigga's day 28 april 2023. This night's mad painter practice was learn some new Alex Gitlin toons and jam with drummer Al hendry and the Brides of FunkKENstein Gee Julie and Sharon Crumrine singin' 'tell me somethin' good"; I have remotely mastered the bass line. Gigs? some possible stuff from Anklin Dan and my distant cousin Justine Covault; support red on red records! (Link, wray). all i know for certain is sunday 7 may 2023 mr. Ohan's open mike...once these porchfests and gigs get solid, i will post 'em; till then, since Schmel herbie Hind lovin' afrika korps music to kil; by (gULCHER!) SO MUCH: "I'm a Tease, baby"!".....