5/3/2021
Monday, April 26, 2021

every day is a Saturday 24 april 21. Recording at Lowell Street. First song: me on a Teisco guitar like 1973 (Japanese, plays like a Strat, I had one: $35!), Larry Newman on bass and Al Hendry on drums (Dreck/Blowfly and Appice?) did "Evil" by Cactus in five takes; three cacti are/were facebook friends. next up was some Lou Grass, Velvet's "Pale Blue Eyes" done bluegrass style and I did some country pickin' on a Japanese guitar that sounds like Buck owens Buckaroos! More late '60s country-rock to follow! My first concert was byrds/JF Murphy Free Flowing Salt October '71 SUNY Brockport,so I was happier'n pig in shit that we sounded like Untitled Byrds album. Next up was my new original for Armenian Remberance Day "Armenia My Love" ("Theme for an imaginary Movie"!). Newman/Hendry rhythm section was flying Trans-Love Airways (imagine "Twin Cities of the Mind" on acid) with larry Newman echoing Jack Casady, Bless His Pointed lil Head. I did a rhythm guitar and then two leads echoing Quicksilver, "Oh Sweet Mary" (Ken Houston Andrew III?) and Thomas the Engineer said "Eric Burdon"; that's his "LSD for breakfast"/Robin lane married a future member of the Police/New Animals/Monterey era. HIGHLIGHT: Schmel herbie Hind playing OUD! Dudes, psychedlic scales on an Armenian folk instrument....a hookah smokin' caterpillar has given me the call! FINALLY (and we were there noon- nine pm, which isn't exactly "Midnight to Six' if you GET THE PICTURE), Rachel lee from Psych-O-Daisies had brought her keyboards which Captain Easy Chords used on "Insult to Injury" (listen to Sir Lord Comic "Jack of My trade" on youtube mon!) Al Hendry overdubbed drums also. I THINK that's what we did...I almost have a double album and like Dad's second cuzzin whom coached Michigan football: "a touchdown a minute;, I say "an e.p. a month!" Go Mountaineers!"....

"addendum. also on "Armenia My Love" Al Hendry plays a doumbek (spelling) an Armenian drum. All us former stoners said "wow man....he's playin' the table on "Black Mountain Side",man by Zeppelin...In 1977 Miss Lyn DID still have her Ararat copy of first Zeppelin album (Cream's Disraeli Gears also!)"....

Tuesday, April 27, 2021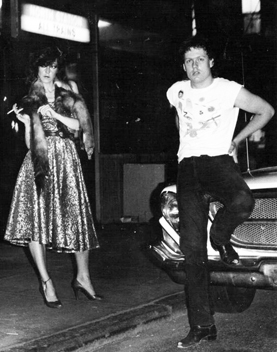 Jan and GG Allin

Sonntag 25 April 21. 439 PM. (Ken Kaiser! I found 39!). from Joe "The Mighty" Quinn, bass for Club Linehan-a-go-go: "There must be a Vatican Sex Kittens renaissance on SiriusXM Underground garage. Heard "she's just not another girl" driving home from South Carolina (as was I Friday 25 Apr 80). You were between "factory Girl" and Wayne Fontana "game of love" (covered by the Arf Arf Hopelessly Obscure!) -I was just passing the Petersburg Virginny exit on 95 North" (stayed there that same Freitag 25 April 80 night I got my marine discharge; Miss lyn had an yankee ancestor whom fought there; "I believe in reincarnation"!). "No shoutout by Palmayra Del ran just song and band name"....Publicity Hound, a subsidiary of Publicity Machine, has noted that she's played "darling" before; a song written in the Boston groupie living room where Snoopy the Cat died and Raggs the cat now resides, formerly owned by "darlin'" Jan Collins. whom "used to model with our friend kev before he made the world gag" (photo of Jan,model, and GG Allin). Subliminal messages from me in vehicles everywhere....'road baby road!" (cuzzinz to Jim Morrison's mom THRICE, "will you please turn the page"). In fact, in same BGN living room I was praising Jim Morrison's poetry and Linda garreau (my cuzzin!) told me; "kenne Jim Morrison was a drunken psyschotic!". 1990s answer: "so what am I?". 2021 answer: 'a sober one!""......

Wednesday, April 28, 2021

"Monntag 26 April 21. fan mail from some flounder? No BUt varulven and Willie Loco; shouldn't this have gone to PO Box 450, Cambridge mass. 02138? varulven sent me review copies of Greg Paquette- Retro Active cd plus two more: Love Songs Just For You and the "Best bette" for me: Salvatore B Viglione- My Way! 1971 recordings! many great American-Italian hits it looks like. From Willie Loco "Big Surprise K. Boy!!!". 1980s photos and picture sleeves etc from when his guitarist Rupert (RIP) was doing layout for Stanton Park. Oi met 'im once at the Kirkland (?) with Aram 'eller o' the trodds; "oi've always wanted t' meet the bloke that wrote "jilebite janet"". Thank you both, Count WA! lastly a half hour conversation with Dino records; shortly 'by summer' the second Be more Flamboyant cd will be out, the 'hit' being "My Buddy Felice"; ugly Things, I forgot I recorded that! if the real kids were the beatles, I am the Rutles, goo goo ga joob! rest of conversation was about black oak Arkansas THO "I sent be more Flamboyant to Little Steven...what was the names of those disc jockeys playing it again"; glad I saved my "Mighty" Joe Quinn email! and THAT sounds like a reason for irish breakfast!".....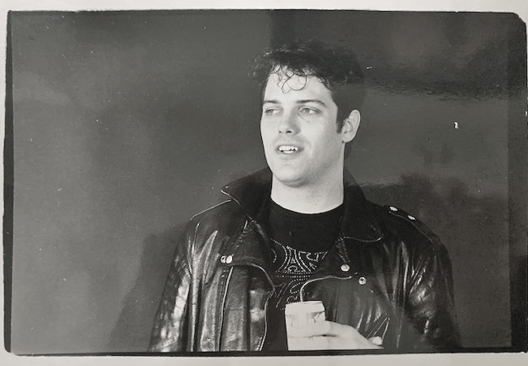 one of the pics in Willie's mailing

Thursday, April 29, 2021

"day of THOR 29 April 2021. SOMETYME this week between 0100-0500 WRKO 680 AM, Coast to coast AM bumper music was "I'm Crying' by the Animals. SUCH! a great song! I used to cover it Thee Psych-O-daisies. Did a lil research and since it wasn't THAt big a hit, Animals originals relegated to b-side and Goffin-King et al. wrote "the hits". (who needs wikiepedia! Solomon Gruberger told me this about 1974 in Brooklyn NY and NOW I find Dad's Stillwell ancestor settled/buried near there! 1673-1973!). This 45 ("I'm Crying") released September 1964. here were the number one songs that month: "where did our love go'-supremes; "house of rising sun"-animals and "oh pretty woman"- roy orbison. No beatles! (that was earlier in the year). And I was in the woods in northern Virginny still fightin' the Civil War back when you could buy a house for $1000!".....

Friday, April 30, 2021

"Freitag 30 april 21. 0657, Dino records; "did you know your story will run through two issues of Ugly Things. issues 57 and 58'. Tomorrow: mad painter at Lowell Street! Ides of may: "I will save the 15th for you" - WA. BGN EXCLUSIVE Ex-LAX! "Hey WA wanna play some Monk chords as I recite beat poetry?" (this is "I need a bromo geets Romo" crosses The Loss of Memory Arkestra with "May I light your cigarette?"-beacon Street Union!). This will be "Hey Beat Mon" on steroids! Other Giz/WA records: Hopelessly obscure (ARF ARF) and the Jumper cables cd from Oz. Dudes, I am SO....ready...poor WA (on road to maine for gig: "I feared I'd be stuck in a car for three hours with Kenne Highland talking"...and THAT is Ugly Things interview is TWO issues!"..