5/4/2020
Monday, April 27 2020

"saturday 25 april 80. Forty years since I loaded up the truck and moved to Boston, mass. leaving Charleston SC, newly discharged Marine with two years inactive reserve which, by that date 1982 wondering in Ronald Reagan was gonna get us in war...But tyme for MOOR nostalgia! So working at my civilian job, tuned into WNTN 1550 AM newton, mass. saturday at 2 pm til three pm: The Hollywood Kid. 3 pm to 6 pm; Disco dance party. facebook has Reel talk w/ The Hollywood Kid. Go to that Facebook page and actor/singer Johnny Martino tells ALL Kindsa tales; behind-the-scenes Godfather tales?!?! on Amazon: A Wish Beyond the Stars; the Johnny Martino story; live stream is wntn1550am.com . I'll surely be tuning in to next week's Hollywood interview! (No gigs, much work; makes ken a dull Goy! Oy!). Disco dance Party with DJ Mike Janedy was music to work by. NOT as rare as Jimmy Boticelli's WMFO show; kinda more Saturday Night fever hits but reminding me of the good ole days guardin' Fort Meade against Commies with a 45 pistol by my side! NOT that I didnt listen to 45 rpms then, a lotta good Boston/DC punk....3 pm show opened with Blondie's "Heart of Glass", yes, i bought that 45 in a Goose Creek SC record shop (five copies of Hello World on consignment; NO sales til Pierre le Coutre bought one in Berlin! Pierre ist nicht ein dumpkopf!). I listened heard for verse three and heard "was a pain in the ass" yahoo! fuck you FCC and the goddam horse you rode in on! Five pm I was getting into "Fly Robin Fly" then all of a sudden it switched back to nonstop Greek music...ALL good by me! Even Italian-American programming during the week. Close down our college stations, you arschlocks....AM radio still has, as William Wallace's last words was: "FRRRRRRREEEEEEEEEDOOOMMMMMMMMMMMMMM!"".....

Tuesday, April 28 2020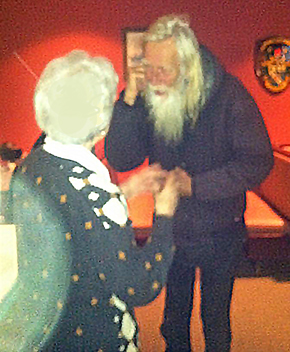 Preacher Jack and Hellen Highland

Sonntag Morgen (Christa Paffgen!) 26 april 80. Listening to Iron Butterfly's HEAVY on youtube whilst doing "Dirty Laundry" (OF COURSE I gotta toss "Don Henley must die" in here! Gizmo Nixon and Skyd marx!), mein schweister texted that Preacher Jack had, sadly, died. Of ALL the Preacher tails (and he didnt NEED to "Be More Flamboyant"!), lettuce tell the tale of how ma met Preacher Jack (photo!!!). Julie Highland, mein schweister und Jody Moore Highland, my mayflower cuzzin through Stephen Hopkins, whom Ma descends from Damaris; Jody descends from the older schweister; decided to have a surprise birthday party for me in 2013 at Geezer's garage Night at the Granite Rail, Quincy, Mass. (Fireking even played there!). So I walk in and see vintage photos on the pool table of me and then see, in a Quincy barroom....Ma! You'd think she woulda disinherited me after seeing the MonoMen at the Rat (I was on guitar and Peter Zaremba danced to "when i get off") plus I introduced her to Mr Butch and, having braved the Blodgett outhouse now at the Clarkson NY historical society (link), using the Rat facilities wun't nuthin'! Even bringing Captain PJ home for Gizmas '84; they discussed the Muppets Puppets! No Preacher wun't nuthin', truly...Both being chatty (we call it "having a Blodgett attack" and we never hoarded toilet paper cuz we'd use the ole Rochester Democrat and Chronicle back in '65!), Ma and Preacher made fast friends. Preacher said "you mother is so smart, she should be teaching classes in college"; sez I: "She gradiated Brockport NY '48 (I was "74 and leave no Real Kids!) and all she learnt was from her own book learnin' Abe lincoln style, same's me"...Now, ole Preacher LOVES American history and my distant cuzzin George washington (I said, Mr. Peabody: "I cannot be a Lyre; I DID lissen to the Cherry People and Fever Tree but din't chop no no Cherry Tree "with a chop of my hand" (sorry, Jimi)); in fact part of his onstage banter was "I was born 12 Feb, Abe Lincoln's birthday, that's why my name's John LINCOLN Coughlin; my father was Irish, my mother was Swedish); CHECK youtube of Preacher's 69th birthday, I'll be spouting the SAME damn thing! (except ma's father, my cuzzin, always said "we're English/Scotch/Irish and french and just plain Yankee" being recited by rote by GENERATIONS of Blodgetts; my sister's grandboys are generation 13 "close the gap between us"). Without this turning to Gravity's rainbow, Preacher played at Atwoods in 2014 so I rang up Ma and it was "Hello my Aqurian sister! How are you" (Ma born 30 jan)....how in the Grand FUNK did they learn each other's birthday outta one conversation in a Quincy bar...don' worry, I'm the same stock! One last Preacher quote from my obit here: he hung with jerry Lee Lewis! Since Lewis and I cain't NEVER die (you wanna know how inbred we is? Children of the Ken!), more forever remembered Preacher banter: "Jerry Lee told me once: "Preacher, you should always love the Lord.....and as many wimmen as possible!"....Holy GizMormon, Batman! rest in peace Preacher! maybe I might remember more tails"......

Wednesday, April 29, 2020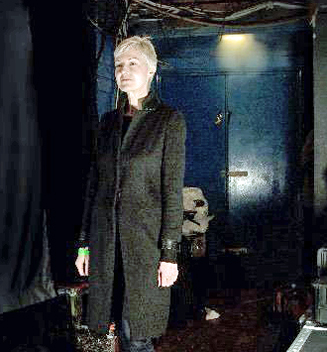 MaryAnn Hobbes

Monntag 27 apr 20. 0500. Baptiste episode three, channel 2, PBS in Boston. I have the WGBH TV schedule app; normally to me an app is what you get besides one from column A or two from column or Death from Wu-Han Clan but PBS at 0500 beats the fug outta Parris island coz I get TWO cups of coffee, take my fuggin' tyme ("Built for Comfort"!) and watch "Sunrise" (URIAH HEEP!). Ok, read my previous columns. The french detective learns more about the Englishman looking for his "niece" and again; the bloke was in Bohemian Rhapsody! Baptiste also tricks a Dutch detective into drinking a cup of coffee from a machine ("one more for the road?") picks up cup and sends to DNA lab. "Surprise Surprise"; "it's a boy missus walker, it's a boy!" (ok french detective and Dutch policewoman had a "thang" (read: affair) so her son was sired by Baptiste. Miss Lyn now hooked on this and taping BUT before some lady rode her bicycle through Amsterdam, through her "walkman" ("hey Boomer! it's probably Spotifiy or one of those Punjabi Dhaba apps)...and....hold the presses on Giles Corey....KEN HIGHLAND LIKES 2018 song that sounds like 1971! "cake of light' by Pigs Pigs Pigs Pigs Pigs Pigs Pigs ("7 plus 7 is"!). They're from Newcastle ala Animals/Bryan Ferry and (sadly) Sting and Twitter Mary (or mary on twitter 30 June 18) says it best; "if you're into Goat, Sabbath, Dillinger Escape Plan you're gonna love.. trust me"...I love you! @maryannehobbes. Basically it gets called "Doom metal" but to me it sounds like a masters of reality out take replete with "Keith Relf with tampons up his nose" (Lester bangs re; paranoid review in rolling Stone). vocal is SO Ozzy, so, hey, mates, if a buncha Geordies in THIS century can sound like a buncha Brummies in LAST century then Pigs (seven) has scored a CENTURY! (al roit mates, in cricket, see, a century is score of 100 or more runs in a single innings by a batsman or batswoman....oh! Julie Newmar! nyuk! nyuk! yuk! ("3/5 of a miles across the pond in five seconds!)".....

Thursday, April 30, 2020

"Til Tuesday 28 april 20. 0500. WGBH World. Soundbreaking show. episode. Sound and Vision. from my app: "trace the rise of MTV and see how music videos transformed our experience of music"...."roots' (MY music) was channel-surfing coffee in hand to Bowie doing "Jean Genie"; HELP! was a pre-cursor to music videos; "Paperback writer with John and george on a gibson SG holding a G chord (barred!) on the beginning of "Paperback Writer" was excellent. Mick Jagger singing "Little Red Rooster" ca. '65 with Brian Jones chilling slide guitar. Advance to early '80s MTV, Blondie "hangin' on the Telephone", Loverboy (a guilty pleasure of mine!) early madonna (more G.P.!), Yo MTV raps (guilty as charged!).....hey, the '80s werent that bad! (in hindsight!). 1995 hindsight was Nirvana unplugged and Kurt Cobain covering Leadbelly's "In the Pines"....the die-rector even said the vocal sounded "haunting"! a PRIMO performance and proud to say Kurt and my great-grandmother Highland both descend from the same New Netherlands Walloon ancestors: Vigne and Cuveillier, as also does FDR and Captain Beefheart. and you CAN read that in Dead People facts in a back issue of Vulcher! ok, gotta write my sister; "tell me your UFO story"....TO BE kentinued!".....

Friday, May 1, 2020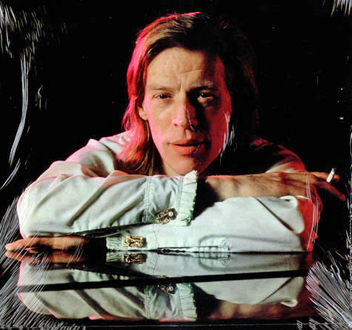 Preacher Jack

"freitag 1 may 20. "Thoughts" (Vanilla Fudge b-side I believe). The tenth and eleventh generation of Blodgetts in this country BOTH liked certain par-tickler Preacher Jack, Granite Rail, Quincy.Mass. purr-formances. At my surprise 2013 birthday, Ma said when Preacher went into "old rugged cross", she went "Kenneth. I mean o my Lord, when he sang that"...(I believe her ma was a fan of "old 100"; trust me I grew up by them ole hymns afore the Beatles "corrupted" me). I'll wager Ma told Preacher how much she enjoyed that and they discussed "Jay-sus" with them "faraway eyes"! Micelf, my FAVOURITE Hopelessly Obscure purr-formance tho was pre-dated by THIS tail: "y' know George Thorogood (we's on Rounder Records) came down the once to see me play and his daddy was a workin' so when I lit into Luke the Drifter's "Pictures from life's other side", he just sat there and smiled'...Ok, I can toss in one ex-wife cuzzin and one ex-mother-in-law (cuzzin AND we all de-scended from the Hubbard was burnt at stake in England, last Protestant martyr (wikipedia): I's at In your Ear, found Luke the Drifter for Fiddy Cent. This was a hard-times hank Williams nom-de-plume album complete with folksy country Ken Highland so- lilly- cues! (sorry i take liberties with spelling; IDA May: "dont go usin' fiddy cent words on a ten cent mind" c. me Gizmo Music BMI 2020...and I forgot my other point....FOUR CUPS OF COFFEE!!!! "Keroauc on steroids!"- schmel herbie hind, armenian groupie news!). Last tyme I married mah cuzzin, I played the last song, side B which was "we're still a-livin"; tragedy after tragedy like "weevil in the corn/ cows in the field" etc. but (humour) "we're still a-livin', so that's Ok"....when I met the New Hampshire Justice of the Peace 'gwine marry me (replete with hot dog stand in case folks got too drunk and needed food! outdoor gazebo wedding! Miss Lyn gave me away! wouldnt ewe?!?!?!??!?!), HE too was a Luke the Drifter fan! (had a ken-sign-ment shoppe in Kenne NH called SUCH A DEAL or was it a used/vintage store...well, ah caint ask my second ex-wife or her ma (whose great-grandparents were first cuzzins!) coz they's DEAD!!!) So (I DO have a point!): Luke the Drifter fans: me and George Thoro-GIZ, the justice of peace and rest in peace, Preacher jack, resting in peace with Alice Douglass Garreau ("Scorpio Queen"!) and Linda Garreau Highland ("princess of the trailer park"; I'm listed on ancestry.com as "unknown spouse"!)".........

Saturday, April 25, 2020

Saturday 2 may 20 (65 in eleven months! yikes!). Mein freund harry Vee von der Broken Jug ("Rain of Death") mailed me some 45s for my month ago birthday from an estate sale. Today I discuss Cannibal and the Headhunters "land of a thousand dances". Chicano band, East LA, opened for Beatles second 1965 tour....BUT as usual it's the flip side I been digging a (picture)...."I'll Show you how to love Me" is a nice peace of '50s sounding doo-wop ala "1000 Miles away" or "daddy's Home"; tracked it on guitar and it's an E chromatic scale ala Raspberries "Tonight"! Good harmonies etc standard practice, rocker on side A, ballad on side B but EVERYBODY done "land of a thousand dances"; this ballad, a nice change of pace and in mono! Two more weeks of lockdown, so now let me announce GLiDER will NOT be on Brian Young's Crash Course For Thee Ravers (tho Brian IS having shows as we speak kinda-from BGN: Brian Young got his A Crash Course for the Ravers show up on Outbreak DJ's site again. He actually went an extra hour. He'll be there next week at the same time 1 to 4 pm on Saturday. It's easy to hear it stream, just go to their site Outbreak DJs and hit the Mobile Player or the Popout Player. ). Cal Cali "stuck inside of florida with the boston blues again"...well, supper has been nice lissenin' to olde Bosstown sound albums on youtube...never know WHAT I'll be diggin' next week but music/tv/movies/books etc. whilst my mind goes like Keroauc on steroids, ALWAYS somethin' to do! and "do the Boob" too!".....