5/5/2014
April 28, 2014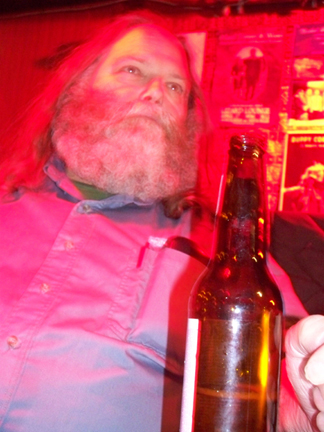 headed to Roy Sludge at Lizard Lounge after work Sunday; walked in durin' "Pass the Booze" and Roy said "Ernest Tubb, one of my favourites"; one of mine too! bought a mess-a bargain $2.99 country/honky-tonk casettes on a budget label back in late '80s; BEST score bein' George Jones' "If drinkin' dont kill me"! Roy's guitarist Duke Levine, on a Telecaster, maybe was Jim Scoppa and "6 days on the road" solo was Flying Burrito Brothers live at Altamont! heard some Clarence White-era Byrds guitar solos also plus Don Rich on Hee-Haw with Buck Owens and Buckaroos; a lot of Bakersfield sound today. in attendance, members of Triple Thick/Bosley/Bristols/Upper Crust. had four PBRs, SO to be "Five Beers Ahead of my tyme", stopped into Pizzaeria Uno, Harvard Square and dig this: $3.49 Yuengling (on tap in western Maryland near Antietam!) and 1/2-price appetizers ALL DAY! buffalo wings and a beer $9.06! Read Blowfish's Jimi Hendrix Turns 80 book by Tim Sandlinand LOVED the Blue Cheer/Vanilla Fudge references! olde hippies in nursing homes; already the Byrds Boston tea party sound man/WMFO selector Morgan Huke is there up in Gloucester, so visit him, you pissants!"
April 29, 2014
after swimmin' in the cee-ment pond, got 'ome Quincy, found 1440 AM, a "memories" station; preferring the "memories" station to classic rock since they don't overplay "the obvious". Like 2 AM, I wake up to Beatles "I'm A Loser" in mono, man! and none of that guitar-in-each-channel stereo neither! plus, as any Beatlemaniac knows, the Beatles '65 45 was "i feel fine"/"she's a woman", so this is a non-45 lp track! (fanatically!) But 2am-5pm is Coast to Coast on WRKO 680, theme tonight was the typical alarmist Illuminati is controlling your money kenspiracy talk BUT (and, like TR Niemiec, I DOOO say that with two T's!), check the "intro the outro" music: "you never give me your money" off Abbey Road (hey, two beatles songs in AM mono, it WAS my '60s flashback and diggin' it! again, Abbey Road's 45 was "something"/"come together" overplayed on classic and soft-rock stations). ALSO, Bowie's "Man who sold the world" ("sold"/money/Illumnati; get it?!) which I had in '73, during the Rock On, Alan Baase/John Pusateri high school daze, flip of "Space Oddity" picture sleeve! (I no longer own these records and will be paying off credit card debt from my late gurlfriend til i die)....AND at 6 AM, what DID WJIB 740 AM have to offer fur musik fur der kaiser Kenn?! "Re-re-re-re-re-membuh When" (dion? belmonts? "I'm So Young", I dont know!) it's a I-VI-IV-V progression like the Korps "Blizzard of '78", so next Korps gig (with Greg Allen in Beverly?), we'll do it! or maybe we wont...." I got the AM radio on! just like a muffdiver....muffdriver once...muffdiver twice...i'm in love with rock-nroll"....Kennethen Richman! "She Cracked"!....
April 30, 2014
Quite an evening of baby-boomer nostalgia: MeTV on the "Mean Screen" at gym had The Rifleman; I had a lunchbox of him in North Carolina '61-'62 kindergarten (collectible!) 1440 AM at home I got Peggy Lee covering Ray Charles "hallejuah i love HIM so" (my favourite still Humble Pie Rockin' the Fillmore, first song, side 4!) and "eleanore rigby" (THREE Beatles cuts on the AM in one day?" I wish it WAS 1965 agin!" ,"yellow submarine" b-side and i bought Revolver (stereo), Peterson's Drugs, main street, brockport NY Fall '68!). 6 AM, turned to WJIB 740 AM fur der kaiser: "stand by your man"- Tammy Wynette (WNYR, Rochester NY, Winner 68, or 680 AM maybe? country station Alan Baase (Rock On)'s dad usedta lissen to); then a power surge into "please release me" by Engelbert Humperdinck! already havin' a gud morning! "Sloop John B"- Beach Boys! (Ma's related to 'em twice!);"i will always think about you"-New Colony Six! (another 1968 Brockport NY radio toon; tracked down the chords in D and it's SO Lou Reed! look for a "mashup" ala "my gurl"!) and finally the 3rd, maybe, 45 i ever bought with my paper-route money August '68, also at Peterson's Drugs, (bought stooges Funhouse $3.49 3 years later acrost the street Vince's Record Store): "Harper valley PTA"-Jeannie C. Riley! yes! Tom T. Hall tells a "story" in his songs as do I! And I had SIX Jeannie C. Riley albums! ok", the truth is out....all over town" and "I'm Set Free" (Hank and Lou, man!)"....
May 1, 2014
I better start promoting this Joe Coughlin Memorial gig - Joe Fest - Saturday, 10 May 14 at the Midway, but, as usual, it IS all about me....so, using Hixx rehearsal space in Ah-lington, MJ Quirk has assembled a top-notch band of Gizmos for...Alice Highland! This was mine and Joe (RIP) Cooper tribute band and his replacement is...Mike Lyons! Best guy evah! From SuperNaut, Sabbath tribute band! And he REALLY knows his arangements;"I'm the king of the tribute bands!". Met him through Silvah Stah, Best Guy wicked sick evah! rounding out is 2000 Joe Browns (met Joe through an ad about doin' Cooper, did all the '90s gigs) plus MJ Quirk on bass and James Matthew Burns on drums (from V!). set list: under my wheels/long way to go/is it my body/ballad of dwight frye/18 and I DO Love it, love it, love it, love it to death!!!!"...
May 2, 2014
French Cultural Center lecture "French Migration to America before 1800" which is BOTH sides of my family! (Dad= Hugenot; Ma=Quebequois). the reception was "intellectually stimulating", I WAS in my element, drinking white wine and discussing the Grimke Sisters with the history professor from France, who told me my Eno line from Valenciennes is north france and easier for Huguenots to exit, though a 1598 exit to Threadneedle Street London was "early" since the revocation of the Edict of Nantes wasnt til 1698, i believe. Ironic how Axemunkee's tour of the Low Countries - my Huguenot ancestral homelands. Since the professor had lived 6 years in Charleston, SC researching Huguenots, he also brought up the Slaves in The Family, book by Edward Ball, so again, white wine in hand, in the Back Bay, discussing mulatto families in South Carolina....it was almost Auntie Bellum! a lot of good Thursday thangs goin' on French Cultural library, but mark down Thursday 15 May at Brattle Theatre 7 PM, as one of my favourite rock Huguenots, Vince Furnier movie is Super Duper Alice Cooper playing (that's Alice Cooper/Highland to you!)."....
May 4, 2014
Brattle Theater new schedule kicks ass! But you can read that online and schedule a film-club "meetup" with me, just Facebook me, of course. So, sunny May Day, paid $10 for a DOUBLE FEATURE of The Mad Magician and Magic (theme this week: Magical Movies!) The Mad Magician (1954, special effects by: "David Koehler"; he wasn't born til '56, and is now dead! HardKorps magazine!) has Vincent Price and Eva Gabor! "Price plays a designer of stage-magic illusions who dreams of starring in his own act as the Great Gallico. stymied by the cruel and controlling business practices of his boss, Gallico is driven to kill-and kill again!" since I gotta be Alice Highland at Midway this week, gittin' into character, Vince Furnier woulda been a 6 year old in Dee-troit maybe seein' this movie (my Dad was in Korea, but his folks wuz in Dee-troit). Magic (1978) was a Joseph E. Levine and when you got Anthony Hopkins, Ann-Margaret and Burgess Meredith, that's '60s baby-boomer heaven! Hopkins "plays Corky, a struggling stage magician who just cant seem to break big-until, that is, he picks up a new partner; a sinister ventriloquist dummy with a mind of it's own name Fats"..."The evil puppet may seem like a tired trope"....yea! kiddies! Fats goin' mental! Fats actually is a cross between Charlie McCarthy and that Chuckie doll...ok, this movie is a little Trash Night/Plan 9, but it whiled away a lazy saturday afternoon, just like when Ma sent me to the Strand Theater with my brother (Main Street, Brockport NY) in the '60s and we'd catch a saturday movie...aint NUTHIN' changed!"......