5/6/2018
Monday, April 29, 2019
Monday 22 april 19. Cal Cali Glider practice, 45 minute set friday 10 may 19, Jeannie Johnston Pub Jamaica Plain. also on bill is Legendary Cazbats doing GREAT '60s covers and Thighscrapers covering Stooges/Johnny Thunders etc. I love it when bands play my record collection live! (coz aint nobody writin' no good songs no mo'!)
Tuesday, April 30, 2019
day of wodin 24 april 19. a club linehan-ago-go practice for geezer's garage night quincy mass. a lot of NEW (kinda) toons! we been doin' "of yesterday", Lady caroline, b-side to Mo Tucker's "i'm sticking with you" varulven 45. Now MJ Quirk taught us "love and flame' since saturday 1 june 19, middle east up, we back the Count for "Bands that played the Rat" show. Namesake drummer Kevin Linehan got to sing Monkees "circle sky' but fuckin "Chevy Van"! JUST for "bad '70s songs" that only MJ Quirk can pull out. Throughout this mishegas was bassist Joe Quinn and sax John Keegan plus micelf, agin. VERY good practice, quite KENtent, I think I even stayed awake!
Wednesday, May 1, 2019
Thor's Day 25 april 19. A Glider practice. I think there's nine Jetset toons, two Kenne toons and dave clark five "glad all over"....wait, there's 13 songs for Jeannie Johnston. BUT since said gig is NEXT week, (Saturday May 11) salem, Koto, skrewcart/classic ruins/Glider/FUs; old home week! Maybe there'll be Terry-dactyls for those whom Ornithology is more than a YardBIRD record (Chas Parker, not K. Relf, "hey beat mon...c'mon Nazz gimme some snazz"....Eddie Flowers needs roomates in Bloomington Indiana! $350/month! "The Midwest can be alright"!).....ok, so to repeat micelf, catch me channeling Jay Gruberger with GLIDER, Friday 10 may 19, jeannie johnston pub, jamiaca plain, mon and saturday 11 may 19, Koto,Salem...."Now we're here for sure/Glider's world tour/ Brooklyn, Salem Hull and NOT Racine.
Thursday, May 2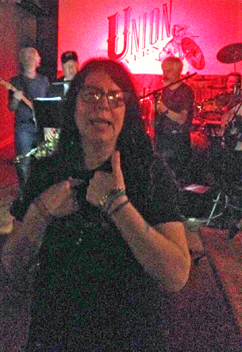 Gee Julie dancin' n' singin'

Friday 26 april 19. Boston Rag, John Keegan's Steely Dan tribute band at Union Tavern, formerly P.A.'s Lounge, so it was TWO different things for a change! (that and Gee Julie with Korean food....c'momn I'm a critter of habit!). THREE sets and some Hopelessly Obscure lp cuts plus "obvious" hits (Cant buy a thrill lp and "do it again" 45 came out October/November 1972 but I was more enamored with "all the young dudes" and Kinks Everybody's In Show Biz)...Keegan and company have CHOPS! (me too....lamb chops....pork chops....) Berklee-level musicianship (versus my Beserkley education) and Beserker" (Viking) performances.....Harmonies were superb and John Keegan played SWEET saxophone unlike the Funhouse free jazz i egg him on with....Solomon Gruberger would have loved note-for-note Skunk Baxter licks ; somehow on Midnight Special/Rock Concert me and the O. rex boys maybe saw the Dan, Solomon liking the overweight guitarist (who was good!) I have a late August 73 of this tv show and from Beyond Our Control i was all OVER we're an american band but, from both AM and FM play i "dug" the Dan..."Let's get is started in here!" as gee Julie and captain Easychords were singing and dancing to EVERY Dan toon! Me: "who do you think you are, fucken Donnie and Marie?" Not to outdone, I did the tango with Mrs Susan Keegan sans rose in teeth like Bugs Bunny....a lotta ladies up there dancin' so if you cant find a partner use a wooden chair! Lastly, even as we blared the Ramones in her northern Virginny basement, "Nobody's Girl" back in '76 told me about "Steely Dan sing about my high school!" and that is "My old school"! I be Freestylin' kenne Highland, yo ("days left is 99/wife got a bottle-a wine/doin' what i shouldnt ought-er/cryin' durin' Emmett Otter")....ok, check this, yo: "I met the ramones; in Georgetown and Danny Fields and then went back to Annandale"....flip side to "Nobody's Girl" 45! WITH picture sleeve of Barbara Q Ribs! (back cover of Music to Kill By, spike blonde hair, dog collar et al tellin' ME about the Dan!"

Friday, May 3, 2019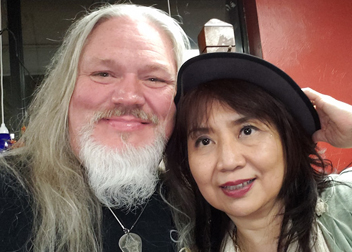 Chip and Yukiko
saturday 27 april 19. Geezer's Garage Night Quincy, 7 pm til midnight, five solid hours of Good Music, Good Playing or whatever is that Good Rats album). Pat on piano did an emerson lake and palmer toon with lake or palmer (Doors covers cool too; solo piano like when i saw Ray Manzarek at Middle East). Joey Fingers on piano plus a bassist blew me away with the band's "Shape I'm In". Masa has new vocalist as he does all kindsa fingerpicking (an inspiration to me!) Bayou Boy Orchestra great Loosiana bayou music (Joey Fingers on accordion!) and (things i notice): Yukiko and Lonesome Lil had a good blend of harmonies (Yukiko says: "I will read about this in Boston Groupie News"!). She did a great bass solo in Tokyo Tramps and wished me "good luck" replacing her on bass in Glider; this after her and my twin brother Frank Chip Langille and her did "kampei!" over shots of Albania raki (it's a schnapps; nuthin' like gettin' internationally drunk!). Couple dozen people but club linehan-ago-go play their hearts out, everyone does like a vocal like an Irish showband. Kev Linehan, drums, did Monkees "circle sky" plus "chevy van"; I use a lick from Tyrone Davis's "turn back the hands of time". Lady Caroline superbly covers Pretenders "Precious" plus "of yesterday" (Maureen Tucker b-side) and "love and flame' (Count toon). John Keegan, sax and velvet underground "what goes on' vocal. Mj Quirk sang and played guitar on rest and my "piece-de-resitance" of course was MC5's "black to comm" with "everybody needs somebody to love"/"baby please dont go"/"radar love"/"i'm goin home" and Q and I BOTH doing guitars behind head (a Kramer/Sonic combo ONLY to be matched when it's Highland/Coffee,Gizmos,Hamtramack,michigan sat 27 july 19). GREAT to see ole quincy crew and coming up: Quincy porchfest!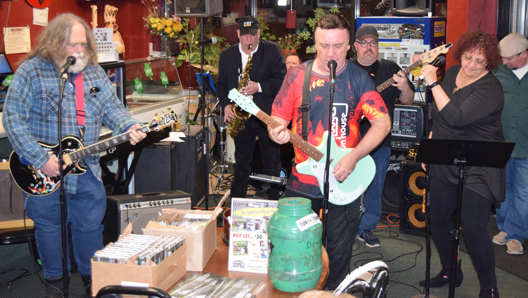 Club Linehan A Go-Go
photo by Chip Langille