5/8/2023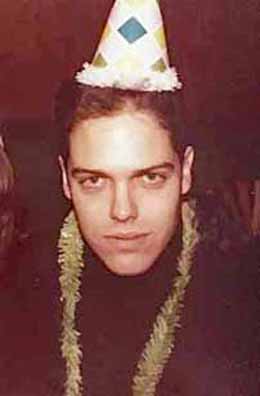 Kenne's a party animal this week!

Monday, May 1, 2023

"saturday 29 april 2023. decided to check '90s night at vera's. "TV Eye' had the Secret World of Alex mac, which was on Nickleodeon, which IS these kids "oldies", plus Ace ventura Pet detective (Jim Carrey, like my father and Miss Lyn's father all DESCEND from John Nutting and sarah Eggelton of Groton, plus both my father and Jim Carrey are Charlemagne descendants) Jim carrey in club with stage-divin' (SO '90s!) to "Thrasher band: cannibal Corpses). plus a teen movie Cant barely Wait. DJ panda is a BIG ole bear and a great dj! Still a Dynamic Superiors album cover in booth where Jimmy Boticelli used to spin with Todd Purple...ok let Mach Bell and the Music do the talkin': Blind Melon! disco lights and bubbles! Dont go chasin' waterfalls! I like the way you work it mo diggity! a hip-hop version of goin' outta my head! "Linger" by Cranberries! drunken 20 somethings dancing and singing along...guess i belonged at 70s night! Last song/last dance for me at midnight ("hey hey Cinderella" turning into pumpkin) was...."Groove Is In the Heart"-dee-Lite! Age 67 and i was STILL "dancin with micelf" despite a "Rainy Night in Georgia" and my arthitis...anyplace where the staff throws debbil horns or fist bumps me is 'alright by me"!".......

Tuesday, May 2, 2023

"Sonntag 30 april 2023. 5 pm The Jungle. The wit and wisdom of Leon Rich: "I live in outer space...I havent had a real vegetable in a long time"; "The best thing in the world is ice cream in a cup"; "There's a critter under my stairs' AND in beatles "she loves you": Pride can kick your ass/apologize to her". DA BALLZ!

Morning Sun is a young Worcester lad in a poncho and a "Stephen Stills hat" (captain Easy Quote!) who has a CSNY type band and thinks I look like Jerry and talk like him too ("Marihjauna! exhibit A"). has a Gizmo where you record rhythm, then play lead over top of that BUT also plays TRUMPET opening with "all Blues" by Miles Davis! There's a country toon, some classical picking and "Blue Mountain Mistress" about a new Hampshire mountain; almost a cuzzin to "rocky mountain high"!
| | |
| --- | --- |
| Leon Rich | Morning Sun |
Connor Hennesy is a country dude with: "there's a drunk man at the bar/his name is Kenny with a K/as if there could be no other kind"....goddam Nobel Prise winning lyrics!
lastly Faulke Yue with his gravelly voice, down-tuned guitar AND a jaw harp player! But I best enjoyed morning Sun on trumpet and Shawn Deidre on vocals doing callioipe circus music! with the low-tuned guitar and jaw harp....Leon Rich's ole Thursday busker night at the Outpost reunion!".....
| | |
| --- | --- |
| Connor Hennesey | Faulke Yue |
Wednesday, May 3, 2023

"Dienstag 2 may 2023. 0400 maybe, Coast to Coast Am Wrko 680 AM. "singer Gordon Lightfoot has died". maybe at a Fischer (Dad's grandmother) reunion in Ontario summer '67 i heard something on CANDIAN radio (streets were CLEAN too!). 1971, 8452 ridge road, brockport NY (Rock On headquarters!) I first heard "if you could read my mind" on a Toronto station and said "that's a good song' plus I AM into Mind reading! (also heard alice cooper's '18' on SAME canadian station, same year, both acts then became Amerika, First bands with HITS!!!!). Gordon Lightfoot Jr (born 1930s0 IS on wikitree! (you KNOW I couldnt resist). His great great grandfather Henry Lightfoot born 14 may 1801 Sproatley, Yorkshire england, got married 1825 Thorpe bassett,Yorkshire, died ontario canada 1857 (STILL a British citizen til 1867!). BUT Gordon's great-grandfather Joseph Lightfoot born 1833 Yorkshire; died 15 June 1916 London Ontario! seven miles away lived MY great-grandmother Highland who even got married there then said "Amerika First" as the Motor City TWO (Dad's grandparents 1912) though MANY trips also back to canada and detroit WERE done. Shall I , Girth Highland, toss garth Hudson into the mix? (London ontario 1937). tune into WhatWave dave who HAS played Kenne Highland music and I know 740 Am ZUMA radio Toronto (the WJIB of canada!) DOES play it's quota of Lightfoot! I think even there's a Guess who "Lightfoot", "he is artist""....

Thursday, May 4, 2023

"day of Wodin 3 may 2023. Popped into Vera for Drag Bingo with a host who looked like Pink and dished like Sylvia Sidney. Wodin's day. 8-10 pm. FREE! GO! also got the Vera's instagram schedule. looks like Thor's day/Frigga and Saturnalia next week. Yacht Club in the Lounge! (Th) DJ J-Wall! (Fri). DJ L'Duke (sat). FREE! reasons to go and the food is great!".....

Friday, May 5, 2023

"day of Thor 4 May 2023. Space age exotica Lounge party 8pm-midnight in the part of Vera's where 'even nancy Neon had a night that she called Toast". ok my notes: "lots of cha cha music. need a martini. young kids dress retro'...from a facebook story: "High energy vintage. Prizes for best mid-century inspired attire"...scheiss, i aint change my clothes in Fiddy Years! Does that COUNT, Viglione? "Got a nice lounge chair. Lounge music!". "This is my parents vinyl with snap crackle pop!". It DOES say "all vinyl" and this is SO 1963 camp lejeune when Ma would wear a cocktail dress and Dad would wear a sports jacket and comb his hair with brylcreem and spread his Saxon DNA unto my half-brothers. "Lady dj...in vintage gown. kinda like Endora"...I think Bewitched began about '64 when I's in a four room school house manassas virginy and Ma's albums were what i heared the day of Thor. Some toons: cha cha music (Ma had that), "Beyond the Sea" that wasnt Bobby darin (I shoulda asked) , Martin Denny? (nature birds and all) Six bucks for a non-alcoholic beer, one lounge chair and free admission! Oh yeah: REALXED! FUN! How about das scheisse? My final note, the Loony Tunes near Berklee had an EZ listening section entitled: "Billy Ruane Music"....I'm SURE he would have enjoyed the disco ball, the lawrence Welk bubbles and would have kissed every lady's hand in their "Leopard skin pillbox hat! (Halston, NOT Highland!)".....

Saturday, May 6, 2023

Freitag Cinco de Mayo 2023. To sum up briefly, mad painter worked on new songs for recording in June AND playing a Russian festival in the Catskills 3 June 2023. More other stuff happenin' too, so stay tuned til! Til then buy the mad Painter cd OR be like Schmel Herbie Hind, a satisfied Gulcher customer discovering the Korps and all 45 years later! (Good songs then, good songs now and wait! i got more!"...