5/11/2020
Monday, May 4 2020

"saturday 2 may 20; besides Medicaid mailin' me scheiss 11 years before i turn 65 (I should only live so long!), dinner was a nice youtube "Italian comedy '60s". what I found was Treasure of San Gennaro. wikipedia tells you the plot, here's my spin. Operazione San Gennaro released 25 nov 66, concurrent with Revolver, my Dad in 'Nam and his Dad dyin' in Detroit with a Eight Mile Road street address. "crime, comedy", kinda Ocean's 11/ gang that couldn't shoot straight but what caught my eye was a nun on a plane flying into Naples; inside her purse is a pistol; she and her accomplice get into an "Alpha Romeo" and she becomes a vatican Sex Kitten! There's also a go-go/twist dance scene at a discothèque which is Love, Italian Style. Falling in love with actresses as I am wont of, SENTA BERGER plays nun/thief! born 13 may 41 Vienna austria. I shall check out her filmography at next dinner or sup but wikipedia has a 1964 Man From UNCLE photo of her and she was in It takes a thief, a favourite of us Highland boys in '60s! She was even in a film with "Chin" Douglas! You might be FONDA jane (a GG Allin cuzzin!) but if you favour the Hopelesly Obscure, check her films!"...

Tuesday, May 5 2020

Sonntag 3 may 20. Miss Lyn, BGN, mention to me about Preacher Jack (RIP) portrait drawings! Sadly, you learn more about somebody post-humous than whilst living. So i'll add another Preacher anecdote. usually, his manager Peter Levine: ("Kenne what band did you used to be in?" Even in QUINCY,MASS. cain't be Hopelessly Obscure!) would drive Preacher back to North Station to catch the Salem train, but, and Preacher WAS repeating himself a lot towards "the end", a compliment I heard several tymes which is now a Skippy White "Precious memory" was: "Ken, I saw you do Marshall Tucker's "cant you see" with some woman; she sang really good"....hmmm...my mayflower cuzzin Jody Moore and I used to do "cant you see/what my HUSBAND's been doin' to me"; she newly-married, me: CHANGING GENDERS on "guy' songs! (TRANS-posing the chords?...)...He DID mention this several tymes but shit....following Preacher Jack?!?!?!?!?!? i had my "A game" on those nights! I felt like Lil Richard followin' Jerry Lee....whooooooooo!!!!!"......

Wednesday, May 6, 2020

Sonntag 3 may 20. quite a nice day reading the paper and going online to: Online Radio Box > genre > german. a virtual tower of babel of languages but I checked out German American Radio, out of baltimore that plays "rock> pop > '90s >german". Prick Up Your Ears coz these Mid-Atlantic German-Americans were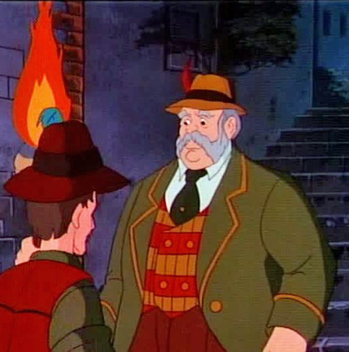 Burgomeister!!

giving some Gizstoric fact about a German born officer served with my cuzzin george Washington in mid-atlantic. dad's father's great-great-Opa was Private Johannes Youst von Bayern, served in Trenton NJ, maryland etc. A lotta oom-pa-pa und schlagers sitting in my easy chair with great-oma Highland's pater's belly extending (Ma always said "Kenneth, you have your great-great-grandfather Fischer's stomach'...DID I wittily reply "Body by Fischer!" George Washington Fischer born 1859 in that British colony called Ontario looked like if Sgt Schultz was a burgomeister on der Rhine, alpine hat and mustache replete!). Some tyme in afternoon was an oldies show announced in Deutsch and the records all in English but one (German doo-wop oldies? JAH!). My one semester college Deutsch I understood some info about Paul Anka. The previous Sonntag I had lissen to the Beacon Street Union's "a not very august afternoon'....when does lockdown end? Blue oyster cult's "Then came the last days of May"!"......

Thursday, May 7, 2020

Monntag 4 may 20. 0200, approxiamately. Richard Syrett on Sunday nights instead of George Noory. He hosts The Conspiracy Show on 740 AM Zoomer radio Toronto Canada and has podcasts. He also has the BEST bumper music and THEN talks about it like a REAL record collector! (and the KENspiracy show? AND a Canadian? Being 25 per cent canadian he's four tymes "The Man I Dont Wanna Be"! But Anyhow (Teegarden and Van Winkle!) he played "Making Time" by the Creation! (wikpedia): "debut single; 17 June 66 (didnt I see a UFO in Clarkson NY south of Grandma (not Junior's!) farm?). "genre: freakbeat; garage rock". My facebook friend Eddie Phillips was bowing the guitar YEARS before Jimmy Page! produced by my Facebook friend Shel Talmy, who production on said Kinks/Who world of distortion guitar sounds are my favourites by said bands. "Monday Monday/cant trust that day" unless I'm listening to Coast to Coast AM!".......

Friday, May 8, 2020

"Monntag 4 may 20. Miss Lyn had watched the latest Baptiste on Masterpiece, episode four. My WGBH app says episode five will airing channel two PBS 0500. I shall let Miss Lyn chime in on this Masterpiece classic but there WAS a music reference; Baptiste (French detective) and his un-knowing Dutch detective son are driving through beautiful Dutch countryside. Dutch boy says from glove compartment "what is this silver thing i am holding?". Baptiste: "that is Music from Big Pink. The band. They all lived in a pink house after touring with (French accent) Bob Deel-on". Dutch son: "You are so stuck in the '90s!" Yeah, with that "hey boomer" comment, you dont know you're Baptiste's BASTARD son, you BASTARD! Rest of my week was downhill after this"....

Saturday, May 2, 2020

"saturday 9 may 20. so i'm at work with my phone blaring onlineradiobox.com . KLBS 1330 AM from Cali; "pop news folk portugese". Living in Somerville with a sizeable Brazilian population I've picked up a smattering of Portugese (goes with Dad's DNA matches). "Bi-lingual news" (half English, half Portguese)..."Little Richard...."Good Golly Miss Molly"" and a couple more hits. My sixth sense says "He musta died'. On break on Facebook; evet! Aybike Celik Ozbey, "notorious" Istanbul punk-rocker has Richard in her "Stories". What CAN I say? Fall 1968, bought Beatles Second Album, first song, side two with Sir Paul belting out "Long Tall Sally" and seventh grade me "who's R. Penniman". I sure found out! How many "whooooo's" have I put on my records? Shitty way to end a week...BUT! 0710 this morning (1310 in Berlin!) onlineradiobox.com radio B2 Volksmusik played some Heino! verus Freitag nacht 1A Volksmusik von Bavaria playing Heino! "from bavaria to both Berlins/ Heino has sang it again"...