5/15/2023
Monday, May 8, 2023

"saturday 6 May 2023 . BGN pre-Rumble staff meeting since my stomach was rumblin' but i ALWAYS have tyme to shoppe at Cheapo records! Dollar bins outside the store; do i buy both one dollar Robin lane albums? HELL NO! Liberace and Eddie Fisher "Big 10 inch records"! The Liberace is one year older than me! "Be More Flamboyant"! (Liberace pic). ok, "take a ride on the karma wheel, there's always room for one more"....As the velvet Underground are supper music, instead of captain easychord in walks Jim melanson of PopGun who has NOT been in the BGN for a while...soon to be rectum-fied! Me, him and captain discussing various music projects but "Oh Jim" has a lot goin' on with Smitt E Smitty and/or Rumble LOSER (winner to me!) Linda Bean. I sez "hey! we played Lou reed songs with THE COUNT once down Hull, ironic man you shold walk in". Lebanese food and "venus in furs"..."shiny shiny, shiny bites of kibby; challah bread child baked with The Dark"....captain and Jim went to the Rumble and all captain got was this lousy t-shirt (photo). I wasnt gonna stand at TT's ("Dead boston club") on a bad leg for $25; 1980, post-USMC discharge I saw EVERY night of the Rumble but that was a couple-three lifetimes ago. 'are the good tymes really over for good"-merle haggard.

lastly, doing a reverse Willie Loco on "Mass. Ave.", ran into some man ray folks and i got me some di-rections: It's on Prospect street right across from tastee-Burger! Gonna need some XXXL black clothes once i git done in there..."he could eat his weight in groceries...man of the cloth, called him Amos Moses"....Hey, Johny cash was wearin' black before ALL these Goth arschlocks, so essen scheisse und tort! OR mange le merde und mort!".....

Tuesday, May 9, 2023

"Sonntag 7 may 2023. Somerville Thee-ate-er steamboat Bill 2 pm, The General 330 PM. Buster Keaton silent double feature with live accompaniment. I kinda fell asleep during Steamboat Bill but Gee Julie and i LOVED The general! based on The great locomotive chase during the Civil war; a confederate train gets captured, goes behind yankee lines, keaton is engineer etc. What I enjoyed was the farms and the interiors since my grandmother's yankee farm was STILL Civil War vintage even in 1964!

keaton was in a league with Chaplin etc. Somerville having MANY double features of OLD films so check the Link, Wray and "Who loves the sun" when you have "Celluoid heroes"? (of course sitting von mein arsch equals "Cellulite Heroes"!)"......

Wednesday, May 10, 2023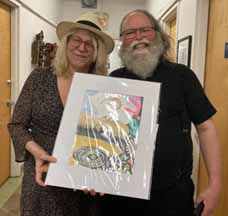 Gee Julie & Kenne with work by Alexandra Rozenman

"Sonntag 7 May 2023. open brickbottom studio for alexandra rosenman; Gee Julie wore her KENtucky derby duds! Free jazz was provided by Eric Zinman of fablegraser on both keyboards and drums simultaneously. Honkin' sax like John Keegan channeling MX-80 on Gizmos "Hey Beat Mon" AND: Linda Sharrock! Did a bit of research; she was hangin' out with Pharoah Sanders when Yoko Ono was recording with Ornette Coleman; writings compare her to Yoko, PLUS Diamanda galas, neneh Cherry and Alice Coltrane! records dating back to '60s, CLASSIC, free jazz like the MC5 and Stooges and KH air force dabble in. lastly, did some kinda Facebook search and who's a fan? eddie Flowers of Crawlspace! NOW it all fits in...good art/good people/ free jazzin' on a "Sunny afternoon"!(not quite yet "Summertime" but a damn nice day it was!)"......




| | |
| --- | --- |
| Linda Sharrock & sax | Sax & Eric Zinnmen |
Thursday, May 11, 2023
Sonntag 7 may 2023. Mr ohan's open mike. John Mulrooney opened: did some Jorma Kaukonen type finger pickin' on Stones "No expectations" (a b-side!). Tyler and the names: "kinda Dylan"; he say "this is another depressing song' Country TRUMPS the Cure every tyme and Johnny Cash wore black first! Tom Byers: "this is a ray davies song', which i didnt know. "gotta get a gun so i can shoot around corners'; great line! Ribageddon Rob Lynch did a spectacular Gordon Lightfoot tribute: 'sit down young stranger', "sundown" with Kevin Condon and Mr. Ohan, "carefree highway" AND, AFTER opening for the Fleshtones, Charles Hansen, TRUE to his canadian roots, does lead guitar on "wreck of the edmund fitzgerald"! rest of night: captain easychord did carefree highway/welcome back kotter/MY BLIND SHRINK!/ anklin Dan tour tribute: "I got my act together/takin this show on the road"! Me; i sang "you shook me' and "I cant quit you baby' with charles hansen and Mr. Ohan on keys (Chaz was SO Jimmy Page....maybe he'll play lead on larry newman's Kinks tribute sunday 21 august!). ending with Buddy Miles express "texas"....after movie/art opening etc. I was doin' dinosaur in La Brea tarpits dyin' (descrition of Erik brann's guitar screeches on "in a gadda da vida',man....) slow....glad for "Monday Monday" and "relaxing" at work!"......
| | |
| --- | --- |
| John Mulrooney | Tom Byers |
| | |
| --- | --- |
| Condon, Mr. Ohan, Hansen | Captain Easychord |
Friday, May 12, 2023

Dienstag 9 may 2023. attack of the b-movies! $5 double feature (paid for with BGN birthday gift certificate!). 630 pm The Braniac. 8 pm. The Robot Versus the Aztec Mummy. plus: short subjects, trailers and more! major Tom handed out lil dinosaurs for to fight and our host DID remember schlock around the clock at orson welles and IS bringing Santa Claus conquers the martians to Somerville Thee-ate-er. Los movies; both bad '50s mexican horror; Eric Stumpo of Plan Nine sent me and far be it from me to be "Argung with Ghosts"! Mexico City 1661, a De sade type baron burnt alive but makes good on threat to return 300 years hence and invoke Tort und schadenfreud upon descendants of those who judges him. Think of an evil barnabas Collins? I liked the reincarnation/ direct descendant angle and for two dollars and fiddy cent (oh wait! paid for by a cuzzin of law and order and jim carrey and me Groton mass. John Nutting "the founder' kilt 13 march head impaled on stick, king phillips war, same century as 1661 mexico city). As for The Robot versus the Aztec Mummy, this is a Mystery science thee-ate-er film (I liked the mop) and more reincarnation as a virgin is sacrified in Aztec tymes along with warrior dude who reincarnates as mummy as a neo-Yma Sumac chants...I remember doing guerilla drinkin' at the ole Orson welles schlock fest so Psych-Out was TRULY a trip! Check that Somervile Thee-ate-er schedule, primo OLDER films coming up, like my Beach Boy cuzzins say All Summer Long!