5/22/2023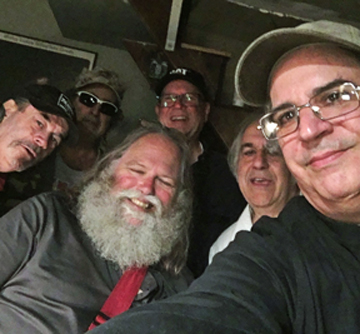 KHAF

Monday, May 15, 2023

"day of Thor 11 may 2023. $18.00 double feature Somerville thee-ate-er. Good Fellows and After Hours. scorcese is a damn fine director AND the soundtracks! wikipedia lists goodfellas complete song list: brooklyn 1955 lotsa classic doo-wop; the copa cabana 1962 - lotsa girl groups and rat pack toons AND jerry Vale AND henny Yougnman as themselves! 1969 or so (MY music) (and stuff i bought then!) "atlantis" by donovan; "gimme shelter" and "monkey man" (Stones), "Memo from turner" (which was in the gangsta London movie Performance!) and "sunshine of your love"....the stereo separation on Somerville's sound system is like a concert only I have a chair, man! (me and So Crates doiin' hemlock,man....)...Guy meets girl as he's reading HENRY MILLER! They begin discussing ALL his works; Miss Lyn NEEDS to see this part! Our hero also meets a waitress with a 1965 beehive and at her apartment; "do you wanna hear some Monkees?' ("Last train to clarksville"); then Joni Mitchell "Chelsea morning". lastly, a slam dancing punkclub (1985 movie) where Bad Brains "pay to cum" blasts! Hoping they got compensated!"......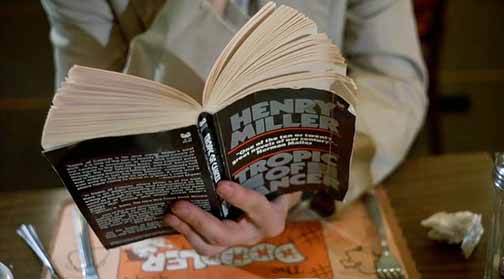 I had the same edition! - ed

Tuesday, May 16, 2023

"Saturday 13 May 2023. was dining at the independent, saw Geets Romo in the parking lot, hollered to him THREE tymes but he musta been tryin his way to Woodstock ("I saved a chair") so I went to sold out Jungle show but Mr. mohawk at door, after asking for a ticket which I be GODDAM I buy ("I need a miracale") DID take ten dollars cash. Got a seat in seconds flat and caught Tiger Bomb, Chris Brood was playing a red Fender Mustang like I used on O. rex's califawnia gurls" and doing solos worthy of first Gizmos e.p.! Gospel according to saint Mach Bell: Kenne Gizmo created Chris Brood out of one of his spare ribs, man, while Keanu Reeves went back in tyme in a phone booth to hang with So crates, man...Lettuce not forget Lynda mandolin channeling Hello World chords ("Cosmic Coinidence"; when Bob Dylan shopped at Geets Romo record store late '70s, he did NOT purchase one Kenne Highland record!). Kickass rhythm section too! Tiger Bomb got it goin on and i've drank too much coffee ("Kerouac on steroids"-Schmel herbie Hind of Happy the Clown). ok, DO "believe, i say DO believe, I say DO believe the Hype!" Sharp Class from britain are First Class! Mod sounds from DJ Sherman, everyone in ben Sherman shirts and I look like Joe Shit the Rag Man and I DID truly love the first two jam albums and these guys could be Paul Weller's sons BUT covering the Spencer davis Group "Gimme Some Lovin" made them 'alright in my baby's Book" (fact: John felice DID marry Linda bean's cuzzin so gotta throw that "Into the Void".sadly, I was 'not feelin too good micelf" (my late nights had equalled Sharp Classes tour and my leg was achin like "sweet gene Vincent's") so captain Uber-chords covered Foghat and got to "Drive Me Home". Missed Muck and the Mires and Chelsea Curve BUT, thinkin' (porbably in the Loo) it was a night of Lindas! Linda mandolyn-guitar; Linda Bean-bass; Linda Khoury-drums; get Linda Price of L'enfants du paradis to sing and: it's the Lindas! Ken Fowley has spoken! Billy Ruane presents! oh wait: like saint Mach: I'm Last Man standin'! guess like the trademarks "It's up to you"!

lastly, do i regret ten buck for a short night? nay! if it was 1776 I'd be aiming musket shots at Sharp Class; now this bluidy colonist only throwin' money...let's all dress like paul revere and the raiders and throw the tea in the harbour! (c/o masonic Lodge at Boylston street, right near PLAYLAND!")......
| | |
| --- | --- |
| Tiber Bomb (Photo: Captain Easychord) | Sharp Class (Photo- John Keegan) |
Wednesday, May 17, 2023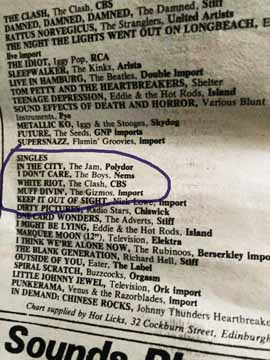 saturday 13 May 2023. after Captain Uber dropped of "Poor Poor Pitiful Me" I fetched to Miss Lyn up the stairs, her mail, to her. "kENNE THIS FOR EWE!" and chuck abbate was NOT a Lyre; mailed me a 7 may 77 issue of Sounds (He liked the Stranglers info). 14 may 77 Ken kaiser recorded "wild mouse" and thus Afrika Korps Music to Kill by, started in January Was finished, copy in my hand Friday 19 august 77. BUT on the alternative singles charts, care of Hot Licks record store in Edinburg (research says it's a Scottish In your Ear!) number one is In the City by the Jam! tell that to Sharp Class and Chelsea Curve! There IS a photo online someplace. AND Paul Weller even did an in-store, as did the Damned! next "I dont care", British punk by the Boys. "White Riot' by the Clash! Charlie Be surfin on that. Bluidy colonists! "Muff Divin'" by the Gizmos! Number Four,skin! "import". However did Gulcher get this to the land of my gret-great-great-grandmother? Followed by Nick Lowe: as much as I loved Brinsley Swartz (promo albums for my fanzine from Greg Shaw when he worked at United Artists), I dinna make the bluidy list! Shite, ye'd think I'd reived your cattle BUT this Gizmos song WAS revived from New York Dolls AND Velvet Underground "beginning to see the light". Royalties? Ye'll get a dirk up yer arse first".....

Thursday, May 18, 2023

"Sonntag 14 May 2023. ran into Therese Bellino of Lazy Susan. I dont remember ever meeting her sober so i guess I havent seen her since before 20 Nov 2000. She was kind enuff to send me a youtube of Lazy Susan at TT the bear ("Dead Boston Club") 14 Nov 97 (all I remember is I was still drunkenly married). So, some Lazy Susan memory: late '80s i musta stumbled to harper's ferry and caught Lazy Susan's Everly Sister harmonies and L'enfant du paradis Dan Coughlin adding this lil lick in Everly Brothers "problems"; you CAN judge a band by lissenin' to their covers! 1997, I think I see Scruffy Le Chat guitarist Steven Freddette playing slide on a fender on his lap; sounding good! There's also a cover of a Nesmith Monkees country tune (watch the youtube, I forgot!) AND harmonies by the two Susans is Everlies meet early graham Nash Hollies; meaning the Imperial albums from 1965 or so, like Hear Hear. Either way, a GREAT trip down memory lane coz, like my distant cuzzin Jim Morrison said "The future;s uncertain and the end is always near""....

Friday, May 19, 2023

"DAY OF tHOR 18 May 2023. somerville thee-ate-er. Two-for-Thursday double feature with Robert Mitchum $18,00. Night of the Hunter 715 pm and Out of the Past 910 pm. I saw Hunter harvard film archives but further research puts this is in depression-era Ohio river west virginia which,in a moment of passion, leads to charles manson! born 1934 cincinatti (mentioned in film) then lived in marshall county WV (I think there's a Jim Morrison connection too). based on a Dutch imigrant who would 'marry and bury" but he got to WV (half hour south of where my great-grandaddy McBee was) in 1910 and by then Mcbees on the Irish side of northside, Pittsburgh. as for the 910 pm film-noir, it's black and white Jessica Rabbit; guns/geldt/dames/fedoras/cigarettes/booze/suits and reasons Lou Reed loves Dashiel hammett! Go somerville theater website! Ticket dude says "you comin' to Fuck the nazis wednesday next?"...sure! My date will be wednesday Adams as we listen to monday Monday/Til Tuesday and wednesday week!".....

Saturday, May 20, 2023

"Freitag 19 may 2023. A good mad painter practice for a russian festival in the Catskills. BUT since this is BOSTON Groupie News, let's focus on Kenne Highland air force in Boston. saturday 24 June KHAF at quincy porchfest; 4th of july at wookiefest!

Lucreatia's daggers and i tryin to nail something down...and! Andy Doback Lil ricky records doing Fiddy year tribute to first NY Dolls album! So KHAF gonna do a song; i have done a Dolls cover in EVERY band since O. rex '74! "Summer means fun"!-just ask jan and dean. ok back to youtube of Deutsche Schlager 1965-1966; cd-3 1966. Du ist nicht LIVE til you hear "ballad of the green beret" sung in Deutsch!".....