5/28/2018
Monday, May 21, 2018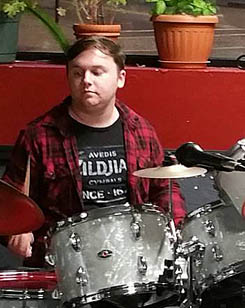 Aiden Linehan

Geezer's garage night friday 18 may 18. Paddy O started on piano, lots of hank williams and johnny cash plus doors "crystal ship" played superbly! Joey Fingers bassist went into an impromptu "whippin' post" that was awesome! veterans of Quincy blues jam that i usedta read about in the boston blues newsletter at johnny d's somerville. MJ Quirk got my guitar fixed at Play Music, saugus, (facebook page) and sounds pissa, crankin' etc. a quartet minus John Keegan's sax that evening but MJ Quirk looking quite slim in a first black sabbath album shirt, Joe Quinn and Kevin Linehan always CCR-tight as rhythm section. Kevin's 16 year old son got up for "tallahassie lassie" and considering solomon gruberger gave me one drum lesson sunday 3 june 73 before O. Rex played "louie louie"; Aidan Linehan got up UNREHEARSED and wailed on drums! other father son dynasties: Bonhams/Starkeys....now Linehans! Lindsey and Masa always good like Page/Plant; a whitesnake cover with projected vocals but ending with a bonnie raitt cover "love me like a man" maybe, I heard echoes of Janis and "turtle blues". all meant as compliment. we had to do the Irish goodbye (split and say nothing) but my evil Viking twin Chip Langille posted a video of "purple haze" with Masa on lead, Yukiko on RHYTHM and Satoru on bass! switching instruments is fun and they all are quite adept and let's NOT forget Al Hendry on drums in almost every set! Next month, June maybe: quincy porchfest by day, granite street cafe at night and night before jeannie johnston in JP! gittin' tired thinkin' about it

Tuesday, May 22 2018

it was a weekend of movies! sat 19 may 18 brattle theater, Klaus Kinski in The Great Silence, 7 dec 68 release in italy; i was buyin' the beatles white album, WT Grants brockport ny 'round then! Brattle pass c/o Miss Lyn; that's my annual celery fer writin' this rubbish! Look at Stewie Kaiser's celery! Besides looking a LOT like Clint Eastwood movies, "silent" vigilante etc., Utah in a blizzard is actually the italian dolomites! thought those mountains looked like the alps. Gee Julie thought there was a lot of "gratutious violence" but that is the nature of the beast and too bad she wasn't about brattle's Mario Bava horror fest about 15 year back. if you want to binge out in a moon age daydream on spaghetti westerns or Klaus Kinksi, youtube IS your outlet! maybe Miss Lyn do a siskil to my ebert, a few words: (As these westerns go the acting was pretty bad and of course the actors were dubbed in Italian. There certainlny was a LOT of ruthless killing...LOTS of gunfire...but the Ennio Moricone sound track is what I was interested in and very surpised by. I thought it would be twangy guitar instead it was heavy on the flute and some light breezy orchestration which was a very bizarre juxtapose to trhe violent on the screen. - ed.)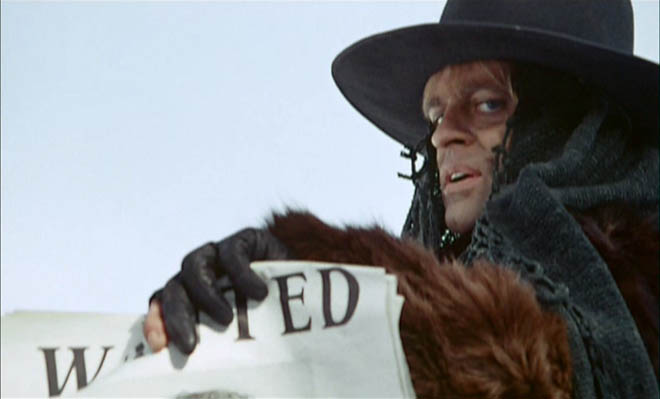 Klaus Kinski in The Great Silence

Wednesday, May 23, 2018

sunday 20 may 18, in mood for foreign films, and down the fenway, RAAZI (facebook page!) 20018 Bollywood thriller film/crime film. All kindsa spy versus spy only the lady is Joan Bond! "an indian spy marries a paki during indo-paki war of 1971". In my high school, up the college, I was friends with a kid from "over there"; age 15, lissenin' to FUNHOUSE but "bangla desh", Beatle George was in charts and my friend said "that's about my country". Besides the Beatles and the maharishi, as far as my exposure to EASTERN Indians, there was a family, up the college (SUNY Brockport, Bob Richert, Gulcher, '70!) whom XMAS '69 bought me "time machine" b/w "high on a horse"-grand funk railroad! But back to movie; so it's based on fact; i like that. arranged marriage of Indian CIA-type agent daughter to paki general's son. They train her how to shoot gun, self-defense, morse code; "when i say im in love you best believe im in love L-U-V!" (especially when she flips guys over her shoulder!). a lot of double-cross, she gets found out but falls in love with her husband as is/was; and he lissens to jazz VINYL! but not credited....rest of soundtrack is awesome too and you CAN binge out on Bollywood on youtube.....this movie also playing up apple cinema in fresh pond, but fenway was "closer to home".....and you thought i couldnt mix bollywood with grand funk railroad! (on the cover of Rock On #5, early '73, Alan Baase, RIP, BUT Ken Kaiser take note: he's hangin' with the gruberger brothers AND their kabllah uncle Phillip berg, ALSO on youtube!"....

Thursday, May 24, 2018

day of Wodin 23 may 18. milesonthembta.com for us bus geeks; 64 RIPTA to newport, then 60 RIPTA to providence; the blog and better pictures than I on that site. Been a couple years I was to the haunted Biltmore hotel; no longer part of hampton points group BUT let's say Monday/Tuesday/even fourth of July day of Wodin: $159!!!! lettuce sea.....My points at McCormick and Schmick's restaurant still go though; because Miss Lyn used to have fetucinni alfredo with blowfish at early '80s BGN meetings i think i got chicken Alfredo maybe. other than commuter rail, Boston, travellin' dunn, back here playin' with dead people BUT just to tie this in with Coast to Coast AM; where my great-grandmother Highland's colonial kin is buried, the RIPTA buses go by them cemeteries SO obviously my phone was a ouiji board contactin' them spirits....a-yep! puttin' the SWOMP in Swamp yankee!".....(See Kenne's Travelogue photos after the column)

Friday, May 25, 2018

Before memorial day starts and i maybe go to apple cinema in fresh pond and watch Indian movies OR brattle has double features and i can avoid the sun, let's promote next gig. That is sunday 10 june 18 midway cafe. 4 pm is club linehan-a-go-go - 5 pm is billy connors, 6 pm is Jody Moore (backup band club linehan-a-go-go) and 7 pm is Tokyo Tramps. Hope to see you all there and now I'm going back to play with my dead friends"......
| | | |
| --- | --- | --- |
| Big Water | Indian Books in Newport Bookstore | Newport Gulls Baseball Schedule |
| Historic Cardines Baseball Park- Newport, RI | How much are those doggies in the window? | Jerky Store Newport, RI |
| How much is THAT doggie in the window? | Historic Cart Newport, RI | View from Train |
| Historic quaint RR station | Lovely, not historic, gas station | Train from Train |