5/30/2016
Monday May 23, 2016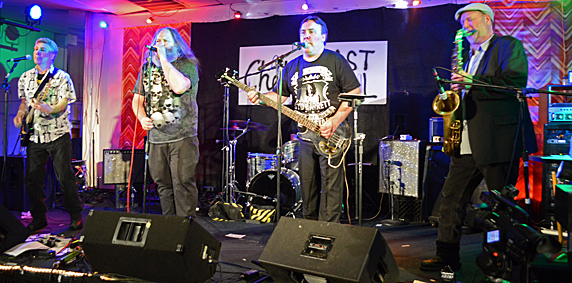 Hopelessly Obscure at Chetstock II
"Friday night, classic country on WRCA 9 pm: "what is truth" by johnny cash! early 1970 and he DID wear black! Got to Somerville ass end of Porchfest, Gee Julie shopping at ocean state job lot, got to Once 5 pm, did an interview for chet's documentary, questions by dan vitale of bimskalabim, trust me I WAS on fire! Hello World!
Gee Julie and I dined with the Kaisers and MJ Quirk and Donna, clan Moray, Martha Hull's birthday, Gemini on a Full Moon. after the Choirboys, "shit, we gotta get onstage!" introduction by Moose Savage which = Oedipus at the Rat so, since it WAS being filmed I went "don't listen to him". Once is same size as club Gizmos played in Atlanta; shoutouts to alumni Miguel D'Amour and "649 steps" I did all my Jim Morrison-isms. after George of Black Souls said "you sound like Iggy; is that where you get your accent" and poor sumbitch had to suffer with my family tree, but again: The Highlands are from Michigan! My dad born Dee-troit! it's in my DNA...
shoutout to hopelessly obscure: Matt Burns THIRD drumming gig that day, John Pitingolo, who played on "rain of death" DID ask: "who's that lefty bassist?" not Sir Paul but MJ Quirk! Ken Kaiser, as usual, made no mistakes, arranged the band like Nelson Riddle did for Frank Sinatra. and John Keegan on sax and percussion; if we were Mission of Gizmo, he'd be Martin Swope! "that's when I reach for my revolver": this is Roger Miller for your second amendments rights! Arm Bears! shoot Ted Nugent! drink milk with ted niemiec!
Classic Ruins, Carl Bruce-a-cucci, out Jack-ing Jay Bruce on "tales of brave ulysess". Xanna Don't had her last boston lineup, kevin patey on guitar and real kids "common at noon" done superb. Joe Harvard sang Jon Richman "Pablo Picasso" whilst real kids set up late to do three songs but STILL superb. Harlequin was good ole '70s hard rock, Bribo had flown in from Tampa and boy were his arms tired! Ken and Gee Julie to the end, hangin' with "Hail Mary" as merch table and hey! my Chet t-shirt FITS!!!!!!!"....

Tuesday May 24, 2016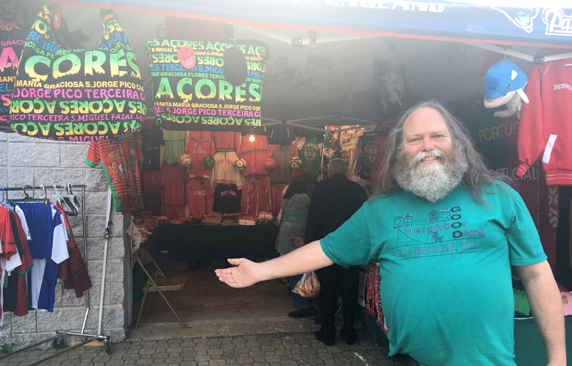 Kenne at Santo Cristo Fest.
69 bus straight outta Lechmere I ran into santo cristo fest procession at Saint Anthony's church, east Cambridge; LIKE them on facebook, photos and more feasts coming! went to Portugalia, wicked packed, Miss Lyn met me. bacalhau (salted cod) still cheapest thing on menu! went over to the feast, Portegei merch booth, lotsa soccer stuff and religious icons, "temptation 'bout to get me" but didn't never buy nuthin' (to rephrase Nelly Furtado, Hail Mary! Furtardo!). miss lyn and I tried some raffles, but lost, but this DID help the church, and the soul of Henrique Paulino's grandson, Alan, of Real Kids. Miss Lyn left, Gee Julie showed up, we raffled and ate linguicia with fava beans. donated towards an Alpo candle near the alter (gotta see the interior here! My Puritan ancestors woulda had sumpin' to say but I say "be more flamboyant"!) can't forget the accordion jam and lil hats with drawstrings, folk dress, brass bands AND a call from Miguel D'Amour when an orchestra in marching band uniform started playing "we will rock you" and 'bohemian rhapsody"...QUEEN ended the music....so surreal....as I went to sleep, 930 As I Lay Dying, Dawn Kipput, Kirkland regular drew her last breathe 930 pm...obit soon...I woke up the morning shoutin' hallelujah! praise jesus and Lil Richard! whoooooooooo!!!!!!!!"......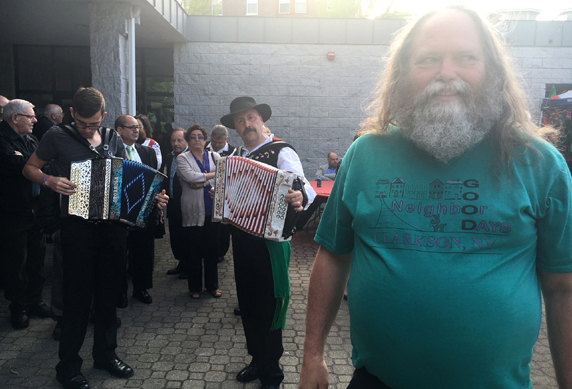 Wednesday May 25, 2016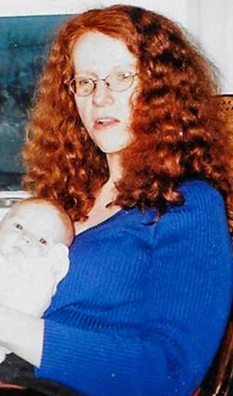 Dawn
(Photo courtesy of Michele Maniscalco)

"Dawn Kipphut 1965-2016. back when William Jefferson Blythe was president, Linda Garreau Highland (my distant rhode island cuzzin) was on a wimmen in their '30s list on WEBTV (Joe coughlin, RIP, turnt her onto it). so she had a guest from south afrika (she was a Boer; I am a BORE!!!!) whom knew a lady in porter square with "flamin' red hair" (Black oak Arkansas b-side! "red hot lovin'"!). they all had tea, linda/dawn became good friends. "Annie had a baby"-no, Dawn did!

when I let the portegei fest sunday, 930 pm dawn "drew her last breathe" (BUT she was still on life support when that portegei marching band played "bohemian rhapsody"!). Dawn leave a ten year old REAL KID so Friday 15 july 16 cantab is for this lil orphan Annie's college fund. club-linehan-a-go-go/classic ruins/al janik's plastic cheese/butterscott. Dawn was always at Kirkland soundboard next to mickey bliss. "show her that you love her...show her that you care!"....come to benefit for her REAL Kid's college fund!"......

Thursday, May 26, 2016

"ok gigs confirmed or being negotiated. be it hopelessly obscure/afrika korps/kenne highland clan, even parts of club linehan-a-go-go, I'm part of them all! Saturday afternoon 18 june midway with Hixx and jody moore. sunday 10 july midway Tokyo Tramps and drew townson, Go Bills!. Friday 15 july-dawn kipphut Kirkland memorial at cantab. geets romeo wants wants hopelessly obscure at a that bowling alley in Portland and Fuzzbrains presents, Worcester, hopelessly obscure and Brockport NY's own answer to the clash: the performers! Go Bills! gizmos could be in Chicago 16 sept and Bloomington 17 sept. y'all know how to write! booking gigs till my final number..."bye bye life!", all that jazz, lc/cpl KE Highland 1979 livin' in a south Carolina trailer park watching a pitcher at the thee-ate-er!"....

"Australia geographic top ten abandoned towns in TAZMANIA...one of them is LINDA....so Linda, Tazmania..."..

Friday, May 27, 2016

"here was an exchange from metal mike saunders on bonze annrose blayk"s wall, first discussing some angry samoans music, then Metal Mike went on some tangent how afrika korps-era Ken Highland sounded like Cleveland's THE PAGANS, especially the singing?!?!? I take compliments anyway I can get them, the Pagans seem to be afrika korps contemporaries ;and though LONG dead Alpo said the guy in Minnesota's the Hypsterz reminded him of me also...Cleveland....twin cities....ann arbor...Detroit....guess my dad's Midwest influence still shows"..