6/2/2014
May 27, 2014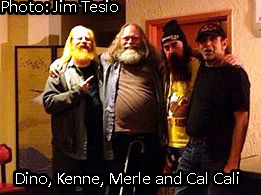 Got an invite to this gig c/o Anthony Kacynski, Figures On a Beach (Sire), so after work, it was to Sally O'Brien's in Somerville.
Natalie Flanagan was on-stage, Trick Wallace on Tele (I think), Tony Kacynski on bass AND Charlie Leger (Fighting Cocks managed by Charlie MacKenzie) lookin' like 1968 Brian Jones and playing Keith Richards solo on "Sympathy for the Devil" on...mandolin!
Next up Randy Black (I did a Rat gig with Limbo Race December '82 Rat) with Matt from Arthur Slick and the Nice Gurls (he maybe did a October '80 gig with me at Cantone's in the Dark) and Larry Dersh has drummed with Roger Miller of Burma. sound was melodic, fluid and kinda sounded like the Maps!
Vikki Porter in da house and SHE kinda sounds like Salem 66! Judy, Judy, Judy...(for the Benefit of Mr. Blowfish).....lastly,Trusty Sidekick, Tavern at End of World manager, with Tony Kacynski on some screechin' Detroit guitar, Gibson 335 maybe? looked like a Byrdland, but I'm not Solomon Gruberger (RIP) on guitars.....a lotta Tavern/"vintage" "scenesters" (ok, OLD PEOPLE/OLD FRIENDS!!!) and a fun night, Padraig at bar"......
May 20, 2014
so i'm sittin' by the ce-ment pond at my ex-clooooo-siiiiive health club and all of a sudden, my cell rings and it's....Cal Cali from Jetset (february '85, Jetset and me in Jordan and the Half-Transplants Johnny D's Allston). offering a ride to see Merle Allin and The Murder Junkies at a chinese food place in Weymouth?!?!?!? "did you ask Miss Lyn or Blowfish?" so I, Clark Ken, got the job for the Daily Planet (Uranus).
Gourmet Oriental, East Weymouth, 225 bus route...SO obscure! hadn't seen Merle since the 10 year GG Allin death anniversary 2004; only Dino Sex remains from that lineup; the promoter shot a photo and we look like "Dont Give a Fuck" Dynasty! (and proud!) young'uns The Deprived opened; met Chuck PreFontaine, doing a Rat '90s documentary, discussed South Shore hardcore (Dana Colley of Sex Execs and Walter Gustafson of Outlets in kindergarten together!?!)
Deprived sounded like Black Sabbath at 78 rpm and has Tasmanian Cookie Monster vocals. Merle had great merchandise; Matt Burns in drag drumming with them Allin Boys 1989! (Matt's 60th, Lizard Lounge,13 September....COULD be Alice Highland playing!)....Every Picture Tells a Story and there is one of one Gizmo, one Thrills (Merle) and one Unnatural Parsons; "Cantone's October '78!" scream I! met a buncha groovy people; Murder Junkies had an early '70s boogie/metal/Ken Highland ca. early 1976 guitar, REAL good, Cookie Monster/GG vocals and Merle and Dino had an aFRIKA kORPS rhythm section sound. ended with Dino doin' a drum solo (he's quite good AND wearing shorts; he DID ask if he could drum nekkid "it's part of the act") everyone else packed up, walked off, Dino drummed, then dropped trou and placed TWO drumsticks proctologically correct...toss in a trans person in a Chinese restraunt in Weymouth and....was i in a John Waters film with Cal Cali?".....
also...:"Merle Allin has a rider that he HAS to have a Chinese food buffet at every gig; he was the FIRST in line and if I weren't so lame, I woulda been and my other joke: "these sandwiches are too small!" (Spinal Tap reference)"......
May 28, 2014
whilst at Merle Allin gig Sunday, the promoter had one-a them new-fangled two-way Dick Tracy wrist radio computer thangs....so he calls Handsome Dick Manitoba and we and him finally talk face-to-face! "you look like God", sez he; "I Am", I Said (September Morn!) Besides Facebook friends, he HAS played me on satellite radio and gave shout-outs: "me and Little Steven play your cd all the tyme!" (Rob Basso; GG's Jabber guitarist, confirm that is Be More Flamboyant); I DID thank him, since Gulcher #0, KH and E. Flowers RAVED about Go Gurl Krazee. in ending, Manitoba invited me down to his bar anytyme! a trip to New Netherlands that's worth it!".....
May 30, 2014
Merle Allin words of wisdom: "I dont drink, dont smoke, dont do drugs, work out...you got to at our age if you wanna keep doin' this thing" (rockin'). yep, GG's brother said all, so been goin' to my Most Exclusive Gym Membership for Sale, 35 minutes on My Stationary Bicycle, though Jennifer Love Hewitt certainly helped (Ghost Whisperers on Ion). doctor's report today is I lost 8 pounds (down to 287 pounds of Heavenly Joy), though them damn water pills are gonna make Gizmos World Tour look like a GG Allin show! Maybe I'll wear a P-Funk diaper and play giz-tar....lotsa press conference and Future/Tours right now (if they're willin' to pay our price!) and even Pipeline and Bob DuBrow are being considered; again, Merle Allin has band members in four states also....Gimme Back My Four States! as i eat a salad here during I Need Lunch (aaaaarrrrrrgghghghghgh!)
Othello with Orson Welles is playing Brattle for a week, so since Sunday is my only day off, after the gym, I may venture there....Ken Kaiser on health kick too....shit....guess there'll be MORE Korps reunions!".....
May 31, 2014
just to close out the week,GREG PREVOST (Chesterfield Kings) gave me a health/workout pop "tahk" (Monroe county accent from "Brahk-port"); a "shahck" instead unless he was bench-pressing copies of "Potato Chip" by the Shadows of Knight! I shant go on about Jennifer Love Hewitt, but COLD CASE (Ion TV) on "Mean screen" in gym was fascinating...made it to Quincy, WRCA Rockin' at night, facebook friend Peter Sheinfeld; played "Old Man Blues" by Ivory Joe Hunter 1952! WICKED awesome, was it rhythm and blues/rock and roll....either way, the black music Elvis stole from in da bomb, yo! (AND Ivory Joe duetted with Elvis at Graceland, check wikipedia!)
Gizmos World Tour is a week away and will announce Future/Gigs right now when confirmed....is Marvin Goldstein REALLY buying us a Batmobile to tour in? Sam the Sham and the Pharoahs usedta tour in a hearse (Sam's On Tour album,$1.27 or so, Daw's Drugs, Main street brockport ,ny 1969 PLUS SEALED Standells albums!!! if i were Kim Kane of Slickee Boys,I'd be gittin' all jittery goin' "great googley-moogley, Giz, can you believe this?" (famed collector Thomas Taber probably bought up all the copies then anyway)"......