6/4/2018
Tuesday, May 29 2018

Friday 25 may 18 gettin' out the shower BBC radio ulster on, heard some damn good blues music about five pm or so and then dj said "Jackie Macauley-I, sideman: the story of me in the 60s and 70s"; this is jackie macauley of THEM whom on keyboards gave Alan Price a run for the money as did Sir Van versus Eric Burdon. He kept saying "I'm on facebook"; friended me at 510 pm! wrote him this morn told him me grandfather were from Belfast and I's a Them fan; I get the thumb's up Gizmoji! He's on guitar now and "crossroads" closer was Cream arrangement but let me kinda quote this from interview re hendrix in London: "knew win had iver seen anythin' like 'im in loondon playin' guitar behind is 'ead but bock in thih daze uv the eer-ish shoo bands they all did thot, the bassist too!" translated, Irish show bands were playin' behind their heads WAY back BUT Jimi's exact father goes back to a Scots-Irishman name ROSS so, yep, 'tis an oolster thin'.


Wednesday, May 30, 2018

saturday 26 my 18, eknazar boston movies lists all Indian films playing, select your city, browse by theater. Apple Cinema, fresh pond (bought ramones 45 of "i dont care" there summer '77). Hindi film PARMANU the story of pokhran, facebook page. based on history, i like that: april 1998 india need some secret nuclear testing of which i was semi-aware, but mostly drunken Kenne Highland Clan gigs at club bohemia plus gemini on a full moon cd was being recorded. So, as a former NSA marine guard, the Indians were VERY slick, working on nukes when surveillance from CIA had a blind spot; at the end CIA dude even admitted they Fugged up. (so did Ed Sanders!). Then the CIA dude and the Paki agent in cahoots....let me tangentialise that Mad magazine STILL exists, saw issue yesterday so Spy versus Spy! maybe funniest scene; american agent eats Indian food and comes out of loo with pepto bismal! ok so Ken Highland liked this movie, more Bollywood please!



Thursday, May 31, 2018

sunday 27 may 18. kendall cinema and seniors age 62 get discount! so saw new julette binoche movie. let the sunshine in. petit review: she is looking for mister goodbar, hooks up with all kindsa assholes, all kindsa assholes, gerard depardieu is her therapist, counting off the five lovers in her life and she needs to think of herself. No wonder Miss Lyn hates French movies! (Whatchoo talkin' 'bout Kenne, I LOVE French movies! As a matter of fact I watched this film myself: I imagine you fell asleep for most of it and rightfully so 'cause it is BORING!! et oh mon dieu tres Fraunch! All kindsa useless drama brought up by Juliette charachter..and only for the sake of drama. Depardieu is a psychic she goes to not her therapist. it's all about her with a few diff guys, yeah they are all self indulgent jerks, especially the young actor guy- UGH. Then she meets this freaky looking guy with a serious underbite who starts dancing with her..another love affair...yawn. after him she goes to depardieu to find out when she'll meet the guy of her dreams - yawn- This is totally a vehicle for Binoche and she deserves it -and she looks awesome here too- but I wish the film was better!!- ed) But if Linda Garreau Highland were alive she'd be glad i saw the latest Gerard Depardieu, but now she's in heaven with Louis Malle and Serge Gainsborough. After the movie - onto Groupie Towers II, watched Love Story, a splendid documentary on Arthur Lee's LOVE, damn were they good and Johnny Echols facebook friend. I watched this with Peek-a-boo, aka Mister Peeks at my feet, though Raggs the cat DID make an appearance wondering "who's this animal in my house". Then, at large and onto Boston German Club Stammstich! (German for regulars table;"not a structured meeting, but rather a friendly get-together" (wikipedia). A lot of German kids in their 20s, meeting at Bronwyn, all here for work, a lot of cultural exchange, reminding me of '81-'82 school year, all things German. Highlight was a young fraulein from Hungary who moved to Germany, spoke in halting English but tried to teach me how to say "I have to go to the bathroom" and Harry Vee, Bamberg Groupie News says water closet is "clo", which my fraulein freund says IS the slang, so.....I did not curse once! German club also meets at ASGARD, mass ave., next one is sunday 3 june 18 THOUGH by that tyme back in '73, Solomon Gruberger and I, after initial O. Rex jam, were probably watching Flo and Eddie open for Alice Cooper"!.
| | | |
| --- | --- | --- |
| German Meet Up Group | | Mr. Peeks |
Friday, June 1, 2018

monday 28 may 18, holiday and back to apple cinema, fresh pond 3 pm for Mahanati (facebook) in Telugu! (wikipedia, Indian dialect). Based on life story of a tragic Garland/Monroe Bollywood actress, died age 45 from booze and diabetes but did a shitload of movies, love affair with married actor etc. I binged out on Telugu films of hers (and she DOES have facebook fan page, Savitri is her name; Mahanadi or such is Telugu for great actress maybe)....her black and white 50s films on youtube, like all Bollywood are kind of a mixture of 40s Hollywood and Magical Mystery Tour, with Jay Gruberger passed out in movie theatre aisle, age 16 (underage Mother Goldstein's drinking!) So my weekend COULD have more Bollywood Apple Cinema films plus German meetup group Asgard every other sunday 7-10 pm, Mass. Ave.; you COULD attend Sunday if you read this, if your Deutsch is as bad as mine....and last but CERTAINLY not least, a stellar practice with Jody Moore backed by club linehan-ago-go that's for Sunday 10 June midway, club linehan 4 pm, Jody 6 pm. more gigs on club linehan-a-go-go facebook page and tho i hate the sun, looks like my 62nd summer will be a good'un, til i listen to This Mortal Coil, which is when I will leave This Mortal Coil".....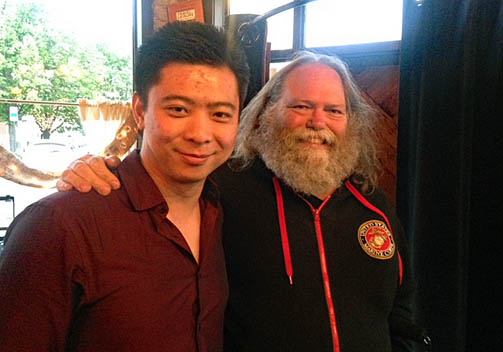 Dan, leader of German Meet Up and Kenne at bronwyn