6/6/2016
Tuesday May 31, 2016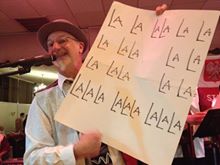 Al Janick
(Photo: Michele Meadows)

"having never been to Al Janik's Saint Stanislaus party, figgered I'd best attend whilst still "young". ok, so $10 cover, polish food, the club was right next to Portugalia and it looked like the Kirkland/Abbey late 1990s/early 2000s. most obvious person was Tony KaczynSKI, who said "yes this is my youth", his town in Michigan heavily Polish-dominated and our host Al Janik, from Chicago, even said "Kenne Highland's from Indiana, he knows what I'm talkin' about!" (actually moved there age 19 but read the 1978 boston groupie news interview when blowfish asks "where ARE you from?"). if you liked the Monks/das furlines/punk polka check out the band: Permafrost's drummer and Sean from Slide on bass; Rattleheater guitarist, Brother Cleve on keyboards (whom agreed this WAS a Polish Billy Goons....can I toss in Swinging Erudites?) and the Dents in native costume singing like the andrews sisters! all but Linehan himself was there representin' Club Linehan-a-go-go and the "we should play?"....dunno if my Loyalist toons would mix well with traditional Irish though that DOES = bluegrass! and the fucken horns!!! Chicago transit authority (trumpet/trombone, I LOVE brass as did my deetroit grandmother) and mark chenevert of doctor black's combo on clarinet adding a klezmer flavor...HE agreed that Al is like chandler travis and his Gizmo-esque mish-a-gas...plus AL Janik doing the hand-wrote cards like "subterranean picture paradise blues" = Ed "Moose" Savage...hey, when I saw flo and eddie open for alice cooper 3 july 73 Vietnam had JUST ended so humour needed, vote Trump, end the world"....

"Brother Cleve's wife has a business, here's a plug: stitchin' time studio etsy shop. new vintage embroidery for kitchen and bar. a post-Stanislaus conversation held at bar after-gig; Cleve's wife does embroidery! I also noticed there was, at Polish-American club, a photo of the Polish pope...probably been there since Ronald Reagan!"....

Wednesday, June 1, 2016

whilst lissenin' to Steppenwolf 16 big ones on youtube on my MC5/I-phone 5, Ken and Gee Julie sunday of memorial day drive to....providence? I have roots in, and love, south county but Gee Julie suggested Roger Williams Park Zoo (adults 13-plus $14.95; better'n cheaper'n a case of geneses beer!) Highlights of Gizmo and Garfunkel "at the zoo": elephants, CHEETAH (no photo but I did think of Mister Chrome), THE OUTBACK (watching kanga and roo hop around! no Tasmanian devils though and Gee Julie sang to the kookaburra; she can also do Robin Byrds calls!). I milked a pretend cow and brushed a pygmy Nubian goat name QUINN (Joe Quinn turns 49 when club linehan-au- Jo-Jo (Jody Moore) play with Hixx midway show Saturday 18 june 16 afternoon show). no gorillas were killed in my mist; if I had wandered into gorilla moat, those simians woulda said "welcome home Kenne! let's get that mofo in the yellow hat"....
| | | |
| --- | --- | --- |
| Photo: Gee Julie | Photo: Gee Julie | |
Boston Foodie News: memorial day sunday, I had a gift certificate for Kabuki, Wakefield Rhode Island; Gee Julie thought this was THE BEST Japanese food she'd had; all in South County RI! being too full to drive used points at hotel and TV Eye on me...PBS had a live from Arlington, 'Nam vet special and Beach Boys with Mike Love saying vets told him "good vibrations" got them through 'Nam...after my Dad died I DO remember hearing it 99 state street, brockport NY, on a telefunken Dad bought in Deutschland, WCMF Rochester NY. also on scy-fy channel was Starship Troopers, both a YES toon and a Heinlein book; this schlock-fest had giant bedbugs taking over the world and a neo-Marine outfit blasting them; the bedbugs destroyed Buenos Aires! Scy-Fy channel IS my sci-fi marathon!"....

Thursday, June 2, 2016

"Rainy Days and Mondays NOT getting me down since I was still in South County. TV Eye on me was ME TV; Gee Julie: "no, Kenne, you're not on it"...perry mason, matlock as my echolalic cousin/uncle Howard Spencer Blodgett (roots in East Greenwich RI!) usedta say..."kenne...Andy Griffith was on Matlock...Andy Griffith....yep...yep..." (he's 12th cousin to princes Di's father, the earl spencer!). also Dick Van Dyke solved a murder at "Boston Central Hospital", most prestigious hospital in Boston...thought some scenery looked familiar. Gee Julie made a couple stops: ocean state job lot-Warwick, RI; get your Duck Dynasty books here! (hadda do sumpin' while she's a-shoppin')...supper was Malted Barley in the arts section of providence...micro-beers or whatever the hail that piss is that ain't GENESEE plus BAGEL sangwiches, I had a bratwurst, das ist wunderbar! all in all, a quite memorable Memorial Day; 1985 I spent it at the Plan 9 compound, Shannock RI with all kindsa bands present"..