3/28/2022
Tuesday, May 31, 2022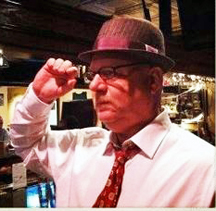 Leon Rich

"Sonntag 29 May 2022. A night at Lily Pad Inman with Leon Rich and friends, many of whom had busked at his Outpost 186 open mike pre-Covid. Opening was Captain easychord, good "Brit-pop' if you will and special notice to Shel Pierce of the Runes playing a Telecaster and if it was captain eaychord and Wings, his piercing leads were in the vein of Dumbarton, Scotland born Jimmy McCulloch, whom was also in Thunderclap Newman and "Let Me" propose "Good captain Clack" to cover 1969's "Something in the Air"! THAT kinda sound...next up was Sharon Crumrine, solo and on a Grand piano. opening with Melanie's "Brand New Key" (released October 1971, the month my Radio Shack needle first set down on my $3.49 copy of Stooges Funhouse Down on the Street; READ Mach Bell's book (I Gotta Rock) coz Joe Flash was NOT covering this toon! "don't give me no barry white" unless he's playing piano on "goodnight my love"!). Next up was Neil Sedaka's October 1974 "Laughter in the rain"; I was jammin' on Uriah Heep covers in Brockport NY (pre-mad painter) and Thundertrain WAS, since 4 aug 74!). Sharon sang this like karen carpenter and when she hit the piano I thought she was gonna go into "we've only just begun"! I been a carpenters fan 'bout fiddy years ever since Roy Wood admitted to liking them! Wizzard? Gizzard? 'you can dance to your rocknroll!"; "buffalo chips station"! Sharon also did some Ginger Ibex tunes, one instrumental went from I-II-III-I kinda like "hava nagila". Leon Rich played electro-acoustic guitar; he had been in Sans Nomenclature with Anderson Mar (RIP) prolly after I was Sans Kilt at Kirkland café. Al Hendry on drums and Lt larry Newman USMC and Nikki and the Corvettes (adding good pop harmonies to captain easy chord!) declared Leon to be the next Jon Richman with titles like "were in a band" (that's ALL the words! LESS than Ramones "I don't wanna walk around with you"!); "Plants", "Roll the Snow", "Seagull", "Gold Fish", "Zombie Hill", "Dead Squirrel"....I think the "Martian Martians already invaded! "Six minutes left in Celtics game" and "Look through any window" at the Druid they WERE ahead and folks up and down (Buffalo) Springfield street cheering....a gud night of muzak and gud basketball means, in "The End"; it WUZ....da moddafockin' BALLZ!!!!!!!!"".....


Wednesday, June 1, 2022

Til Dienstag "The came the last days of may' (Blue Oyster Cult!). Let's review yet another I am not Gone volume two tribute to Asa brebner cd track. "Go Downtown" by Justine's Black Threads which is Justine Covault- vocals, guitar; jimmy Scoppa-guitar and Johnny Sciascia- vocals and bass. if I dissolve into Hopelesly Obscure records I have owned "In My Life", it's coz I like it! two guitars and bass, no drums; worked for Elvis's Sun recordings but Justine's "My Fuse is short' demeanor is more Wanda Jackson, raspy/spunky. I have enjoyed her country versions of beatles songs as much as my 88 cent copy of Charles River Valley Boys doin' bluegrass Beatle toons (Daw's Drug Store, Brockport NY plaza 1969!). Justine's 1989 grand Theft Auto band kinda channeled ex-Runaway Joan larkin, so this is "country and raspy". (sic). IF I were her Malcolm of clan MacLaren, I'd say she should cover "Hamtramamck mama" b/w "Highland park Girl", a 1949 78 by the York Brothers, who wuz from kaintuck; more Apple-achians takin' the "Hillybilly Highway" up to the Motor City to live the life of Bobby bare ("Detroit City"). Among them dad's uncle Harold darling Mcbee. (photo). AND the 1940 Dee-troit census has my dad and Justine's dad blocks away from each other/ the grande Ballroom and the Blue Bird Inn (5021 Tireman WEST Detroit; "Hamtramck" is "east side sound"). "Reincarnation" has me and Justine as Allston Rock City neighbours during the age of Ronald Reagan; lastly, drummer Elvin Jones (Mitch Mitchell influence) born 9 Sept 27 Pontiac Michigan and began professional career drumming in Detroit after a 1946-1949 stint in Army; my father went in marines in '52 after graduating Cooley High seven years before Jimmy Hoffa's son. A lot of Detroit facts but sadly Elvin Jones (RIP) so you WONT hear him on any Black Threads records!"....

Thursday, June 2, 2022

"day of Thor. 2 June 2022; and happy Lydia Lunch birthday to all! Tyme for the ole Ken concert report, I have gigs til September....first off, Leon Rich(man) and drummer Al Hendry noon brunch the Sunday 19 June 2022 at Jungle following Average Joel! Friday 24 June 2022, Kenne Highland Air Force with Tiger Bomb (second album out) and Gene dante at Geno-O's in Portland maine (when I take over the world I'll have a statue of gene dante outside that club, sandwich!). There's a fourth of July party with Tokyo tramps etc. More july/August/ September gigs but...one gig at a tyme! be back the week next, me"....