6/9/2014
June 2, 2014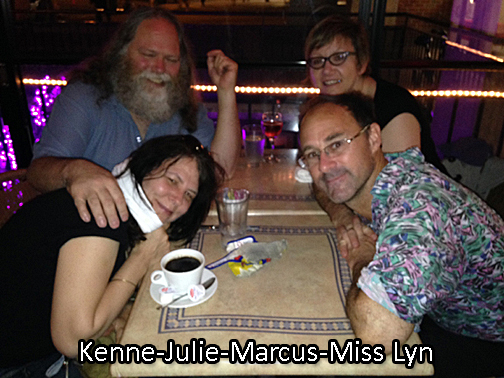 A rare Sunday not working, but lissened to Skippy White 1330 WRCA AM Sunday morning 7-9 AM and playin' the heaven outta the Five Blind Boys of Alabama (coming to town soon; gospel music, one doesn't play the "hell" out of)....met Gee Julie at Zaftig in Brookline for brunch; she had thangs to do so i went solo to Coolidge Corner Theater coz it was close-by..

"what's playing next?" sez I and "Belle" was my "Best Bette"!
OF COURSE I would love it: London 1769, fits in between Roots and that Tom Jefferson/Sally Hemings movie. Don't wanna give away this TRUE story, but illegitimate mulatto orphan, dowrys, country estates....I expected to see Mark Giroux in a crushed velvet suit! also Britain was on the verge of abolishing slavery; "who brought those Quakers in here?" and the English gentry going: "and please don't act like the French!" it was a different tyme, but costume drama and my great-great-great Thomas Hyland was a wagoneer, signed an X on his mariage certificate and his wife Elizabeth Grant was a governess taught him how to read and write. My nobility died with my Plantagenet line, my 1800s English imigrants were from the "lower" classes....love the pub scenes also and clay pipes!...so go see it".....

June 3 , 2014

Montag Goethe Institut Boston til 15 July, I beleive ist der Werner Herzog kino, $5. Last night, me und mein schatze Gee Julie saw Lektionen in Finsternis; Iraqui troops set fire to oil fields as they withdrew from Kuwait. GREAT classical music score; Classical Inferno (burn baby burn...)....Wodaabe-die Hirten der Sonne ist der nomadic Wodaabe tribe in south Sahara; some VERY "Be More Flamboyant" tribal costumes to say the least. A nice reception mit der rot und weis wein, but nicht but wasser fur der Hieland...Gee Julie told a young Berlin intern that she had been in Berlin over Easter und zwei she was German-Canadian, as am I! BUT..."we're not related....that we know of!" ok, git all cultured und scheiss, then gotta drag in an inbreed joke but Y'ALL are the dumbasses (or esel, in der Deutsch!) fur readin' das scheiss.....

June 4, 2014

filled the minutes in my phone at AT&T boylston street, boston, sauntered into Boston Public Library ("at least I'll be well-read!"); skimmed through a couple bios from 7-9 pm. I am Spock-Leonard Nimoy; he was from Boston's West End, where I am kinda writing this actually; also a Whitey Bulger bio that had chapters on his Irish forebears. MY point of interest; the first Bulger came from Eire to NEWFOUNDLAND, pretty large Irish population there! Ma's great-great-grandfather Thomas Myers, born Eire 1797, came to Rochester NY in 1840s, all his sons in Cvil War and he died 1865 Brockport NY. Kenneway, I wuz readin' why young men left Eire BEFORE the Mr. Potato Head famine; AND Ma's great-great married a lady born on the boat comin' over from Scotland; this Irish-Scottish mix met in St. John's New Brunswick and Whitey's forebears were Newfies....and THAT is a far-fetch stretch linkin' Ma with Whitey Bulger! now, did i ever tell you about Ma's Veilleux ancestor having a shipbuilding business in Quebec City near the Lisottes and Touissaint Giroux linkin' Ma with Madonna and mark Giroux.....zzzzzzzzzz.....hey, wake the Funk up!........."

June 5, 2014

a VERY big news flash! Monsieur Jacques Ball, Bomp list/rabid record collector/JoJoBlog has wrote an article about KENNE HIGHLAND so am digging that muchly; and they thought they could chase my dad's Eno Huguenot ancestor outta there on horseback...."sucess in the best revenge!" Axe Munkee continue to tour there; they were part of an Edith Piaf tribute band called Ziaf, so maybe they'll read a copy inbetween gigs!".....

June 6, 2014

Something local: Gee Julie and I went to First Thursday in Jamaica Plain and it looks like a Cambridge hippie fair or Bloomington, Indiana 1975 or Frisco '67;l otta earthy, crunchy, Obama-votin' hippies BUT live music in many locations from 6-8 pm (FREE!); met Gee Julie and she said "they're playin' bluegrass down there" but I had it in mah haid, see Inca Sun at City Feed. Andes HIGHLANDER Indians playin' guitar AND those wooden pipes; tres cool!

Everything else coming up Gizmo: Bryn Carlson (Time Beings) told me "not too shabby at the abbey" played 7 pm Little Steven show last night, right after Mad Max (Sonic Gizmos) sent two-page article in Ryder by John Barge on Gizmos. Brian Goslow from mental Worcester claims Captain PJ talked to Larry Bird and he saw the Gizmos whilst in college....hmm....Bird is a Scorpio born 1956,so I moved to Indiana his freshman year May '75...i will shit if is true!...lastly, Jacques Ball from Paris sent Dig It magazine on Kenne Highland IN FRENCH, so check the Kenglish-Franglais translations! a lotta Facebook quotes and BGN photos....AND they like the Gemini on full moon cd vs. flamboyant cd in Toulous (radio airplay!) but in French is my quote how the French like John Felice and Jerry Lewis though it MAY have been Linda II Garreau Highland!"

six page feature on the Gizmos in Italian magazine Blow Up; I see O. Rex photo from Rock Scene (Allin Brothers in Malpractice on opposite page); Mad Max has details!"...

June 7, 2014

what more fitting send-off before I go on Gizmos World Tour than a packed house at On The Wall at Gallery NAGA, Newbury street, Boston ("so ta-ta baby; down on Newbury street")...was with Gee Julie and Miss Lyn, avec le musique de fanzine premiere Boston Groupie News (Jacques Ball, DIG IT, in France!) when we ran into Roxbury J. Puddingstone, a Gizmos/Korps fan who knew Linda II Garreau Highland. always nice to hear if "pumpin' to playboy" will be performed as folks drank chardonnay....afterwards we all sojourned to the top deck of Vlora, a lovely evening with old friends whom I shall see when I return Tuesday 17 June 14. til then, my cell is 617-803-1289,so y'all call while I'm on the road! ("him like Kerouac"!).......

June 8, 2014

Made a pit stop in Quincy yesterday after work and caught the Belmont Stakes on the Horse Racing Network (which is 1510 AM, which also plays the Red Sox in SPANISH!) No Triple Crown winner this year, but I got to listen to it like the '40s..." and it's a photo finish!" just like a Max Fleischer kentoon. Now to be Highland S. Thompson and tie in horse-racing with rocknroll: sunday 3 june 73, meet les frere Gruberger and see Alice Cooper/Flo at Eddie, Madison Square Garden; that Saturday following Secretariat won Triple Crown. Secretariat and I both born in Virginia; does that make me a horse's ass? (I COULD be obvious avec le cheveauv, like "eat like a..." and "hung like a"....but I shant)...and this morn 0600, turnt Gee Julie onto the joys of Bishop Harold Branch/Skippy White gospel WRCA 1330 AM, saying 'that's MY mantra, when all is said and done"...GREAT uptempo toons with that Chuck Berry "30 Days" backbeat AND the Mighty Clouds of Joy, sadly, COULD NOT make it to sing last week BUT there's a church dinner/concert Father's Day (after Gizmos play Dayton) and it's got "all the surroundings, like puddin',pie"....this was said twice, Gee Julie as my ear-witness, a new Southern colloquialism I gotta add to my kenglish dial-ect.......".......