6/10/2019
Monday, June 3, 2019

saturday 25 may 19. Sometime in New york City part one. Amtrak ride down was excellent WPAQ on headphones in MC/i-phone Five, a salute to Jimmy Rogers, singing brakeman whom had died then, lotsa scratchy 78s. Bluegrass facts: Jimmy Rogers and Carter Family kept Victor records going, much as I "pioneered" Gulcher and Stanton Park and Jimmie Rodgers singin', pickin', grinnin' with the Carter family...."dont forget to scrape the shit right off your shoes!". Supper was Brazil Grille 787 8th avenue (is this near "53rd and 3rd?"). excellent bossa-nova guitarist plus futbol on "Mean Screen", candlelit tables, very romantic for when you say "I'm in love with Ken highland and think he's beautiful"....addenum. facebook friend WICKED into Brazil music and also visits often: Jeff Magnum of the Dead Boys! "Blame it on the bossa nova....1-2-3-4!

Tuesday, June 4, 2019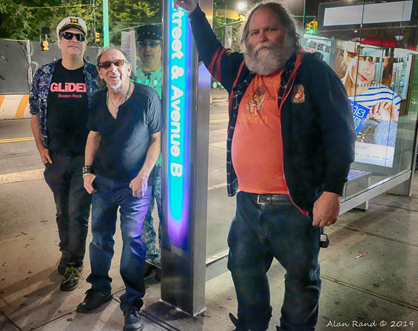 Glider hangin' in NYC (Photo: Alan Rand)

sunday 26 may 19. Sometime in NY city, part two. Otto's Shrunken Head is a QUITE awesome lil bar and with Boston bands GLiDER and Thighscrapers hangin' Tuff of "53rd and third" I remembered saturday 26 march 77, CBGBs, Live at the rat presents: Marc Thor/DMZ/Thundertrain/Third Rail/ Willie Loco, as reviewed in O. rextasy (and Roller Babe) as i recorded my first album. There is a Tiki motif and a Betty Page-ish bartendress "Que Pasa NY?"! Thighscrapers did a excellent "glam-punk" set culminating in stooges "1970"; I was a-tellin' WMFO dj Brian Young, also lead singer (kinda like me bein a Gizmo on WIUS, Bloomington!) about all the glam-punk bands Solomon Gruberger and I saw april '74, O. rex days...if i'd moved to Broooklyn, history woulda changed and no Gizmos! GLiDER live approach Afrika Korps live at Cantone's pantheon (Gulcher cd!) There was also a metal band fronted by Bella Valentina's doppelganger (she, RIP, was an Xene type voclaist in Italy's own The Valentines); superb vocals in a maiden New England type of way...Met the promoter and also a rock photographer ("I know many faces but few names"-Harold madison Jr, Allston Mass 1981) and we "passed the audition". Are we returning? OMERTA!"

Wednesday, June 5, 2019

"Til Tuesday 28 may 19. GLiDER practice; hardest-working dudes in show business! I see them more than I see my Real Wife! (the late, great Jen E. Talia, now with ANOTHER name change! Jamie). so let me promote SCAT tv and Heavy Leather Topless Party; like Laurel and Highland, I say to Cal Cali "another fine mess you've gotten us into!" Alice Highland was filmed and in heavy rotation back in '90s; being married to Kenne Highland AND watching him on "TV Eye" MAY have kilt Linda Garrreau Highland II, clann Douglass. I also went the once to the studo caught ska band Presure Cooker who were pretty damn good! (though some Rudies arent like ska/reggae mon...it's "h'agony" to listen to !). IF you dont want me join me, I'll be supping at Bronwyn's (kinda like Bathing at Baxter's but more Teutonic),
coz invite says 830 pm for SCAT...see you then!".... So watch us, Glider, on Heavy Leather Topless Dance party THIS wednesday June 12 - and you can go here to get a link to stream the show!!

Thursday, June 6, 2019

day of Wodin 29 may 19. A fantastic Love and Flame rehearsal, Count Viglione backed up by club linehan-ago-go. A lot of great olde Count '70s toons plus Velvet Undergound. I SHOULD mention ides of June 6/15/19, club linehan-ago-go afternoon show at Midway Cafe, with Billy Connors, Bunch a'Jerks and Thee Fightin' Fish. Things been busy but better than lying in bed with swollen leg (tho WJIB DID save my life, thank you Bob Bittner!)

Friday, June 7, 2019

day of Thor "then came the last days of May" 30 may 19 was a GLiDER practice. I need to run down MY concert report so when y'all read this Sunday,"I Can remember"! (off my Raspberries 8-track). day of wodin 12 June 19 GLiDER was gonna be on heavy metal topless SCAT tv bit it got postponed til August. ; Friday 14 June 19 cantab 8 pm I'm in Mad Painter and i headline in GLiDER; saturday 15 June 19 I have afternoon show at Midway. Gonna be a BUSY week but lissen to DMZ's "Busy Man" and be glad you can walk/talk and give "Eyesight to the Blind"!"