6/5/2017
Monday, June 5, 2017
635 pm saturday 3 june 17, AMC at Common movie house, joined AMC Stubs and at age 60 you get a senior discount! More Chinese movies...Beautiful Accident, trailer on youtube. remake of a Korean movie. A high power lawyer lady gets in crash and comes back as a housewife; the spirit guide is Doctor Bombay flamboyant. lots of chinese movie websites call it "fantasy/comedy/romance/sci-fi" and answer is YES! (all of above!) In Mandarin, though the main actress from Taiwan. Maybe I'll spoil the ending: when she goes back to her former lawyer self, which is a non-marriage ("you are like a hedgehog" says her gym buddy) kickass judo lady, she realizes that family and marriage ARE ok and she WILL find love...but again a lot of comedy also ("when I come back will my hair be straight again?")....theme song sung in mandarin by K-pop group EXO, also on youtube....though I thought K-pop was Hello World......"
Tuesday, June 6, 2017
| | |
| --- | --- |
| | Greek Fest band |
what BETTER way to celebrate Ken Kaiser's 13 times four plus eight birthday than the arlington massachusetts greek festival! (Gee Julie helping Paula from WMFO move, so was in area). Big ass sign saying OPA! LONG lines in tent, great shopping area ("kiss me, I'm Greek", do that enough to Gee Julie plus also "$10-bracelet to ward off the EVIL EYE!"....Mediterranean superstition; LOVE it (to death!)). Got some American coffee and a pastry, first band was two ladies, one sang, another on keyboards, plus two dudes on guitar and drums ( minus John MacFie on bass or RIP John MacFee, Jody Moore band bassist, great guy and a Highlander!). The music, especially the "reincarnation of Beethoven" keyboards reminded me of The Seeds covering Aphrodite's Child toons. (Seeds meets Vangelis?!?! did some someone spike my mythological Mythos beer?)....There was a chance to lease a Mercedes for four days ("oh lord will someone buy one for Janis?")....Combo plates were SOLD OUT except for chicken something and/or mousakka, so as I watched a male duo of guitar and mandolin/oud/Mediterranean instrument, Gee Julie and I hogged down on it and Spanikopita (spinach pie, which i eats to the finish!). in the flier, a Piandes was listed and I believe IS kin to WMFO Desperate Hour, WMFO, ALEXANDROS MAGOS Piandes, Thursday 6-8 pm, playing garage, Rockin' in Athens AND Kenne Highland (who is Zeus on the loose!) a good tyme had by us all, greekboston.com has all the church picnics and other Greek events but "God Only Knows" what country Gee Julie and I will visit while "Livin' in America" (James Brown; Good GOD y'all!!!!)"...
Wednesday, June 7, 2017



Fable Gazer
Photo:Gee Julie




Afrika Korps
Photo:Gee Julie




Afrika Korps
Photo:Gee Julie




Afrika Korps
Photo:Gee Julie

Tuesday, D-Day 2017, Afrika Korps at Great Scott, even if they were never on Omaha Beach. thanks to Mark Drinkwater, Fable Grazer, always offers good gigs since Grex/Fable Grazer/Kenne's Korps 30 sept 14 lilypad, inman square. Ok, so Hopelessly Obscure opened, great p.a., great band, great vocals by me, but Ken Kaiser's idea of doing chicago's take on "i'm a man" (Stevie Winwierd before he did Michelob commercials!) was brilliant! handing out percussion and all....a very soulful David Clayton Lighthouse vocal by me and we added Bob Moores of Fable Grazer on trumpet to John Keegan's sax; Mj quirk/matt burns may have been Blue Oyster Coughlin's rhythm section but they played tha funky music white boy! And Ken Kaiser as Terry Kath...staying on the one so I could do the James Brown version of "wild mouse"! Violet Intent ran up to us raving as did Bird Gangs. Violet Intent had a bloke in a crushed Velvet suit and first solo Eric Clapton album hair and beard and 1971 figured in their Pugsley Munion-esque Cream jams (power trio). bassist also played a "96 Tears" keyboard, this c/o Gee Julie who did great photos. Last song coulda been a jam off Taste Isle of Wight album; Carl Biancucci/Jay Gruberger rock! Fable Grazer was down to a trio but Bob Moores on guitar, Miles Davis trumpet and a Captain Beefheart (my New Netherlands punk cuzzin!)-type recitation about "The Beast" done in movements; recitation/space rock; recitation/space rock. Gee Julie and I danced to Fable Grazer and Ken Kaiser and I decided that, like Kill Slug in the 1900s, this is the band we ALWAYS want to open for. a perfect 60th kaiser birthday present. it became the witching hour but Gee Julie and I caught and heard Bird Gangs; I told Matt Burns they kinda sounded like the Wipers but then a wah-wah solo straight out of Bloodrock/Mark Farner ca. '71 that only me and Metal Mike Saunders ("trust me i like pat benatar") could love....look for us playing with All these Young Dudes once they friend me but DO go see all these three bands! as for us/me, "You/I"-the rugbys: "if you book it we will come"-MJ Quirk".......
Thursday, June 8, 2017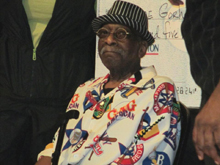 Roscoe Gorham

Ken and Gee Julie, Dudley station, day of Wodin morn, 7 june 17, filming Highland In Da Hood. We walk past a rent-a-center at 38 Warren Street and I say: "New Edition played there!". Roscoe's Lounge, google Roscoe Gorham; dudes this WAS the Rat in da hood! He gave a start to teenage New Edition/Energetics/Margo Thunder and many more (read obituary); there's even a Hank Ballard poster! (kinda like those Midwest Gizmos reunions). Also of note is New Edition/Maurice Starr litigation (hey! Ken Kaiser has lawyers on BOTH sides the fambly!)....SO, as I often do to compare the Korps vs. everybody else, New Edition's DEBUT was at this current Rent-a-Center in Dudley, down street from Orchard Park projects. 1980-1982 New Edition played Roscoe's "paid dues"; the Korps was at the Underground, the Rat, Cantone's, Streets....did I forget anything and yes! this city IS fucken more segregated than when ah wuz a lil boy down south! 1983 New Edition released first album and Hopelessly Obscure begin recording "ascent into hell" but Margo Thunder and 9.9 summer '85 outsold the "Twin Cities" e.p. of course and don't forget prince charles and the city beat band. found a UMass paper online of hip-hop in Boston and it all began with: the Scotsman Magnus Johnstone on WMBR! ('lecco's 'lemma). and his "Best Bette" did the Hopelessly Obscure cover! (Ken Kaiser as stunned as if he's listening to Fable Grazer now....)....Has Roscoe's Lounge been commemorated like the Rat? it's a goddam rent-a-center! BUT Dudley be happenin', bro, Ken and Gee Julie recommend the Dudley Cafe AND Haley House, lotsa events but damn brunch with collard greens and grits...."Grits aint groceries/eggs aint poultry and Mona Lisa was a man"-Lil Milton, clann Campbell".....

Friday, June 9, 2017

Thor's Day 8 June 17; next club linehan-ago-go shows are sunday 18 june out of the blue and friday 23 june mcgann's irish bar north station and let's NOT forget the Kenz on Father's Day also! (or Ken's grandfather's uncle Solomon Kaiser died 1935 Houston Texas!) But since I did not "rock" last night, it was" google: blacksplotation movies youtube. " Fox Style-1973-rare blacksplotation!"(you can watch it on YouTube!). Plot: a Hugh Hefner-esque club owner gets a call from his mama and they're gonna close the dungaree factory down in florida so like IMBH kinda says "has to deal with his country past", lotsa stereotypes like black eyed peas, greens and food that I like. Plus there's a schoolmarm who gets her hooks into "Mister Big Stuff" and he settles down back home. (dont you hate when i spoil the ending?!?!). Comical is a lecherous, money-grubbin' preacher man...no real names I knew but let me mention the music. DON ZIMMERS and not the guy Pedro Martinez tried to head-butt at a Sox-Yankees game (Highland S. Thompson says that was in the Thirsty Scholar, I saw this and back at JOHNNY'S FOODMASTER, beacon street, somerville was Mr and Mrs Billy Borgioli. ok, Don Zimmers music: only did a 1979 film i found also but this is jazzy, flute/horns playing I-IV-Vs plus a funk band; were they actors? no other info. Lastly the theme; DAMN sure sounded like Curtis Mayfield singin' or was it a Curtis clone? This is the year after SuperFly so....either way, a pleasant evening and it only cost me $60/month on the i-phone V! that's $2/day to watch all kindsa films, all kindsa films.....rest of weekend, to be decided"....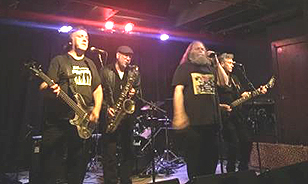 Afrika Korps
Photo: Gee Julie