5/27/2019
Monday, June 17, 2019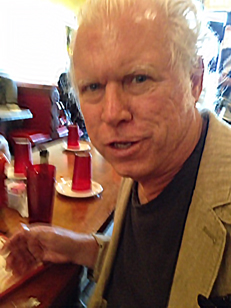 Mach Bell

saturday 1 June 19. Captain Easychord caught an earful at the supper table, dining with members of Figures on a Beach/Bonjour Aviators/Biggy Ratt plus second lieutenant Larry Newman and L/Cpl Kenneth E Highland, Nikki and the Corvettes and Gizmos PLUS USMC, respectively. It's been a spell, short mentions....Gary Shane was excellent, pretty bluesy; Will Hunt (Angry Young Bees)-lead guitar; Sandy Beach whom played with me in Jordan and the Half Transplants adding a Jefferson Airplane "Scorpio Queen" to the harmony, Lt. Newman holding down the position and Mach Bell a damn good drummer! Hummingbird Syndicate is a quintet like the Gene Clark-era Byrds; Lyn Shipley, Gulcher reocrding artist with Amoebas in Chaos (art-rock to country...holy XANNA DONT!) woulda been Gene Clark sans tambourine using one-a them egg shakers; Jon "McGuinn" Macey an ADMITTED Byrds maniac; three-part harmonies that were SO L.A. Miss LYNNE agreed they had that Troubadour Eagles backing up Miss Linda Rondstadt (Silk Purse album cover...."steppin out for a lil glass of milk right now"....) post-Stone Poneys ca. 1970 sound. Randall Lee Gibson IV back to drumming country-rock ala Scruffy the Cat. Little Billy Lost, I could go on for forever BUT these mofos kicked out the jams so if ever I wuz gonna do Stooges/MC5 covers ala 1974 O. Rex, "Uncle Jam wants YOU" as said band Motor City meets Dirty water. Andy Pratt did these Willie Loco-ish arrangments with Newman/Bell rhythm section on like "Ruby tuesday" (have you heard Rotary Connection version?) and fucken "avenging Annie"...a hit when O. rex first jammed and saw Alice Cooper/Flo and Eddie AND Secretariat won triple crown. Love and Flame was the Count at his best backed up by Club Linehan-ago-go; Count songs, Lou reed songs, if Mach Bell told me it was good, it was good, he seeing Afrika Korps live at cantones sunday 21 august 77. Doug MacDonald closed out the night; Patty Short's drums properly miked, she's a fucken locomotive and Doug macDonald opened with my favourite "tippy toe crostrthe avenue". The Count says there WIU be more of these shows and like Louis Grammatico sang in Black Sheep (capital), my "encouraging words' (youtube: "encouraging words"-black sheep) are: Joe, you are the Richard Nader whom did madison square gardens 50s rocknroll rewvival shows; ca. 1970 I took a cutting from the Rocheter NY paper coz it had an excellent shot of Chuck Berry! So if Cout Joe is Nader, Count Rumford's distant coujsin (wikipedia) would rather be NADIR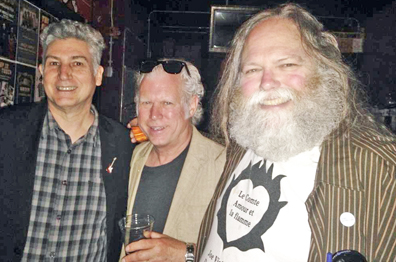 Ken Kaiser, Mach Bell, Ken Highland
Tuesday, June 11, 2019
Sonntag 2 June 19. Cal cali did an excellent job booking all the GREAT Boston bands at The Out of the Blue Gallery benefit (tho when I think who DIDNT play...fuck! The Bosstown Sound IS where it's at! "Laugh at me" mofo...)....CLub Linehan-ago-go opened up at some ungodly hour and I remember playing Crosstown Traffic" even BETTER than before! (took a cab right from Newtowne, cabbie had played guitar in haiti; we discussed ZOUK!). Order of bands is hazy...Richard Mirksy's "new thang" had a wayouts drummer, but good songs and free product with donation! Andy Excuse did "Bermuda" with Fightin' Fish coz Roky had died and Stigmatics were their usual excellent Live at the Rat self. Climate Change had cancelled but members of harlequin jammed with me on bass for half hour on Alice Cooper and Kiss songs plus a ten minute guitar solo! (I just kept playing "all right now"; Andy Fraser was my facebook friend!). Randy Black had kinda a west coast psychedelic sound and Schmel herbie Hind discussed seeing bassist in Arthur Slick and the Nice Girls! THUS, cantone's, summer '80, me, miss Lyn, Blowfish and a future pizza delivery driver probably parking on the corner of Milk and Broad! Sara and the Scaliwags get the much improved; Sara Billinglsley seems more relaxed then in QFO,she picked out kinks "till the end of the day" and Yardbirds "little games"; Mike Quirk-bass and two guys from Jetset rounding out. A solid band! see them 5 July KOTO; also with GLiDER who was my third set of the night....Jamie, THE new It Gurl snapped me snoozing but Butterscott as singer/bass/drums, minus guitarist were Bonzo Dog band funny as hell. I fed captain easychord for a LYFT to "take me back 'ome" BUT as Blues Project Cafe au go go sang that ole chuck berry toon: "I want to be your driver"!"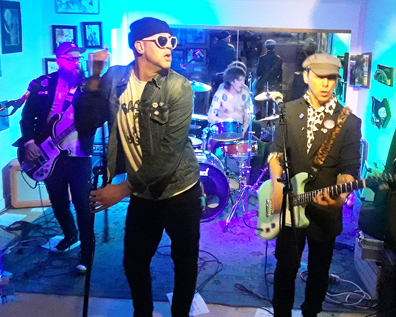 Baabes

"How could I forget Baabes? (well i did!) Pete from Stigmatics DOES agree with me that from neck up and will pullover wool hat, singer not only FAVOURS my distant cuzzin Jesus Christ Allin, but also involves in a lively chair-breaking performance! God forbid he mates with Gala girl; Ritalin for those Deliverance-playin' young'uns! Band is kick ass in a DMZ-cum-Jabbers way; this really IS "My Head's in '77!" (ok, me rollin' 'round on floor ala Iggy afrika korps live at cantones sunday 21 aug 77 and they didnt steal from ME; it was the Stooges 31 Dec 73, academy of music, Kiss opening (I still say better live band too!)..Cal Cali is a bookin' machine and after facebook friending singer who asked about when my review comin' out (a press 'ho ala Highland/Allin?) THIS IS IT! More Baabes gigs with GLiDER, it seems. Quincy porchfest, like Schmel Herbie Hind says "gonna be dah fuggin ballz"; when he drives should be that beach music classic "walkin up a one way street"! ("pizza delivery moves.....1-2-3-4!")"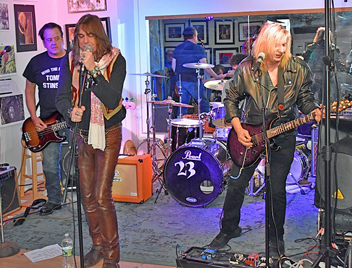 Thigh Scrapers

FUCK am i forgetting things! Brian Young and Thighscrapers did Jim Carroll's "it's too late for sharon tate", an album I enjoyed back when my Creem magazines came to 25 walbridge street, Allston mass 02134. Also of note was a toon by Cracker; J. Christopher james ringing guitar lick has had me goin' nuts since we played the Lower East Side! ("Kenne, it was Midtown"-Miss Lyn). Brian had a tail about Cracker at Middle east and I've since googled maybe we WERE at same Cracker/Camper van Beethoven show at Middle East where they encored with "Interstellar Overdrive". Moving Targets future wife wondered why I was there, but I was actually "dragged" (from Quincy!) for said show by now-deceased girlfriend whose spirit followed me into First Spiritualist Church of Quincy. JUST because Schmel herbie Hind are george Noory fans, I was taking classes in how to be a medium, though I'm a triple X and some psychic there said "somebody followed you in here" and drew dead-ringer sketch of deceased girlfriend. I think Crash Course for the ravers should go live from this church; I almost went to a table-moving program but word has it the table didnt move. Spiritualism; founded in Rochester NY area! and I HAVE had a few spirits there, mostly of the Genesee variety"...

Wednesday, June 12, 2019

monday 3 june 19. EVEN after a nine hour day at out of the blue, those hard-working GLiDERs had a practice for two sets at tavern at end of world that week as cal Cal band. Highlight: me channeling Joel Simches and Butterscott as captain easychord and i did harmonies on Zombies "I cant make up my mind". usually i do unharmonious harmony ("heart full of soul" afrika korps live at cantones (Gulcher)) but for some reason this was spot on! Chords from Schmel Herbie Hind and great choice Cal Cali! NOT on my $1 US copy of Zombies lp bought september '72 (SUNY Brockport NY college kids) but it's on the UK version! also a b side on a Filipino 45! Hopelessly Obscure!"....

Thursday, June 13, 2019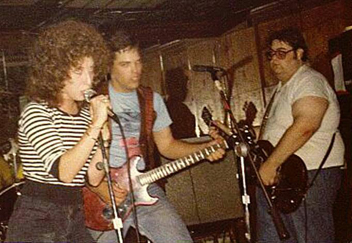 Martha Hull w/Afrika Korps @ Cantone's

day of Wodin, 5 June 19 (my cuzzin Martha Hull's birthday, insert ANY photo! of slickee boys). Mad Painter live on WMFO. Joel Simches did excellent sound, made us a cd. Alex Gitlin's keyboards drove the songs like a "Highway Star" (yes he DID play in a Deep Purple cover band with Gee Julie's cuzzin, second drummer in two million BC). Paulie on lead guitar was quite a shredder and Flynn Young utterly bombastic AND dressed like a true rock star going to Heroes. Let it be known his dad played bass in Silver Star and Jukebox Angels 20 years previous, Mikey Dee on the town. Glad to have witnesss GENERATIONS in rock! I played bass of course and my jack Bruce-via-Jay Gruberger "hot lead licks" would make you "CREAM in my jeans". A fun interview and somebody was gonna take a shower but listened and called! Identity: Hopelessly Obscure! I know Schmel Herbie Hind and Captain easychord were tuning in; I "lent" Schmel my cd and it never left the cd player doing 'pizza delivery movies", drivin' "down a one way street". "To Love Somebody" came out as soulful as i expected. mad painter needs gigs, like them on facebook, friend Alex Gitlin; after all those fuggin' practices THIS live recording make it worth it! Final "joke" from interview: "So if you're retro-70s, arent you kinda like Sha Na Nas did with '50s"....FUCK THAT! Mad Painter! the Sha-Na-Na of the early '70s! When Schmel herbie Hind gets behind the wheel of his car: "Time for some Painter!" I almost expect to be in '70s car with jailbait janet and Cavewoman singin' along to "Jim Dandy" by Black oak Arkansas! YES, I DID live "That '70s Show" before the ramones happened..."dazed, fucken confused, Uriah Heep live gettin' high in jailbait Janet's brother's basement room...or else Deep Purple's MACHINE HEAD on 8-track! THAT is the sound of "PAINT-UH!!!!!!!!!"

Friday, June 14, 2019

Thor's Day, D-Day 2019 (and in 1969 I had the document terry album!). A splendid Cal cali band performance. Zimmerman's "I want you" done with me doing "I walk the line" bass runs; first album Cal Cali ever bought! He's a Rubber Soul fan too,so I had fun doin jazz bass to "norwegian wood". Schmel Herbie Hind had guitar chords right on "you've got to hide Brian Epstein's love away from John Lennon" and Captain Easychord does the flute solo on keyboard somehow, too high tech for Highland! other covers were heard by me on WBBF rochester NY back in '65; two sets! "my brain hurts a lot"! looking at my events calendar to end up the week that I wish wasnt (kidding,fellow bandmates, YOU figger out who YOU is! "who are you....tell me who the fuck are YOU?!?!?!?"), lettuce remember saturday 22 june 19; club linehan-a-go-go do porchfest west quincy mass then later on GLiDER do porchest NORTH Quincy....touring what in colonial tymes was BRAINTREE; know ye verily: I loveth it to death!"....