6/18/2018
Monday, June 11, 2018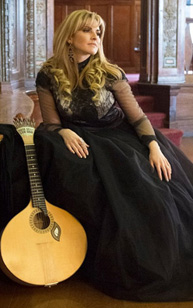 Sonia Bettencourt

saturday 9 june 18. fado music sunset grille east cambridge. Saturday 16 june 18 is a father's day concert! So I had pescada rabo boca frita and at nine pm daniel guerra and mandolin and guitar started up; I was in the men's room as he combed hair, aftershave, suit etc,,a dapper chap! Very operatic and on youtube! also on youtube and with website was Sonia Bettencourt, whom has sung in many languages but since 2014, fado (I beleieve she's born in east Timor). I was reminded of Edith Piaf, only in Portuguese, and folks clapped along, a TRUE entertainer! Bettencourt family, 1200-2000 MegaNet Communications. my . bettenco says "Jean de Bethencourt was born circa 1200 at france. The Bettencourts of noble Norman origin took their name from the castle of Bethencourt in normandy, came to portugal to the island of madeira and from there scattered to the azores islands and on to mainland portugal and brazil". (My dad has a DNA match from Bruges to Azores, so this is NOT uncommon!). Either way, Sonia Bettencourt IS fado nobility, I was binging out on youtube videos sunday morning and put simply; she can damn sure sing! $10 cover, WORTH it, $16 bottles of Portuguese wine, maybe we'll even see Miss Lyn/Hopelessly Obscure and/or club linehan-a-go-go there in audience!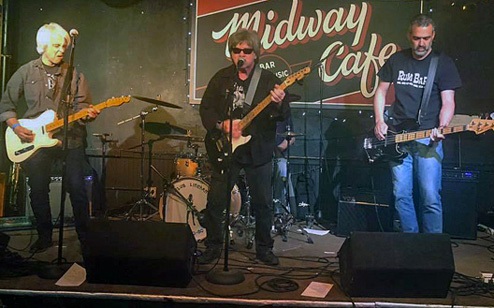 Billy Connors Project
Tuesday, June 12, 2018
sunday 10 june 18, MJ Quirk did book a successful show through YeeYee Mgt.,where you're not just another puppet! I borrowed Billy Connors Vox amp and set it to "US Metal", riffed on some Blue Cheer and club linehan-ago-go went into Monkees theme, then Pretty Things "midnight to six man. An all around great-rockin' set with Jody Moore singing Stones "tell me" and JR Cash "jackson". Billy Connors was excellent also, I have new four song cd with David Minehan on bass! Me joke to Billy: "your bass players keep spontaneously combusting!" (Spinal Tap humour; current guy is also in Drive-By Truckers). Adam Sherman kept ripping out these yardbirds leads, Zombies vocals and Kinks khords and this is a VERY good thing and Ray Boy Fernandes, as usual, NOT overplaying, thus giving opening number a Rockpile sound (another GOOD thing!) Blowfish, in absentia, missed a great set! Jody Moore up next, "No you dont" by sweet, through Billy's Vox plus MJ Quirk and John Keegan have worked on that Les Paul copy I got from "Nobody's Girl's" husband so with toggle switch and feedback, I turnt it into "the good's gone" (who). a great Jody set and there WILL be Moore! (to come!). lastly,Tokyo Tramps REALLY out-Robin Trowered themselves and Satoru did some Hendrixian throw Strat on ground tricks, did "all along the watchtower" solo NOTE FOR NOTE (thus, as usual, blowing me away), Yukiko did a bass solo, there was a drum solo...long, long Troweresque jams and I was LOVIN' it! After-party at Midway with Rick Berlin-the Waiter; there went my gig money! a lot of rock trivia so I have one for Ken Kaiser: Yukiko saw Kiss, rock and roll over tour at Budokan, tokyo and gig geekage= april 1/2 and 4 1977! WILL it coincide that I saw DMZ/Johnny Barnes at the Rat, 2 april 77, my 21st birthday? of course AFTER seeing Ace Frehely (AND marrying a VERY excellent guitarist) she also IS a Kenne fan (though she named her cat Q, after mike quirk).....as I told Kaiser in Kaiser stadium friday 11 feb 77, teaneck Nj: "I play better than ace frehely!" we'll let my twin brother Chip Langille decide! Nice to have him headbanging in front row!"........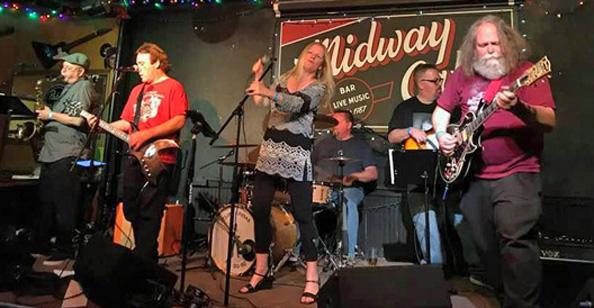 Jody Moore with CLAGG

Wednesday, June 13, 2018

Marvin Nunley of the Royal Guardsmen (whose German introduction in "snoopy" begat "ein zwei drei fier" in Afrika Korps!) saw photos of club-linehan-ago-go and asked when were photos taken. I replied "yesterday's gig" and then in a long Frank Lima re: Kinks rave about "dude, side two of your album had "bo diddley" AND "roadrunner", you turnt me onto Bo...."thanks Kenneth".....hey I got my Gizmos fans so I KNOW! So next up MJ Quirk and I discuss covering the Guardsmen album and he's down with "Peanut Butter", but then "Bears"! so today's Hopelesly Obscure fact is from WordPress.com.ironleg.sprin... Springfield Rifle-The Bears/ iron leg. So basically "Bears" written by folkie Roger Perkins, early in folk-rock scene, gigged with Jorma (airplane) and david freiberg (quicksilver) and I even found a book mentioning Janis (and sunday at MY gig I found out Janice from the Boston scene saw JANIS at the Boston Tea Party; Hendrix too! Maybe I bowed....)....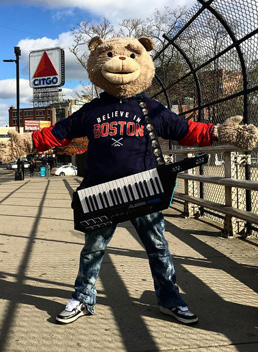 Keytar Bear!!

Now I could ask Marvin Nunley hisself, but looks like Royal Guardsmen learnt "Bears" from Springfield Rifle on Jerden (same label as my $1.00 copy of Introducing the Sonics!). Late '68 Quicksilver DID record "Bears", non-lp flip side but no youtube-age of it. as for Springfield Rifle, check out 100 or Two by Springfield Rifle-Vancouver Pop Music Signature.vancouversignturesounds.com.hits.1... "in november 1966 the band released a tune called "The Bears" which was a top 30 hit in Rolla, Missouri (in Ozarks where Nancy Foster of New Age Magazine, Greensboro NC, her maw iz from)...."Snoopy" was heatin' up the charts, but first Guardsmen lp is a lotta fun North West frat-rock like the Raiders! (but no one as cute as Mark Lindsay; just ask Miss Lyn-say, if she had married him!) "100 or Two", next Springfield Rifle hit was "a fusion of sounds as diverse as the Buckinghams and the Outsiders. Their sound straddled garage band mid-60s punk and sunshine pop"...a genre I explored at 25 cents an album when I lived in Bloomington, Indiana 1975! So yes, am now a Springfield Rifle fan. you can hear "Bears" by Royal Guardsmen on facebook or better yet, you CAN friend Keytar Bear on facebook also! video on facebook wall"..

Thursday, June 14, 2018

there's been a "rain of death" lately in classic rock; danny kirwan fleetwood mac, rob basso, whom played in Jabbers with my cuzzin GG allin (Jabbers drummer also died sadly also), so Rob was youtubing classic Fleetwood Mac and at Midway Cafe soundcheck through a Billy Connors Vox (no relation to Nobel prize winnin' "like a buick six"!) riffed on "oh well" and "green monalishi". then Clem Clempson whom played on Humble Pie's Smokin' had been in Coliseum, on his page mention (since i'm his facebook friend, Andy Pyle too), drummer Jon Hiseman. Coliseum was a brilliant band I listen to in hindsight; WCMF, rochester NY DID play their music but was I ever gonna find it in Brockport NY? BUt "not necessarily stoned, but beautiful: hippies of the 60s and beyond" group that I belong to, tho i aint no hippie (more like hippo!) put up a youtube, on my wall "over the cliff", Hiseman out-jazz drums MITCH MITCHELL (hard to do!) and fucken Jack Bruce on UPRIGHT BASS! Dick Heckstall-Smith impersonating John Keegan, Jack Bruce playing like Jay Gruberger unleashed....."some serious ornette coleman influenced jazz here". "not necessarily stoned" runs down all whom Hiseman played with, records i SHALL listen to on youtube! lastly the "Jimi Hendrix information institute" (Jay Gruberger COMMANDS me to join these groups!) says 8 june 18, Amen Corner guitairst Neil Jones succumbs to cancer. the Move covered "hello suzie" on shazam and check this: november-december 1967 package tour: hendrix/move/pink floyd/nice et al. a lot of sadly deceased artists from then but yes the music really WAS better Fiddy Years ago! (BLUE CHEER!!!!!!!!!!!!!!)".......

Friday, June 15, 2018

yes, i know what's on in the "wicked world" (first Sabbath album!) but "dont let it bring you down" "God gave rocknroll to you"! friday next, 22 june 18, club linehan-ago-go with kid gulliver and stigmatics at the Jeannie Johnston Pub in JP! saturday afternoon, 23 june, a porchfest in quincy (I need the address! usually they just change my blood and i stumble on stage like Keef) and the evening sat 23 june 18, granite street cafe quincy we play YUKIKO's birthday! i do need to relearn deep purple's "my woman from tokyo"....ok, my facebook wall gets a lot of MUSICAL action (newsfeed, you'd think we were having a Cybil War! i prefer to watch cybil shepherd.....)....Andrew Loog Oldham friended me! I thanked him for making all those Brian Jones-era Stones album and for playing "not too shabbey at the abbey" on radio, vocal copped from rolling stones now "down the road apiece"!...my Vanilla Fudge page (JOIN!) has a youtube of the Pigeons "stick in my corner, baby"; the Pigeons is vanilla fudge's O. Rex records; no Carmine Appice, no hits BUT this non--lp flip of "midnight hour" september 1966 has a very Rascals vocal (versus what Miss Lyn calls "the cowardly lion" vocal!) and good 1966 fuzz guitar.....rickie lee reynolds of BLACK OAK ARKANSAS (of course I'm friends on facebook with them AND JIM DANNNDDDDDDYYYYY's daughter.....yessssss......friday 10 dec 71, black oak arkansas and chuck berry, $5, barton coliseum (Rickie Lee says it's ARKANSAWWWW poster on my wall)....DJ Fontana, drummer died; "heartbreak hotel" which beats the SHIT out of anything the Cure ever did (NOT TRUE!!- ed) ....what address is more depressing? down at the end of fucken LONLEY street.....and this is 1956! sad he's gone but now elvis' whole band reunited "rocknroll heaven", that's the SLIM Elvis who looked like the SLIM Kenne on 1978 boston groupie news (MORE PHOTOS OF ME! "world's biggest megalomaniac"-robot a. hull, creem, facebook FRIEND!)....In-a-gadd-da-vida now 50 years old, came out same year as first Blue Cheer....now THAT is music! friended the Humans's bassist, "warning"- albion NY 20 miles west of me, mentioned in rock on #7; wrote a raving fan letter since they played the Panther's Den teen club, Brockport NY.....and lastly, to cure the world's ills, Keytar Bear friended me! when I become Dictator, he wil be my good-will ambassador...shit, man....playing funky bass lines left hand, trilling with right wearing a Bear suit?!!!??! why isnt he in P-Funk with the guitarist in a diaper! Now THAT is what's wrong with the world....not enuff FUNK!!! therefore, I shan't bath the weekend and damn is it Hot.....and.....NASTEEEEEEEE!"........